LONDON — Pro-Brexit tycoon Arron Banks faces a fine by data regulators after more than one million emails were sent to voters offering discounts from his insurance company during the 2016 referendum campaign.
The ruling adds to pressure on Banks, who is already being investigated by Britain's national crime agency over the source of $10.4 million in loans used to finance his Leave.EU movement.
The pugnacious admirer and associate of President Donald Trump has admitted having repeated meetings with Russian officials, including its ambassador to Britain.
He is the founder and main bankroller of Leave.EU, a grassroots entity separate from the official Vote Leave campaign, and styled himself as one of the "Bad Boys of Brexit" in a book about his side's unexpected victory.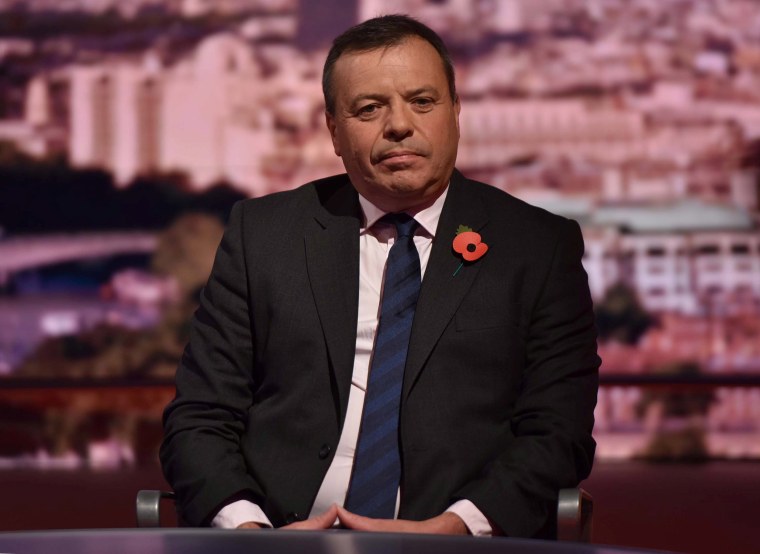 The Information Commissioner's Office said Tuesday that it would impose fines of $78,370 each on Leave.EU and Banks' company, Eldon Insurance Services, for sending insurance marketing to Leave.EU subscribers without their consent. It said the mistake was a "serious" breach of U.K. data laws.
Banks, who was pictured with Trump and leading Brexiteer Nigel Farage soon after Trump's 2016 election victory, issued a typically blunt response on Twitter.
"Gosh we communicated with our supporters and offered them a 10 percent Brexit discount after the vote! So what?" he said.
In the June 2016 Brexit referendum, 17.4 million votes — or 51.9 percent of votes cast — backed leaving the European Union. Around 16.1 million votes — or 48.1 percent of votes cast — supported staying in the bloc.
Britain will leave the E.U. on March 29, although the divorce process is mired in chaos amid stalled negotiations between London and Brussels.
Separately, Leave.EU has faced questions over its links to Cambridge Analytica, the consultancy firm that used data obtained from millions of Facebook users without their permission.