LONDON — Scotland is drawing up plans for a vote on independence from the rest of Britain over Brexit, deepening the political fallout from the U.K.'s decision to quit the European Union.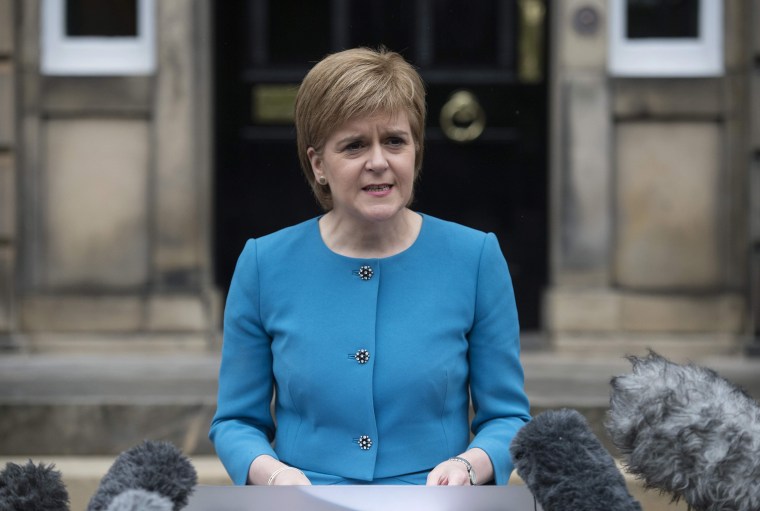 First Minister Nicola Sturgeon said Thursday she would publish draft proposals for a new national ballot.
She told the annual conference of her ruling Scottish National Party that she wanted the bill in place to give her the possibility of calling another referendum before Britain is expected to formally leave the EU in March 2019.
Scots rejected independence by 55 to 45 percent in 2014, and opinion polls suggest there is still no clear majority in favor of a split.
However, Britain's decision in June to quit the EU may shift attitudes in Scotland, which voted to remain in Europe in now faces losing access to the single market because the U.K. as a whole voted to leave.
Sturgeon said she would press ahead with a new referendum unless British Prime Minister Theresa May kept Scotland's membership of the European single market.
"I am determined that Scotland will have the ability to reconsider the question of independence and to do so before the UK leaves the EU if that is necessary to protect our country's interests," she said.
She said May had no mandate for a so-called Hard Brexit — a total withdrawal from the EU, including the single market and common border areas ù and said such a move would have "ruinous consequences. "
Scotland, London and Northern Ireland voted against Brexit in the June 23 poll, but overall the UK voted to back Brexit by 52 percent to 48 percent and May has confirmed she will press ahead with Britain's withdrawal despite growing reservations.
However, a newspaper opinion poll published hours before Sturgeon's speech suggested Hard Brexit still wouldn't be enough to swing the majority of Scots in favor of independence.
There are also constitutional hurdles to overcome: a referendum would not be binding unless it was endorsed by May, who has previously said she is opposed to another vote.