Sterling hit a seven-week high against the dollar on Tuesday on expectations Britons will vote to stay in the European Union but stocks failed to build on the previous day's gains as this week's referendum kept many investors cautious.
Two opinion polls published on Monday put the "Remain" camp ahead before Thursday's vote but another gave "Leave" a slight lead.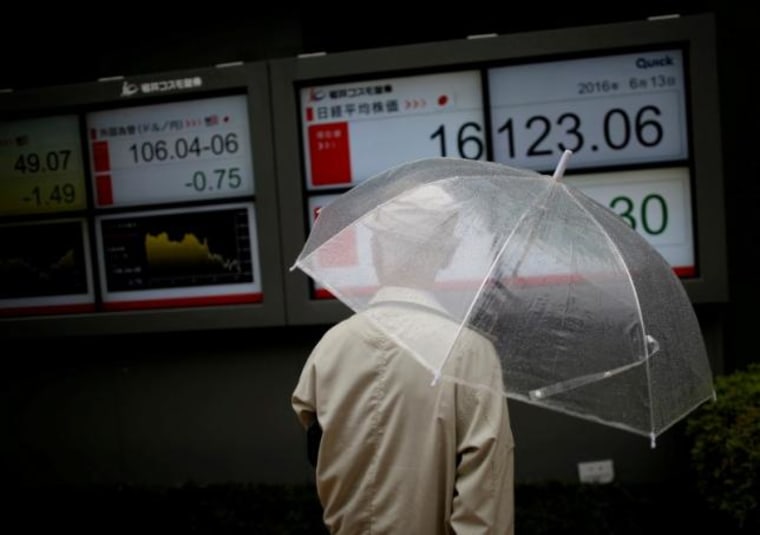 The dollar retreated against most major currencies with the exception of the yen, which has retreated this week on indications the campaign for Britain to stay in then EU has regained momentum.
"Financial markets appear to be taking the view that the race may well already be run, which given the twists and turns seen already in this campaign may well be extremely far sighted, or dangerously premature. With more polls due out later today we can expect to see further volatility unfold in the event of a move either way," said Michael Hewson, chief strategist at CMC Markets in London.
Also keeping investors nervous was testimony due later in the day from the head of the European Central Bank and from U.S. Federal Reserve Chair Janet Yellen, whose remarks will be scoured for clues to the timing of a possible rise in U.S. interest rates.
Concern Britain, the world's fifth-largest economy, will leave the EU has weighed on financial markets for weeks and has been cited by central bankers, including the Fed's Yellen, as a major obstacle for the global economy.
Britain's FTSE 100 blue-chip share index, fell 0.1 percent while the pan-European FTSEurofirst 300 stocks index was up 0.1 percent. Both indexes gained more than 3 percent on Monday.
Sterling, the main vehicle used by international investors to express a view on the referendum, rose as high as $1.4747 , a seven-week high in European trade.
"Some of the recent events have been favorable for Britain to remain in the EU, but it's still too close to call," said Manuel Oliveri, currency strategist at Credit Agricole. "We are advising our clients to go neutral into the vote, although we remain constructive. If "Remain" wins we expect sterling to rise to $1.55."
The pound gained 0.7 percent to 153.70 yen. The Japanese currency, which is often sought by investors in times of market uncertainty, also fell 0.5 percent to 104.46 against the dollar.
The dollar index, which measures the U.S. currency against six major peers, fell 0.1 percent.