LONDON — Theresa May took over as Britain's prime minister Wednesday, tasked with steering the country through the Brexit crisis.
The steely 59-year-old replaced David Cameron, who became the first political casualty of last month's referendum when he announced his intention to quit hours after the result.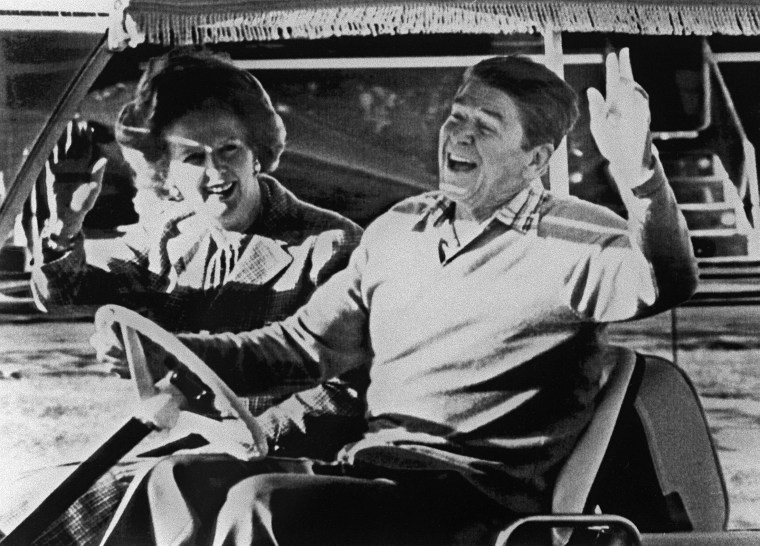 She is the second woman in the job, following in the steps of fellow Conservative Margaret Thatcher — who was nicknamed the "Iron Lady" and whose decade-long political partnership with President Ronald Reagan helped reshape the global order in the 1980s.
A male Conservative party grandee who served under Thatcher and supports May was last week caught in a "hot mic" moment describing her as a "bloody difficult woman." The unguarded comment likely endeared May to grassroots party members who fondly recall Thatcher's headstrong and stubborn approach to leadership.
The backhanded compliment has since been reclaimed by many women on social media and May also later embraced it, telling The Telegraph that "politics could do with some bloody difficult women actually."
She added: "I think that if you believe in something strongly you should go for it and if that makes me difficult ... ."
May has done little to discourage her reputation as a ruthless political operator, saying that the next person to find her "bloody difficult" would be President of the European Commission, Jean-Claude Juncker.
PHOTOS: British PM Steps Down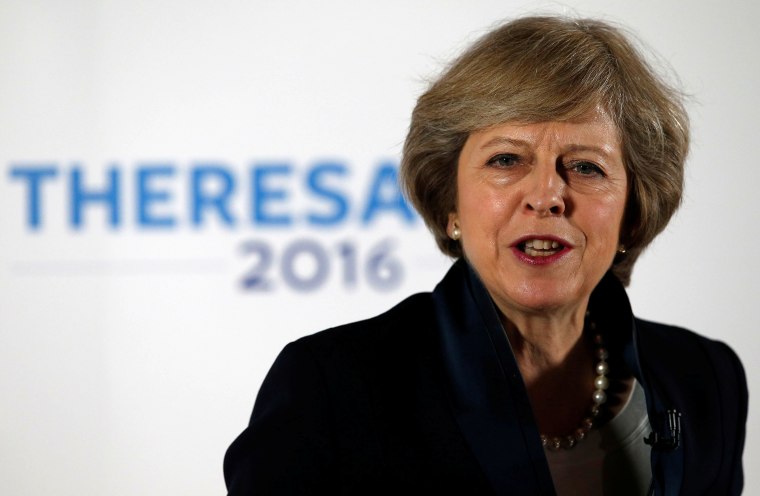 British columnist Quentin Letts described May as "dull as porridge" and "extremely dependable" but stressed that she is "not a humorist" and would "pursue the British national interest above all else."
With the Brexit fallout on one side of the Atlantic and a divided America on the other, what is in store for relations between Washington and London?
'Brexit Means Brexit'
May was on the losing side of the Brexit referendum, backing Cameron's call for Britain to remain in the European Union, but now finds herself having to implement the country's withdrawal.
However, she was lukewarm on the position and kept a low profile during the campaign, allowing her to position herself as a unity candidate to heal a Conservative party split right down the middle by the non-partisan vote.
In a speech Monday, May said she would ignore calls for a re-run of the referendum. "Brexit means Brexit," she said. "And we're going to make a success of it."
She has not said when she plans to trigger Article 50, the two-year mechanism of withdrawal from the trading bloc, despite German leader Angela Merkel calling for an urgent progress.
Foreign Policy
One of the first consequences of Brexit is that Britain will need to negotiate new, separate trade deals with other countries such as the United States. However, this is unlikely to begin until well after whoever wins in November moves into the White House.
President Barack Obama and presumptive Democratic nominee Hillary Clinton both urged Britain to remain in the EU, whereas Donald Trump backed Brexit. Trump's campaign themes were strongly echoed in the pro-Brexit message of "taking back control" and restoring sovereignty over Britain's borders. The billionaire said he was delighted by the referendum result. It remains unclear how sympathetically any future U.S. president would treat Britain in trade negotiations.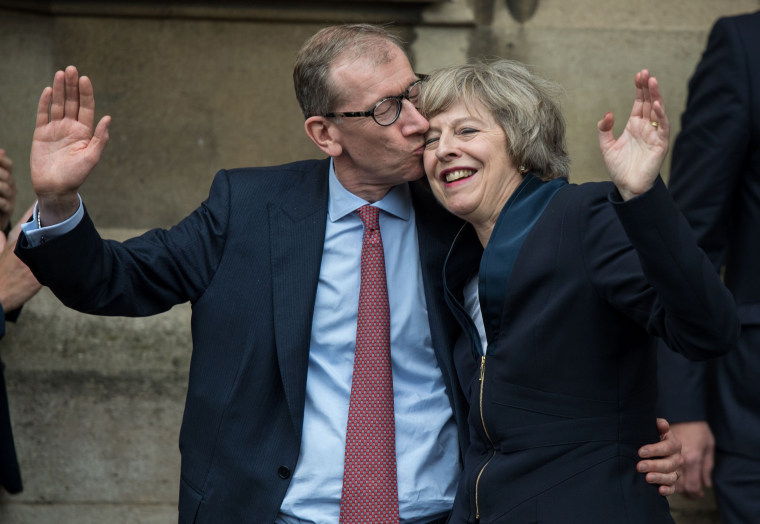 May voted in favor of the U.S.-led invasion of Iraq in 2003 and also voted to back Washington in airstrikes on Syria in 2013, although the British government was defeated and Obama was forced to rethink his plans without U.K. air support.
She met Obama when he visited London earlier this year, briefly. "I don't know that they've had a detailed conversation," White House spokesman Josh Earnest said.
May will have to deal with deep political divisions — Britain voted for Brexit by 52 percent compared to 48 percent who wanted to "remain" in the EU — and may be too distracted by events at home to develop a meaningful relationship with Obama or his successor.
However, Letts suggested that May could help rejuvenate the so-called "special relationship" between the U.S. and U.K.
"May does not do high-fives"
"Now that Britain is coming out of the European Union, there is going to be renewed vigor on the British side when it comes to America," Letts said. "However, [May] is not a romantic, she does not live in the past, and she's very much consumed with the practicalities of today. So, I think she will look for good relations, but not based on any sort of colorful idea of the past."
But he added that May offered a different approach than some of her predecessors.
"You're not going to have the sort of relationship that you had between Winston Churchill and his counterparts, where there was drink involved, and when there was a sort of an agreeable old coterie of guys," Letts said. "And nor are you going to have the sort of relationship that Tony Blair had with George W. Bush, where there was high-fives going on. Mrs. May does not do high-fives."
'Go Home or Face Arrest'
May might be new to international diplomacy, but she is far from untested.
She was Britain's home secretary, in charge of counter-terrorism, immigration and border controls. Despite the political perils of the job — she was the sixth person to hold the post in as many years — she recently became the longest-serving individual in the role since 1892.
She battled rebellious police chiefs in 2014, defied ministerial colleagues over the European Convention on Human Rights and risked a rift with Washington when she refused to extradite British computer expert Gary Mackinnon, who hacked U.S. government computers, including the Pentagon.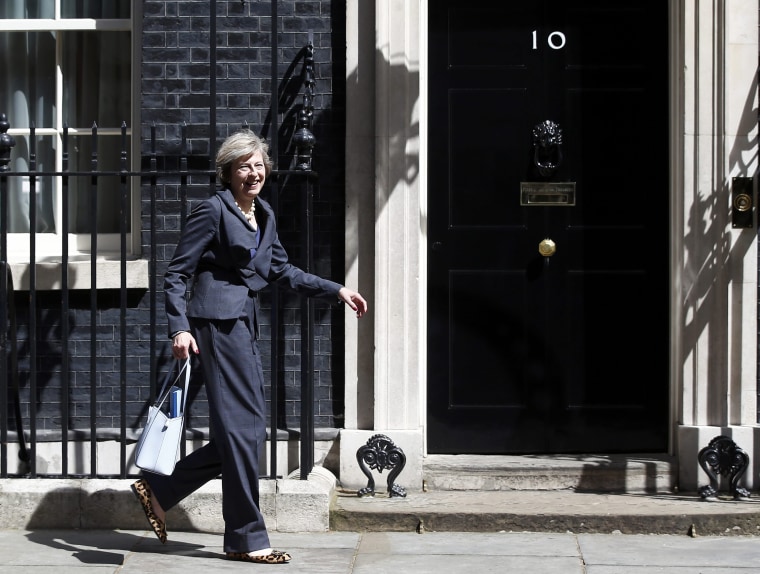 However, she suffered a political setback when she failed to meet an election promise to reduce net immigration despite a controversial poster campaign urging undocumented migrants to "go home or face arrest."
Pastor's Daughter
May is the only child of a Church of England vicar, and has lived all her life in the Conservative heartland of southeast England.
She was born in the genteel seaside town of Eastbourne, East Sussex, and studied geography at Oxford University where she met her future husband, Philip. Her political career began as a local councilor in suburban London and in the House of Commons she represents the affluent, white-collar constituency of Maidenhead, a rock-solid Conservative London commuter town.
She lost both of her parents the age of 25 when her father died in a car crash on his way to conduct a Sunday evening service in rural Oxfordshire. Her mother, who was already suffering from multiple sclerosis, died a few months later.
Related: Britain Gets New PM but Larry the Cat Keeps Job, Home
In an interview launching her leadership bid last week, she spoke about her Type 1 diabetes, which forces her to inject herself with insulin four times a day. "It becomes a routine part of your life — there are plenty of senior people in business with it," she told the Mail on Sunday newspaper.
May has also became known for her collection of footwear — including leopard-print kitten heels.
Her spouse is already being referred to as Britain's incoming "first husband" or '"first gentleman." They met at a Conservative Association dance party while attending college, thanks to an introduction by Pakistan's future leader, Benazir Bhutto."It was at an Oxford University Conservative Association disco, of all the things, and I remember I was sitting talking to Benazir and Philip came over and she said, 'Oh, do you know Philip May?' and the rest is history, as they say," Theresa told BBC Radio 4 program Desert Island Discs back in 2014.
The couple tied the knot in 1980 and have now been married 36 years with no children.
Throughout their long-lasting marriage, Theresa May has called him her "rock."
'She Is No Joke-Smith'
Amid the inevitable comparisons to Thatcher, columnist Letts cautioned against calling May the new "Iron Lady" but described her as "pretty tough."
He said: "She is certainly made of some metal substance. We will soon work out exactly what that metal is. She is flinty and she is no joke-smith."
When asked about how a relationship between May and Clinton might potentially develop, Letts said he did not foresee "any sort of idea of a sisterhood."
He added: "Mrs. May has never been the kind of woman politician who makes a big thing out of her gender, she just sees life as a human being rather than, 'I am woman.' ... It would just be politician to politician. Quite dull, quite plain, quite workman-like. Workman-like, rather than work-woman."
As for Trump, Letts said, "it would be a real test to see if 'The Donald' could make her laugh."