LONDON — British Foreign Secretary Boris Johnson and two other ministers quit Monday amid a deepening crisis over Brexit that threatens to topple Prime Minister Theresa May.
Johnson's resignation came after Brexit Secretary David Davis and junior Brexit minister Steve Baker stepped down overnight, blowing apart May's claim to have finally united her squabbling government on the issue.
Johnson, a loud pro-Brexit voice within May's divided government, is unhappy with her plan to keep the U.K. and the E.U. in a free-trade zone for goods and to commit Britain to maintaining the same rules as the bloc for goods and agricultural products.
In his resignation letter shared on Twitter, Johnson complained to May that she was leading Britain into a "semi-Brexit" in which the nation has no control over large parts of its economy "still locked in the E.U. system."
The Brexit "dream is dying, suffocated by needless self-doubt," Johnson said, adding that "since I cannot in all conscience champion these proposals, I have sadly concluded that I must go."
Johnson's departure could embolden Brexit-supporting lawmakers in May's Conservative Party to challenge her leadership unless she backs down on the Brexit strategy she announced Friday after 12 hours of talks.
Acknowledging the extent of the crisis, her spokesman said Monday that she would fight any attempt to oust her as leader.
The turmoil comes just days before President Donald Trump is due to meet May on his first official visit to Britain.
"Theresa May's premiership is over," Conservative lawmaker Andrea Jenkyns told the BBC.
Johnson, a New York-born former mayor of London, is frequently cited as a contender to replace May if she were to be forced out and has never made a secret of his ambitions to be prime minister.
"It's all just falling apart again," said May's former adviser, Joey Jones — a remarkable assessment given that only 263 days remain until Britain leaves the bloc.
The E.U. has repeatedly warned Britain that time is running out to seal a divorce deal before March 29, 2019.
Jeremy Corbyn, the leader of the opposition Labour party, told the House of Commons: "The agreement took two years to reach and just two days to unravel. How can she get good deal with the E.U. when she can't even broker one within her own Cabinet?"
In his resignation letter, Davis said May's policy is "weak" and predicted it would "lead to further demands for concessions" from the E.U.
Andrew Bridgen, another pro-Brexit lawmaker in May's party, said her future would likely be decided at Monday's meeting.
"What she needs to do is give up on her proposals," he said. "There will be a robust exchange of views and my colleagues will make a decision then as to whether they will support the prime minister."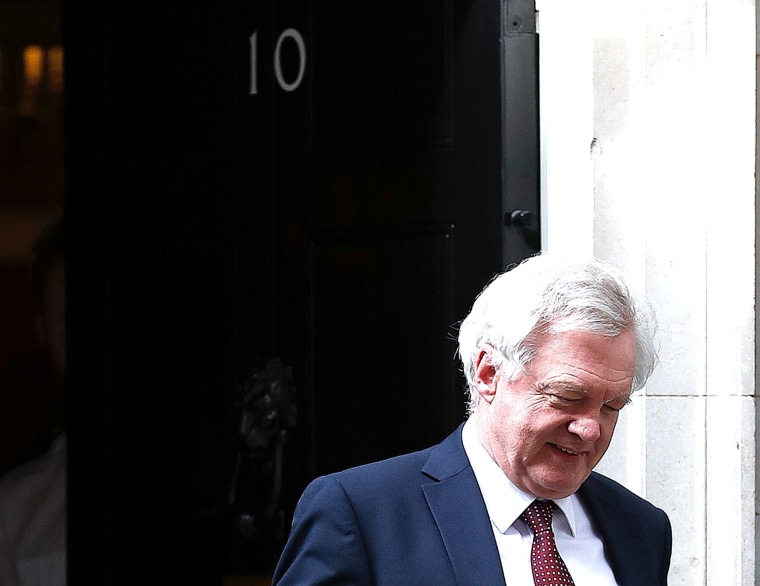 A leadership challenge can be triggered if 15 percent of Conservative lawmakers demand it in a letter.
Robert Peston, political editor of NBC's partner ITV News, reported that some had already done so.
Conservatives currently have 316 members of parliament, so 48 of those would need to join the rebellion.
However, former May aide Tom Swarbrick told NBC News that even Brexiteers would see removing the prime minister as a gamble too far.
"Even if there is a leadership challenge, she is in a good position to fight it because there would probably not be enough members of parliament willing to replace her," he said.
May's health minister, Jeremy Hunt, called for unity, saying, "It's now or never." He was later named as Johnson's replacement.
Davis himself also avoided twisting the knife, describing May as a "good prime minister."
Trump is also expected to meet Queen Elizabeth II before heading to his golf resort in Scotland and then to Helsinki where he will meet Russian President Vladimir Putin.