LONDON — Already grappling with an existential crisis over Brexit, the U.K. woke up Friday to yet another conundrum: How did Prime Minister Theresa May lose an election she didn't even need to hold?
The Conservative confidently asked the country for a "stronger mandate," calculating that her party's commanding lead in opinion polls would translate into a landslide victory, vindicating her Brexit strategy.
But with only 10 days to go until divorce talks with Europe are due to begin, that decision was exposed as a humiliating blunder early Friday. Instead of increasing her majority in Britain's parliament, she lost it altogether.
It is Britain's second disastrous political gamble in just two years, following ex-Prime Minister David Cameron's 2016 referendum on EU membership. He resigned following the Brexit vote.
After meeting Queen Elizabeth II Friday, May said she intended to form a minority government to break the deadlock of a so-called "hung parliament" and give the country "certainty."
However, Britain faces the real prospect of yet another election — Britain's last minority government, in 1974, lasted only nine months.
"We believed the polls and we were cocky"
And May's stated goal of unifying the country with "strong and stable leadership" is now utterly out of reach.
Yvette Cooper, a former government minister and lawmaker with the opposition Labour Party, said May was fundamentally weakened "after losing what was basically a referendum on herself."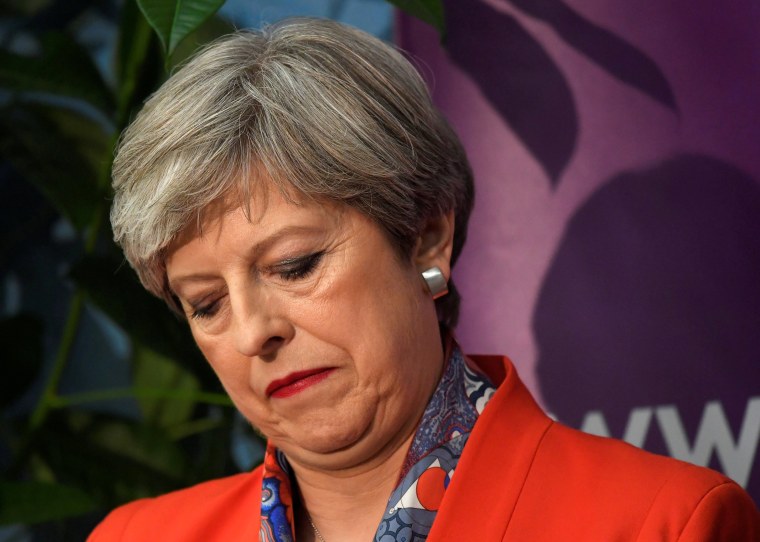 How did May throw away what opinion polls suggested was a 20-point lead in under two months?
Senior figures in her party blame a faltering campaign, in which she refused to take part in TV debates, and an unpopular manifesto that gifted votes to left-wing rival Jeremy Corbyn, who leads the Labour Party.
Related: Socialist Outsider Loses, but Wins Big in U.K. Election
In particular, May was forced to perform a mid-campaign reversal over a policy that would see people pay more towards elderly care — a plan quickly attacked as an unfair "dementia tax."
"The manifesto, which was drafted by her and about two other people, was a total disaster and must go down now as one of the worst in history by a governing party," former Conservative Treasury minister George Osborne said. "I say one of the worst … I actually can't think of a worse one."
May's campaign also carries a lesson for election tactics in the modern era.
A senior Conservative source told Reuters that the party's campaign relied too much on strict message discipline and that May's mantra of "strong and stable leadership" was repeated so often that it became a joke.
By the end of the seven week run-up, May had earned the moniker "Maybot" for her robotic performances.
"We overestimated the campaign team at the top," Reuters quoted the source as saying. "We believed the polls and we were cocky."
Related: 'Revenge of the Young' Bruises PM, Boosts Socialist
By contrast, the unpolished style of the socialist Corbyn won over voters — as did his focus on issues such as college fees, health services and austerity.
"Corbyn ran a way better campaign, he got to more places and got more people to come out to his rallies," Labour supporter Alisa Hall told Reuters in London early Friday. "It showed. People weren't excited to go and see Theresa May at a rally."
In fact, the Conservatives lost in most of the electoral districts in which May campaigned hardest.
May's aloof awkwardness was exposed last week when she was asked in an interview to name the naughtiest thing she had done in her life. Blushing, the pastor's daughter said the worst thing she could think of was running through a farmer's field of crops as a child.
As the results came in early Friday, former minister Osborne brutally observed that May was now "probably reflecting that the worst thing she's done in her life is no longer running through a wheat field."
Reuters contributed to this report.