LONDON — She wanted to crush her opponents, strengthen her hand, and go into Brexit negotiations with the country behind her.
Instead, British Prime Minister Theresa May suffered a humiliating setback in Thursday's general election, raising questions about both her own position and the U.K.'s upcoming divorce from the European Union.
"I do not underestimate how chaotic this is going to be," Kenneth Armstrong, a professor of European law at the University of Cambridge, told NBC News.
When she called this surprise election just 52 days ago, the prime minister said the election was all about Brexit, the nickname given to the country's decision to leave the EU in a referendum last year.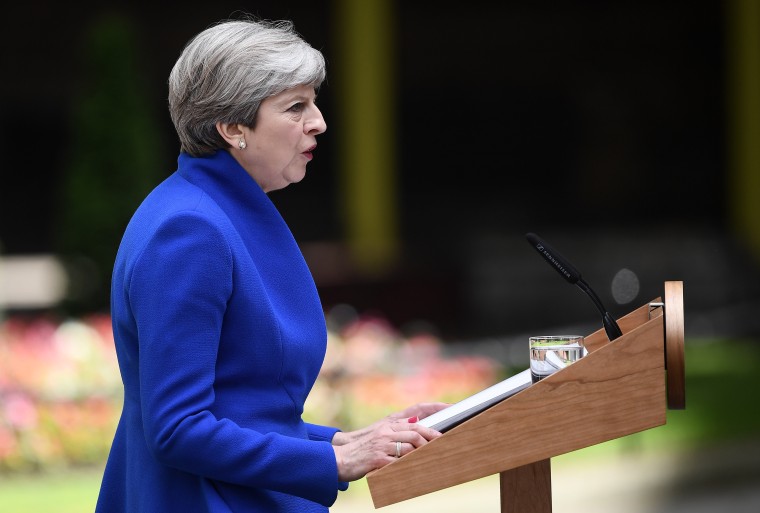 Opinion polls suggested her Conservative Party would trounce Labour; she had a narrow majority in Parliament but she wanted more.
In just 10 days' time, the U.K. is set to enter tough negotiations with the other 27 EU member states, and May asked voters to embolden her position going into the talks.
"Every single vote for me ... strengthens my hand in the negotiations for Brexit," she said.
That hasn't happened.
May's bid to increase her parliamentary majority over the left-leaning Labour Party failed. The Conservatives lost at least a dozen seats and now will now attempt to rely on lawmakers from an ultra-conservative smaller party to retain power.
And May's weakened position following Thursday's vote will complicate the already impenetrable process of leaving the EU.
"The U.K. looks ungovernable at the moment and that's going to make the Brexit negotiations very difficult," Armstrong added.
The first challenge for the prime minister is actually forming a government.
In recent years, most British elections have resulted in one party winning more than half of the lawmakers in Parliament, meaning that none of their opponents can block them from passing legislation.
Because she failed to win enough seats, May said Friday she would attempt to form a government and enlist support from the Democratic Unionist Party of Northern Ireland.
Related: How British PM Threw Away an Election
But getting the green light from Parliament is not certain, especially considering some of May's own lawmakers are angry about the result.
After forming a government, May would have to propose a list of laws, known as a "Queen's Speech," which are then voted on by lawmakers. If they reject it, the opposition Labour Party could be given a chance to form a government, and if they fail there could be another election.
"At that point you have to ask: Is Brexit still on?" Armstrong said.
Even if May does manage to form a government, her enfeebled position would likely have an effect on the negotiations themselves.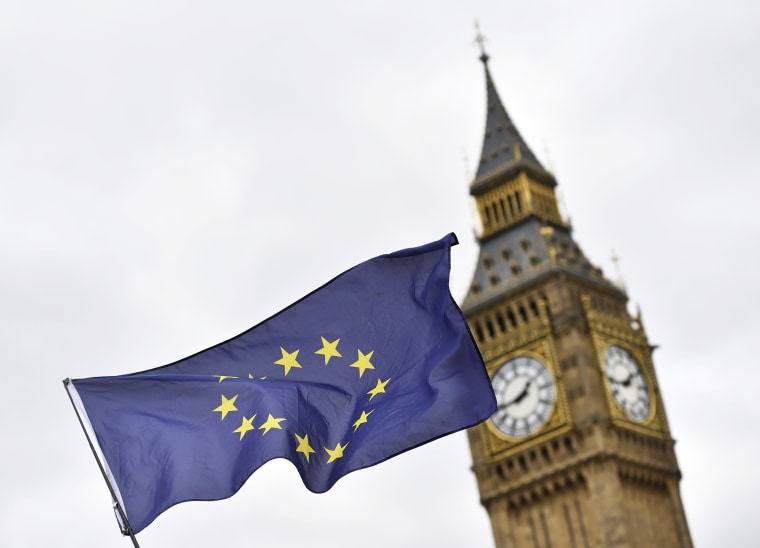 May says she wants a so-called "hard Brexit" — meaning Britain exiting the European Single Market that guarantees free movement of goods, people, services and capital between member states.
But her diminished power means this vision could be difficult to accomplish.
"I'm not quite sure how she will play it," said Dr Christine Reh, a lecturer in European politics at University College London. "It will be extremely difficult for her to pursue a cause that pleases all sides."
The prime minister may be forced to water down her plans into something resembling a "soft Brexit," which could mean staying within the European Single Market while making concessions to Brussels.
"Hard Brexit went into the rubbish bin tonight," former Treasury chief George Osborne told ITV News, using the British term for a trash can. Osborne was fired by May after the Brexit referendum and is now editor-in-chief of the London Evening Standard newspaper.
Another issue is the timing of the negotiations.
One month before calling the election, the prime minister triggered something called "Article 50," a legal document that starts a two-year countdown to leaving the EU.
Several commentators said May's decision to trigger Article 50 before calling the election was "reckless" and predicted it would weaken the U.K.'s position.
Britain now faces the double headache of beginning talks in 10 days while trying to thrash out its own domestic political muddle.
"There are few words to describe the sheer irresponsibility of the prime minister in triggering Article 50 only to follow it by calling a needless general election," lawyer David Allen Green wrote in the Financial Times early Friday.
The Article 50 process can be paused or postponed, but all 28 EU states would have to agree and "it would come at political cost to Britain," according to Green.
Related: 'The Revenge of the Young' Bruises British PM, Boosts Socialist
May vowed Friday not to disrupt this timetable — if she survives her lawmakers' wrath and manages to form a government, that is.
From the European perspective, "they simply want to get going — they are ready," said Reh at University College London.
The EU's chief Brexit negotiator appeared to strike a conciliatory tone, saying that "negotiations should start when UK is ready."
However, Guy Verhofstadt, the former Belgian prime minister and the European parliament's negotiator for Brexit, called the election "yet another own goal" for the U.K. — using a term meaning to score against your own team.