MARGATE, England — Wearing a clerical collar and a leather jacket emblazoned with a flaming motorcycle, the Rev. Stuart Piper doesn't look like your typical right-wing candidate.
He is a member of the U.K. Independence Party, known as UKIP, a party that spearheaded Britain's exit from the European Union. Its former leader, Nigel Farage, is a transatlantic ally of President Donald Trump.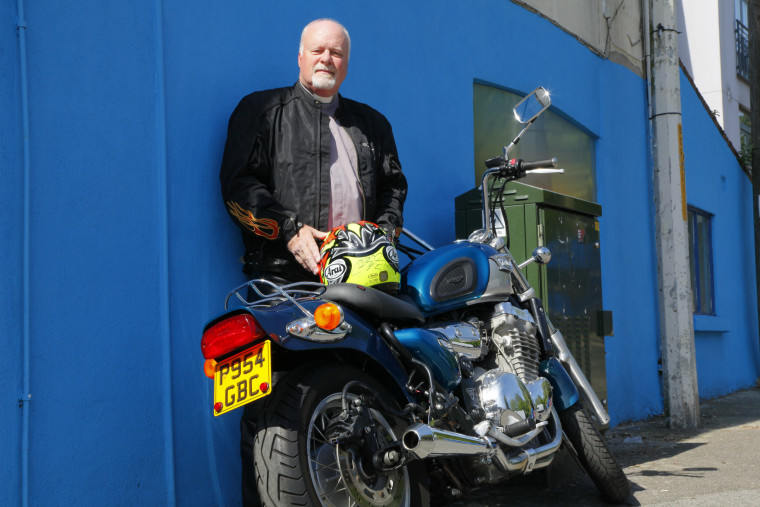 "We get the same reaction to us that Donald Trump gets in the U.S.," he said of his own populist movement.
"We're like Marmite — either you love it or you hate it," he added, referring to a British spread whose distinctive yeasty flavor has become a metaphor for anything that divides opinion in these isles.
Thursday's British general election will offer a barometer of the strength of such feelings. The national vote will elect 650 lawmakers, with the party with the most seats likely forming the next government.
Like Marmite, last year's shock decision to leave the EU — "Brexit," as it's known — divided the country.
The referendum has remained a central issue in this election, which was hastily called by Prime Minister Theresa May just 50 days ago. She called on voters to strengthen her hand for what promise to be tough negotiations with the EU.
But while politicians are still bickering over Brexit, a large number of voters in both the pro and anti-Brexit communities have moved on — something likely to hurt UKIP. Piper's party is fighting for its political life, even in Thanet, an area on the southeastern coast of Britain where it has previously enjoyed support.
It was here, in the South Thanet voting district, that Trump's ally Farage ran and lost in the 2015 election — his last of seven unsuccessful attempts to enter Parliament. With Farage declining an eighth attempt, Piper is UKIP's candidate this time.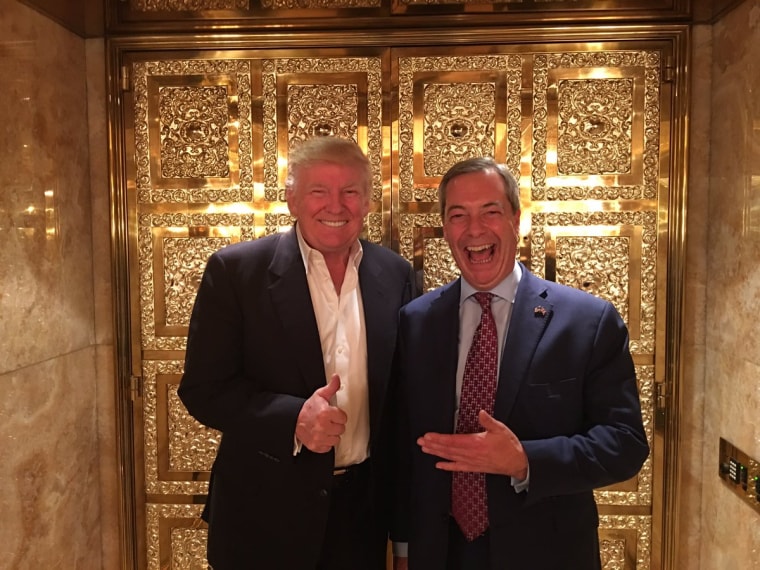 But he has a tough time convincing even those who might have been sympathetic last year. Although UKIP is promising to slash immigration and deliver tax cuts, to many voters they are seen as a single-issue party whose sole aim was achieved with Brexit.
"It's history. UKIP only had one card and they've played it," said 50-year-old facilities manager Mark Rose, who was sat outside of a cafe in the tumbledown seaside resort of Margate.
Around 60 miles east of central London, the town has struggled with unemployment and deprivation and is similar to U.S. rust belt towns that championed Trump.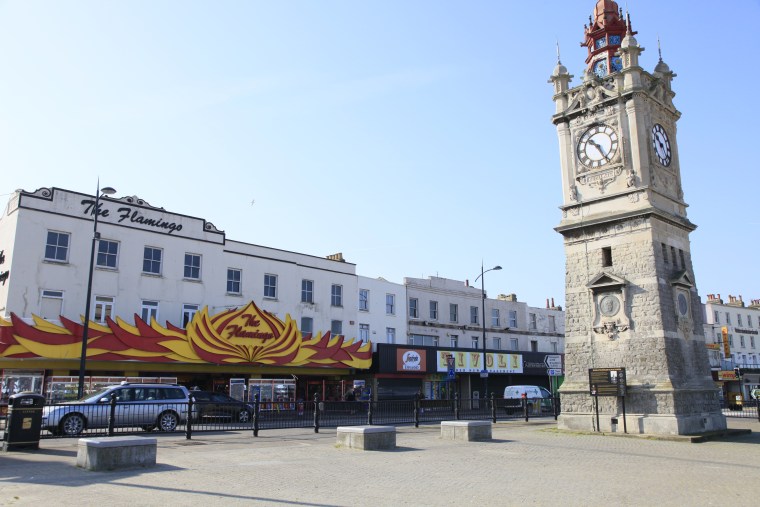 The wider district of Thanet voted 64 percent in favor of leaving the EU, but that doesn't appear to have translated into support for UKIP. The party's vote collapsed in local council elections held across the country last month.
Rose said he voted for Brexit, but now the referendum is over he is now more concerned with national security.
Fears like his have deepened for many Brits after their country was hit with a spate of three terror attacks in less than 11 weeks. The most recent of these occurred Saturday, when three men plowed a van through pedestrians on London Bridge before going on a stabbing rampage.
"There's just no point in them anymore," Jean Parish, an 83-year-old retired nurse who also supported Brexit, told NBC News while out shopping just a short walk from Piper's office.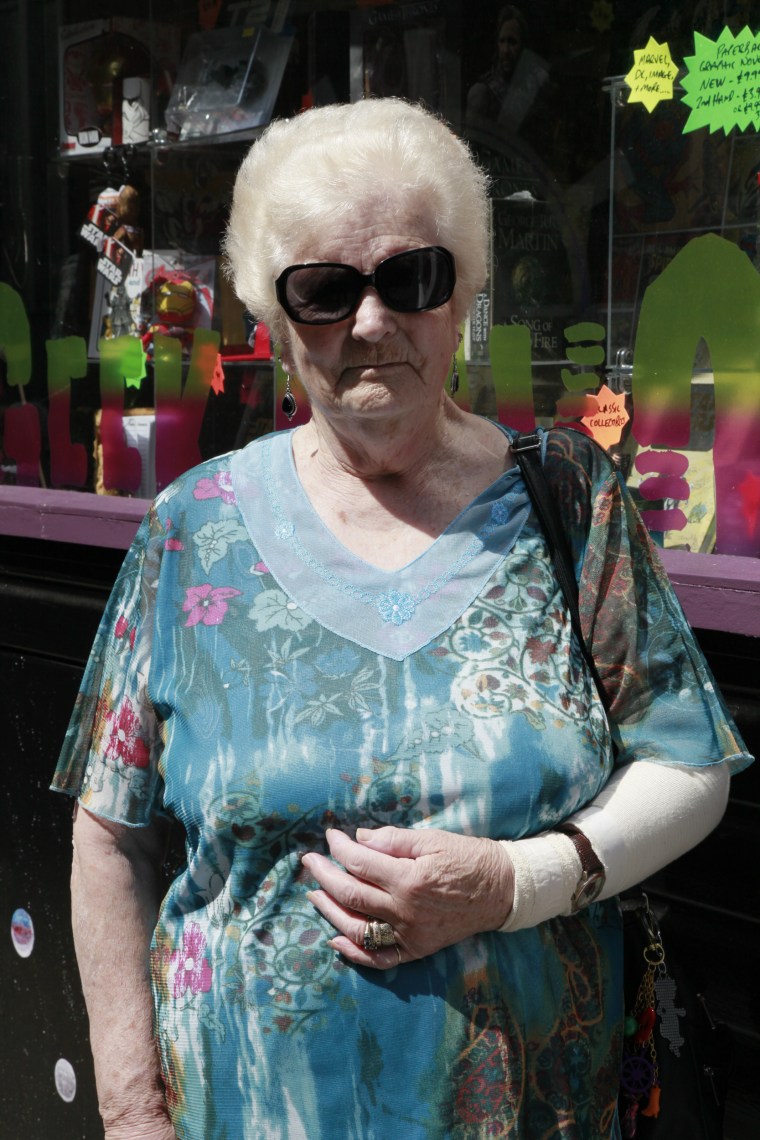 The candidate takes hope from Farage's strong showing here in the 2015 election, coming in second behind the Conservatives.
Since stepping away from front-line British politics, the former UKIP leader went on to carve himself a role in the U.S. as a cheerleader for Trump and a Fox News contributor.
A large portrait of Farage features in Piper's office.
"The Conservatives planted the idea that UKIP's job was done and the only way to see the country through was to vote Conservative," Piper said, also flanked by smaller portraits of Queen Elizabeth II and Winston Churchill. "But we're not out of the EU yet. The job is not yet done."
He's not wrong. Brexit promises to be a protracted and difficult process that will last years. Much of the political discourse in Britain still revolves about what type of divorce settlement the country hopes to achieve.
Flip-flopping
The 28-member EU guarantees free movement of labor and access to a vast single market. These are principles that Brexiteers — people who voted Brexit — say has led to uncontrolled immigration and diminished sovereignty.
The so-called "Remainers" who voted to stay, meanwhile, say it has increased prosperity and diversity.
Formerly a Remainer, Prime Minister May gained power after the referendum and has since made Britain's split from the EU her central focus. She has drawn support away from UKIP by presenting herself as a "strong and stable" leader, able to deliver Brexit and reduce immigration — both key UKIP pledges.
But she is facing a tough battle this week in a vote that was initially forecast to deliver her a landslide victory.
She has been accused of flip-flopping after her office insisted at least half a dozen times that she wouldn't call an early election. May changed her mind while her center-right party enjoyed a 20-point lead in polls over the main opposition, the left-leaning Labour Party led by socialist Jeremy Corbyn.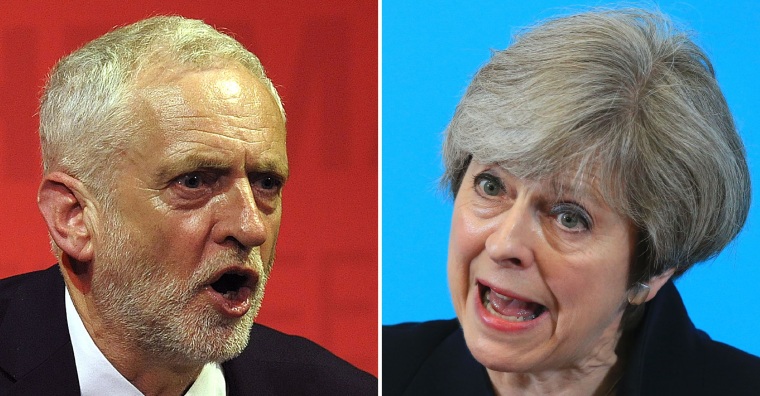 That lead has shrunk to single digits in some polls after a series of policy reversals. May's reluctance to deviate from pre-prepared slogans and a refusal to participate in live TV debates has also led many commentators to summarize her campaign as having been badly run.
"I was going to vote Conservative but she couldn't even be bothered to turn up to the debate," said Georgina Kelk, 51, who is unemployed and on disability benefits. "I think she got complacent and thought everyone would vote for her."
Kelk said she's now inclined to vote for Labour.
Adding to Conservative woes, their manifesto contained a measure that would force some Britons to pay heavily toward elderly care — something they traditionally haven't done. This triggered an outcry among older voters, who tend to vote Conservative, and resulted in a hasty retreat by May.
Related: How U.K.'s 60-Something Rivals Are Chasing Millennial Vote
"The British taught us in school to mind your body language, look people in the eye and be direct — a spoon is a spoon, a spade is a spade," said Elizabeth Asafu-Asdei, a 64-year-old care worker who was educated at a British school in Tanzania.
"When I see Theresa May's body language, I see a fearful woman, who says a cut is an increase and who calls an election when she said there wouldn't be one," Asafu-Asdei added.
Enthusiasm
While Conservatives appear to have floundered, Labour has confounded many pundits by surging in the polls — one of which Tuesday put them just one point behind the Conservatives.
Many analysts have treated this with caution, however, citing other polls that give the Conservatives a bigger lead, as well as evidence Labour's vote-share may be increasing in areas it already holds, rather than key battlegrounds.
On Brexit, the party has pledged to honor the referendum result but has signaled it plans to maintain closer ties with the EU than the Conservatives.
Related: The U.K. Election Could Tee Off New Drive for Scottish Independence
Corbyn's party has also pledged to raise corporation tax and taxes for higher earners, a move that appeals to its blue-collar grassroots but which Conservatives say will harm the economy.
But it's not just in Thanet where Labour's platform is catching people's attention.
In Vauxhall, a diverse, inner-city London neighborhood across the Thames from the Houses of Parliament, 22-year-old student Joana Theresa was enthusiastic about the party's manifesto pledges.
"The main thing that caught my eye is their support for young people in housing funding and student fees," she said.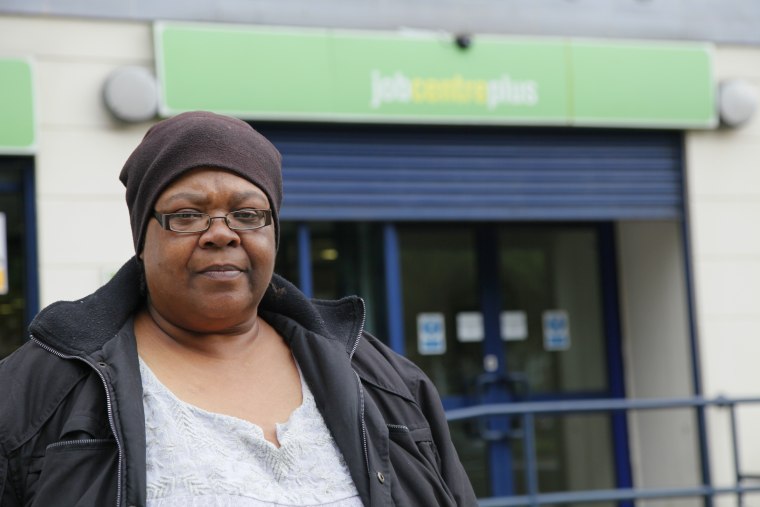 At a Jobcentre, where unemployed Britons receive welfare payments, 55-year-old Charmaine Davis said she probably would not vote but would choose Corbyn's party if she did.
"If you do vote it's going to take time for whoever gets in to correct the last government," Davis said, her speech labored and gait uneven having suffered two strokes.
She hasn't worked for a year and has seen her welfare payments cut under the Conservatives.
"But now I have a grandson it could be different because I won't be here, but he will be and I want it to be better for him. That's why I might vote."
'S*** happens'
Housing projects and luxury apartment blocks sit side-by-side in the ethnically diverse and rapidly gentrifying district of Vauxhall, which should be ripe for a pro-EU candidate given that 78 percent of voters there backed Remain.
Hannah Renier, 71, said she plans to vote for the Liberal Democrats — a small pro-EU party that has pledged another Brexit referendum. It has poured campaign resources into Vauxhall to try to unseat incumbent Labour lawmaker Kate Hoey, who was a senior Brexiteer.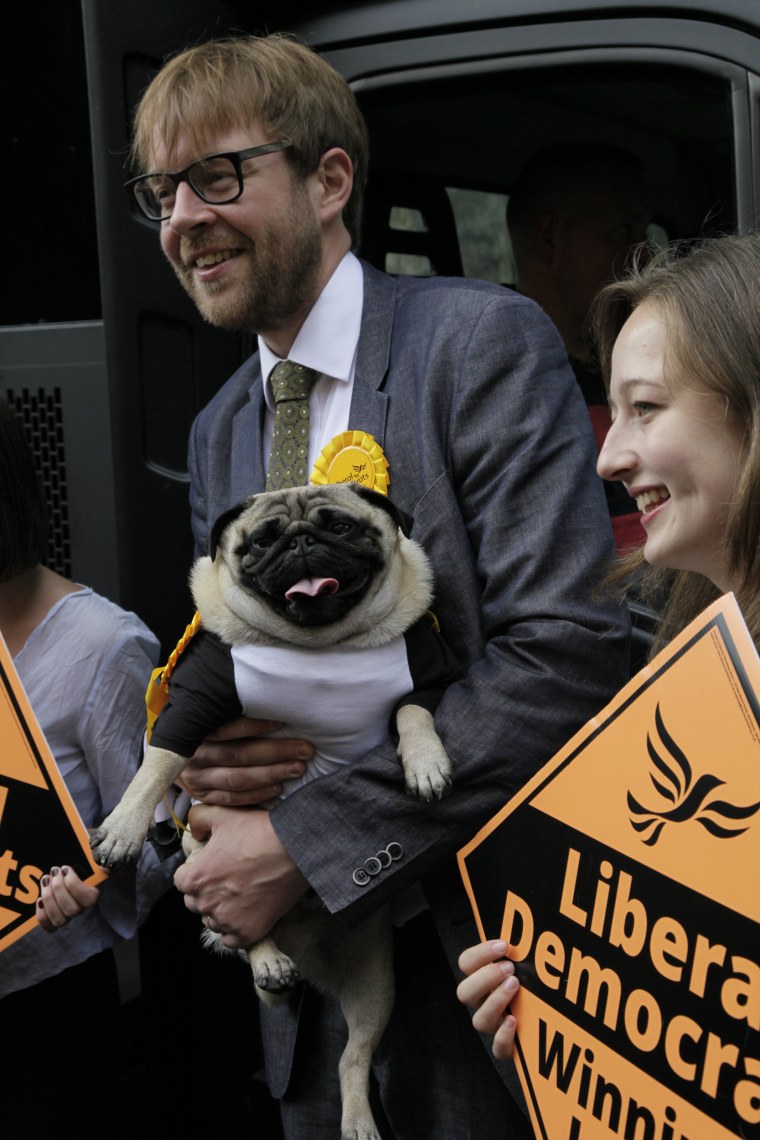 "The vote here is about Brexit, but it's more than that," said Lib Dem candidate George Turner, whose campaign team that day included a pug dressed in a party T-shirt and rosette. "It's about the failure of our member of parliament to adequately represent the views of her constituents on the most important issue of the day."
Yet stagnant results in opinion polls indicate his party's strategy may be stalling.
Responding to Turner, Hoey told NBC News: "The country is moving on from the referendum."
In Vauxhall, she may be right.
"Sometimes we don't get it our own way. S*** happens. So now it's about trying to get the best deal rather than scupper any deal," 45-year-old bar manager Jason Douglas said.
Retiree Chris Waite echoed his views: "I voted Remain but now that we're leaving we'd better get on with it."