LONDON — After suffering a series of humiliating Brexit defeats in Parliament, British Prime Minister Boris Johnson was dealt a fresh blow Thursday by an unlikely source: his little brother.
Jo Johnson announced he was quitting the government and standing down as a member of Parliament, becoming the latest casualty in the war over whether and how the U.K. leaves the European Union.
"In recent weeks I've been torn between family loyalty and the national interest," Jo Johnson, who was a business minister in his brother Boris' Cabinet, said on Twitter. "It's an unresolvable tension and time for others to take on my roles as MP and minister."
The prime minister's plans to take the U.K. out of the European Union "do or die" on Oct. 31 faced two significant setbacks on Wednesday when lawmakers passed a bill forcing him to request another extension to Brexit, and then blocked his attempt to call an early or "snap" election.
Britain's next national election is officially not scheduled until 2022, although it will now almost certainly be held earlier to try to end Parliament's Brexit impasse.
---
The Brexit battle latest
Prime Minister Boris Johnson's younger brother Jo Johnson announces he is quitting the government and standing down as a member of Parliament.
The pound rallies to a one-week high after lawmakers force Johnson to get a three-month delay to Brexit if he fails to secure a transition agreement with the E.U.
Johnson again calls for a "snap" election.
Opposition Labour Party likely to wait till after Oct. 31 for election.
---
The Johnson family itself is notoriously split over Brexit, with sister Rachel having represented different parties opposed to Brexit, and father Stanley being a committed europhile and former European Commission official.
Jo Johnson's resignation is not the first time family political tensions have spilled over into Parliament. In 2010, Ed Miliband took on and beat his brother David to lead the opposition Labour Party.
The departure of Jo Johnson, a former Financial Times journalist and much less flamboyant than his brother, comes just days after the prime minister expelled 21 lawmakers from his own ruling Conservative Party after they voted against his Brexit plans.
The backlash against Boris Johnson's hard-line approach to the rebels — including former Finance Minister Philip Hammond and Nicholas Soames, Winston Churchill's grandson — has led to growing discontent within the ranks of his party.
"He is a very Trumpian kind of leader and he has tried to lead in a populist way and a very nationalist way," said Robert Hazell, professor of government and the Constitution at University College London. "He has tried to strong-arm his party, and orthodox, traditional old-school Conservatives find that very difficult to stomach."
Johnson had hoped to rally fellow Conservatives around his plans to leave the bloc at the end of October with or without a divorce deal. But the last week's events in Parliament have left him battling to restore his authority.
And Jo Johnson stepping down will only make matters worse for the prime minister, said Anand Menon, a professor of European politics and foreign affairs at King's College London.
"Obviously it feeds into a narrative that is around about the government being untrustworthy because it can be spun that even his own brother doesn't trust him," he said. "That wording — 'family loyalty versus the national interest' — that seems to be saying that his brother isn't acting in the national interest. That's quite a big deal."
The prime minister continued his push for a new election Thursday to solve the country's latest Brexit impasse, accusing Labour leader Jeremy Corbyn of cowardice for opposing the plan.
The British government says it will try again next week to trigger an election after its first attempt was rejected by Parliament.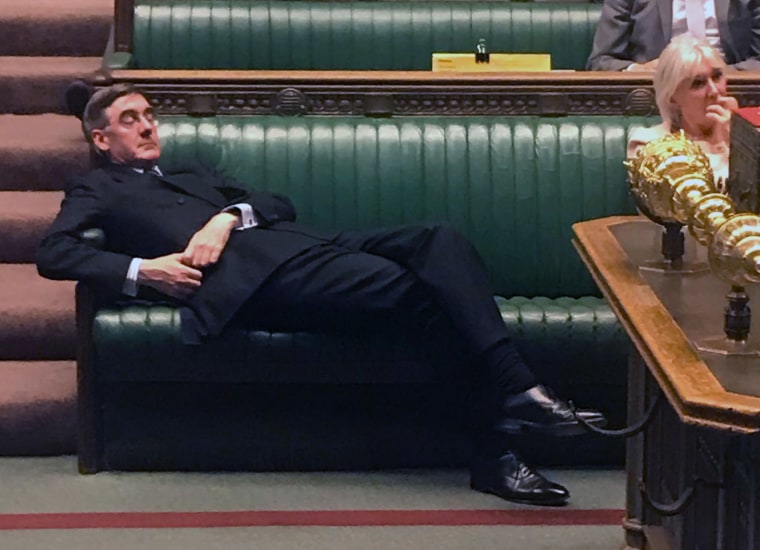 The leader of the House of Commons, Jacob Rees-Mogg, says a vote will be held Monday on a motion calling for a snap poll — possibly the last chance for Johnson to force an election before Oct. 31. Last week, the prime minister asked the queen to approve a request to suspend Parliament for five weeks — the first in what became a growing series of divisive gambits to try to push through his Brexit plans.
Corbyn's Labour Party, meanwhile, looks set to try to delay fresh elections until after Oct. 31.
Holding the election before the end of October could see a victorious Johnson repeal the bill to delay Brexit, once more raising the prospect of the U.K. crashing out of the E.U. without an agreement.
"The Labour Party are probably going to insist that any general election happens after Oct. 31 on the basis that they calculate that this is the best way to pull the legs out from under Boris Johnson because he's promised to take us out, do or die," Menon said.
However, delaying the election carries risks for Labour as it could be accused of cowardice and prolonging Parliament's Brexit impasse.
The British public has grown increasingly weary of the Brexit debate since the referendum to leave the E.U. in 2016, and some Britons are already fed up with the prospect of another vote.
A British viral internet meme featuring an elderly woman decrying an early election in 2017 has resurfaced, with the woman — known as "Brenda from Bristol" — telling a reporter: "You're joking?! Not another one?"
A snap election is also a huge gamble for Boris Johnson, who risks becoming the country's shortest-serving prime minister should he lose. He faces a stiff challenge from a hard-line Brexit Party led by Trump supporter Nigel Farage, and from the centrist Liberal Democrats.
Opinion polls show the Conservatives ahead of Labour by as much as 10 points, but the surveys have proven a poor indicator in the past, with Corbyn's party doing much better than expected in 2017 elections.
In a sign of Britain's topsy turvy politics, The Financial Times — arguably Britain's most influential business paper — on Wednesday reported that markets were warming to Corbyn, a politician long painted as a hard-left socialist.