BRUSSELS — Two brothers who blew themselves up in Brussels on Tuesday morning had violent criminal records and links to a suspect in last year's Paris attacks, authorities said Wednesday, as the search for other members of an ISIS-linked terror network continued.
One of the brothers, Khalid El Bakraoui, 27, detonated a suicide bomb in a stopped subway train, and the other, 30-year-old Ibrahim El Bakraoui, did the same at the Brussels airport, authorities said.
Ibrahim was identified as one of three men captured on an airport surveillance video pushing carts loaded with bags just before two explosions, ten seconds apart, at a check-in area. Identities of the other men, one of whom abandoned a suitcase before leaving the airport, have not been released. A third suitcase bomb did not explode but was later detonated by Belgian authorities.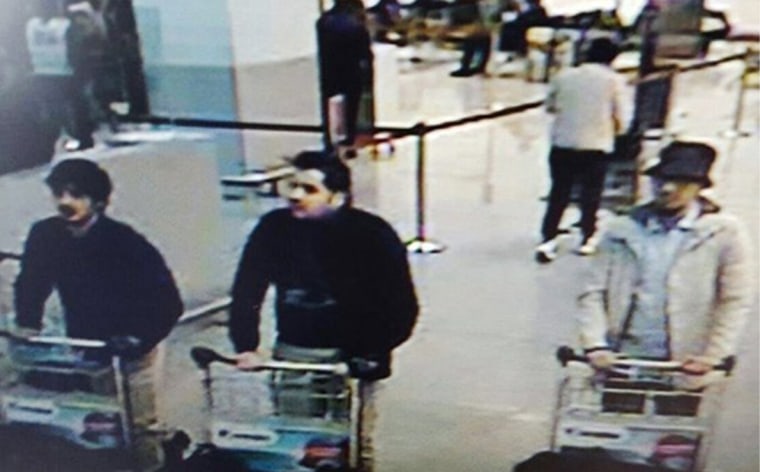 Authorities say they are searching for one man in particular: 24-year-old Najim Laachraoui, who they say had traveled with one of the Paris plotters, Salah Abdeslam — who was arrested Friday — and had traveled to Syria in 2013. It was not clear whether Laachraoui was among the three men pictured in the airport surveillance photo, but authorities were aware of him prior to the attacks. They appealed for the public's help in tracking Laachraoui down.
ISIS has claimed responsibility for Tuesday's bombings.
As the manhunt continued, the death toll in the Belgian capital hit 31, with more than 270 wounded. That number may rise, with several victims in very serious condition, authorities said. The injured span a variety of nationalities, a reflection of Brussels' multinational fabric. They included three Mormon missionaries from Utah and a U.S. serviceman and his family; an American couple, last heard from at the airport, have been reported missing.
Belgium attempted to ease back to normalcy on Wednesday, with schools open and transport networks running, although flights in and out of the airport remained suspended. Still, the specter of further attacks loomed: ISIS warned of more "dark days" to come — "worse and more bitter."
The Bakraoui brothers had criminal records — Ibrahim for shooting at police during a robbery and Khalid for carjackings, authorities said.
Ibrahim El Bakraoui was arrested in Turkey last June and deported to the Netherlands, an official in Turkish President Recep Tayyip Erdogan's office told the Associated Press on Wednesday. His comments came after Erodogan told reporters that one of the attackers had been deported from Turkey, although he did not specify who.
Ibrahim was caught in June at the Turkish\-SYrian border and deported in July, the official, speaking on condition of anonymity, said. Turkey warned both Belgium and the Netherlands that he was a "foreign terrorist fighter."
The Dutch authorities, unable to establish ties to terrorism, allowed him to go free, the official added.
Khalid, the other brother, had rented an apartment in the city's Forest neighborhood raided by police last week as part of the investigation into the Paris attacks, according to reports by RTBF and the Belga news agency. At the apartment investigators found Abdeslam's fingerprints, along with an ISIS flag and an extremist manual, officials say. The Algerian shot to death in the building shared a name and other personal details with an ISIS fighter identified on a 2014 recruitment form obtained by NBC News from a man who claimed to have stolen them from ISIS.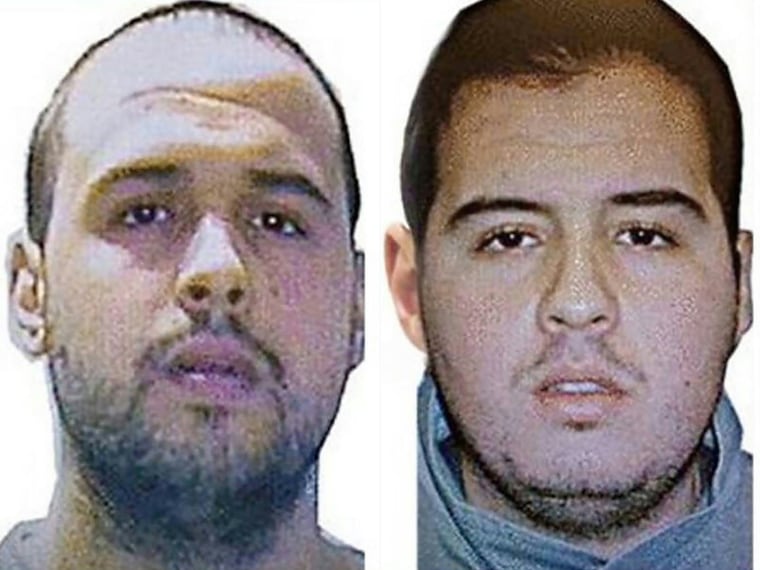 A taxi driver tipped off police that he had picked up three passengers at a home in the Schaerbeek district of Brussels. The driver reportedly said the men's luggage was very heavy, but the men refused to let him help. NBC News could not immediately confirm that report. Two sources told NBC News that the bombs weighed about 44 pounds each.
A subsequent search of that home, however, turned up an apparent bomb-making factory outfitted with volatile chemicals, nails and an ISIS flag. Investigators revealed that Laachraoui's DNA had been found there — and at a building raided by police last week during the capture of Abdeslam.
The lengthy search for Abdeslam, and the apparent links between the attackers in Brussels and those that killed 130 people in Paris, has raised questions about whether Belgian authorities could have prevented Tuesday's bombings.
Related: Why Is This Brussels Suburb Home to So Many Extremists?
"I don't think we have missed something" Belgium Interior Minister Jan Jambon told NBC News. "It's a difficult, difficult job."
He added: "The people of ISIS are also professionals. So that means that the job is extremely difficult."
Belgium paused for a moment of silence on Wednesday morning, and the country's king was reportedly planning to visit the wounded.
"Our darkest day," read the cover of one newspaper. Another simply bore the date — 22/3 — against a black backdrop. Elsewhere in Europe, the carnage was captured in headlines such as "Bloodbath in Europe."
The attacks continued to reverberate around the world — sparking condemnation from leaders but also stepped up security in New York, London and Paris. France deployed more than 1,600 additional security forces.
The U.S. State Department, meanwhile, issued a travel alert warning U.S. citizens of "potential risks" to travel in Europe. "Terrorist groups continue to plan near-term attacks throughout Europe, targeting sporting events, tourist sites, restaurants and transportation," the alert warned.