Ibrahim El Bakraoui and younger brother Khalid were no strangers to police prior to Tuesday's suicide bombings in Brussels.
Both had criminal records long before becoming involved in a terror cell that unleashed carnage in Paris and Brussels.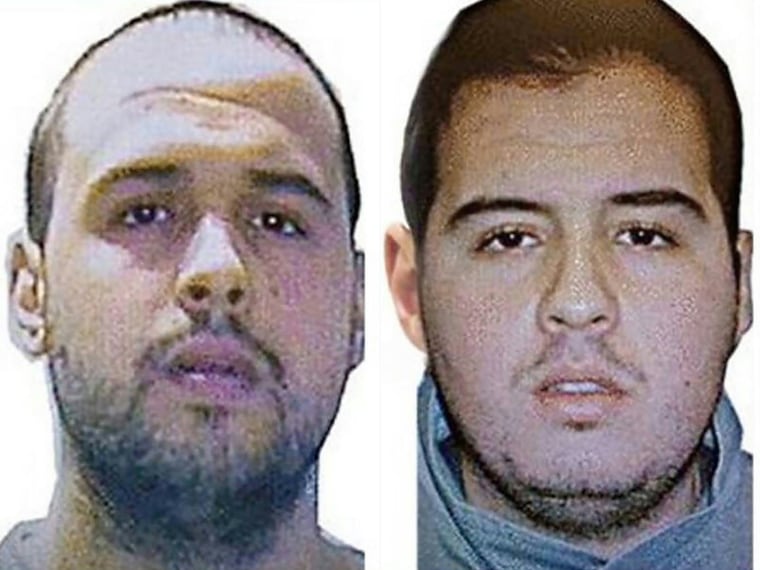 The siblings were identified Wednesday by prosecutors in Belgium who said Ibrahim, 30, detonated a bomb at Brussels Airport while Khalid, 27, blew himself up in the city's subway system.
Ibrahim appeared in the center of an airport surveillance image in which the terror suspects are seen pushing carts carrying massive bombs — disguised as suitcases — through the crowded check-in hall.
He was identified by his fingerprints, prosecutors told a news conference.
Meanwhile, a Turkish Foreign Ministry source told NBC News Ibrahim was deported from Turkey to the Netherlands after he was arrested in Turkey in June 2015.
He said Ibrahim requested to be deported there.
Turkey notified Dutch and Belgian authorities that he was a militant, Turkish President Recep Tayyip Erdogan said at a news conference Wednesday. But officials there found no links to terrorism and didn't detain him, he added.
The brothers were almost captured in a March 15 police raid on a house Khalid rented in the Forest district of Brussels. The raid ended in a shootout that left an Algerian suspect dead.
They escaped, but investigators found a cache of weapons and information — including fingerprints — that led them ultimately to Friday's capture of fugitive Paris attacker, Salah Abdelslam.
In 2010, Ibrahim was sentenced to 9 years in prison for shooting at police with an assault rifle during a robbery.
Khalid was arrested for possession of Kalashnikovs in 2011 and had been sentenced to 5 years in prison for carjackings.
Forensic teams were still working Wednesday at the Maalbeek metro station, which was targeted by Khalid. Officials said his bomb exploded in the second carriage while the subway train was still in the station.
A computer containing a "testimony" from Ibrahim was found late Tuesday in a trash can near a house in the Schaerbeek district of Brussels where investigators also found a bomb factory.
In the message on the computer, Ibrahim described "being hunted everywhere" and knowing that he "risks ending up in a cell," prosecutors said.