The terror attacks in Brussels represent the type of nightmare scenario security experts dread: determined terrorists who blend in with the crowd at an airport and subway station and carry out acts of mass murder.
That's because the attacks in Brussels highlight the difficulty of protecting "soft targets" — places where it's relatively easy for a small group of terrorists to cause widespread and deadly devastation.
Such "soft targets" include buses and trains, schools, hospitals, restaurants and shopping malls — places with very little security where lots of people who stroll freely.
In the U.S., security officials and experts have long worried that these types of places are extremely vulnerable.
Related: Suspected Paris Bomb Maker Died in Brussels Airport Attack, Sources Say
"If you have a determined terrorist who is willing to give up their life…it's almost impossible to prevent that across the board," said John Pistole, a former administrator with the Transportation Security Administration.
It is a scenario that has played out multiple times with devastating effects.
In Brussels, deadly terrorist bombings at the city's international airport and a subway station killed at least 31 people and injured more than 200 on Tuesday. Authorities say the suicide bombers were brothers who, according to surveillance video, pushed loaded carts in the busy airport's check-in area.
Related: Here's What Keeps Intelligence Officials Up at Night
In November, a coordinated terrorist attack in Paris included bombing a restaurant, a popular nightclub and a soccer stadium. At least 129 people were killed and more than 350 others were injured—all in a matter of minutes.
In 2005, 52 people were killed and 700 were injured after coordinated attacks on the London subway and bus systems.
And in this country, a self-radicalized couple working out of their home shot and killed 14 people and wounded 21 others in a holiday party at the Inland Regional Center in San Bernardino, California. Law enforcement found three pipe bombs and speculated the terrorists had more attacks planned.
And the vulnerability of these "soft targets" worries lawmakers.
"It's one thing to hit a building, a building is one thing. It's another thing to hit a soft target. To walk into restaurants where people are having a Friday night dinner, to kill everybody you can kill. To go into a concert hall, do the same thing," California Democrat Sen. Diane Feinstein, the ranking Democrat on the Senate Intelligence Committee said in November after a classified briefing on the attacks in Paris.
Secretary of State John Kerry has also previously expressed concern about soft targets pointing out that terrorist who bomb such places as subways and restaurants are trying to capitalize on the randomness of the locations to "sow terror".
"Shopping malls, a restaurant — anywhere. The idea is to make us believe that we are always going to be in such grave and imminent danger that we actually have to stop what we're doing and change our choices and change our way of life," Kerry said after the Paris attacks in an address to the State Department'sOverseas Security Advisory Council.
Related: U.S. Officials, Travelers on Alert After Brussels Blasts
In the wake of the Brussels attack, security at airports around the world has been beefed up.
In the U.S., homeland security says it has no credible known threat against U.S. airports but it is concerned about radicalized individuals with small groups that could attack.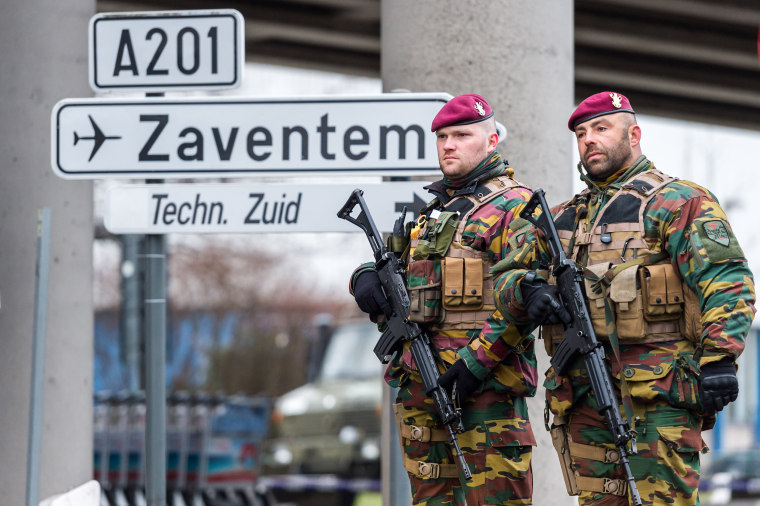 It's stepping up security at the nation's airports and working with local police. In a number of airports more police officers and tactical units, behavior detection officers and bomb sniffing dogs have been dispatched.
There's an increase in random checks and checkpoints. Passengers arriving with Belgium passports, will get extra scrutiny checking their names against the terror watch list
And there will be other measures not seen.
Still, Homeland Security remains concerned about an insider threat from someone who already has access to airports or airlines and might become radicalized.
Experts say, outside the security areas many areas in airports can be as vulnerable as shopping malls. While increased law enforcement presence is a deterrent, it is impossible to police every single soft target.
"When you look through the playbook that most terrorists have, they gauge the hardness of the target and if they believe if there's not a visible presence, a visible deterrence there armed, then they will see it as a vulnerability and possible target," said John Halinski, a former deputy TSA administrator.
That may mean picking key times and key points to place increased security at such places as airports, Halinski said. Those times could include when there is an influx of flights particularly from countries terrorists might want to target—such as the U.S.
Experts say the public also has to be especially vigilant when it comes to areas considered "soft targets."
That means looking out for people who may be surveilling a location and trying to gather such information about things like security staff shift changes and testing security with false alarms.
Halinski said "It boils down, and this is a saying that's a cliche but I truly believe in it...see something, say something."