Brussels airport reopened with an "emotional" flight on Sunday, 12 days after suicide bombers destroyed its departure hall and killed 16 people there.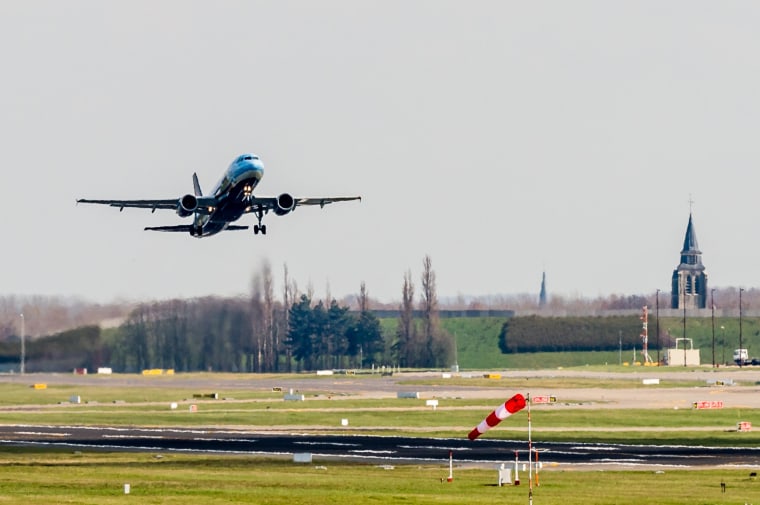 Belgium's main airport had not handled passenger flights since the twin bombings and a separate blast on a metro train in the capital killed more than 30 people and injured 270 others.
The first of three scheduled flights departed for Faro in Portugal just after 1:40 p.m. local time (7:40 a.m. ET), with only about 60-70 passengers. Planes were also scheduled to go to Turin and Athens.
Airport spokeswoman Florence Muls said Sunday's flights were a "symbolic" relaunch after "12 days of difficult moments and horror."
Related: Belgium Charges Third Suspect in Foiled Terror Plot
"The people working at the airport were very, very emotional about the situation," she said. "Restarting was our first priority but always thinking about the victims and the colleagues who were there during the incident."
The first passengers for nearly two weeks fed into a vast temporary marquee housing security controls and check-in facilities. Arnaud Feist, the airport's chief executive, described the partial reopening as a sign of hope.
"In the days that followed, I have also seen much courage, pride for Brussels airport and persistence is being shown by everybody," Feist said in a statement. "That makes me very hopeful for the future of our airport and convinces me that we will emerge stronger than ever from this crisis."
On Monday, the airport will serve a far wider range of destinations, including one plane also due out to New York and two more to cities in Cameroon, Gambia and Senegal.
Many flights have been rerouted to Belgium's regional airports or other nearby hubs such as Amsterdam and Paris, with high-speed trains to and from Brussels packed.