LEUVEN, Belgium — The effects of the Brussels bombings were clear not just on the streets of the Belgian capital Wednesday but also in a large event space on the outskirts of the city, where more than 1,000 stranded airlines passengers spent the night on cots.
"I felt like a refugee," said Jacek Makowski, who was stranded after his flight to Madrid got cancelled. "Only cold water, no showers, you can only brush your teeth — nothing more. ... It's good to have a place to stay overnight but it wasn't comfortable."
Makowski, 39, is waiting for a new flight.
Standing next to crowded power-strips where others like him were trying to charge their phones, Makowski said the organizational effort left a lot to be desired.
"It was, like, a mess," he said.
A Spaniard nearby jumped in to agree.
"The experience is not good," said David Manzaranes Moreno, a 33-year-old pipe fitter from Seville, Spain. "Too much people inside," he added, gesturing to row upon row of army green cots.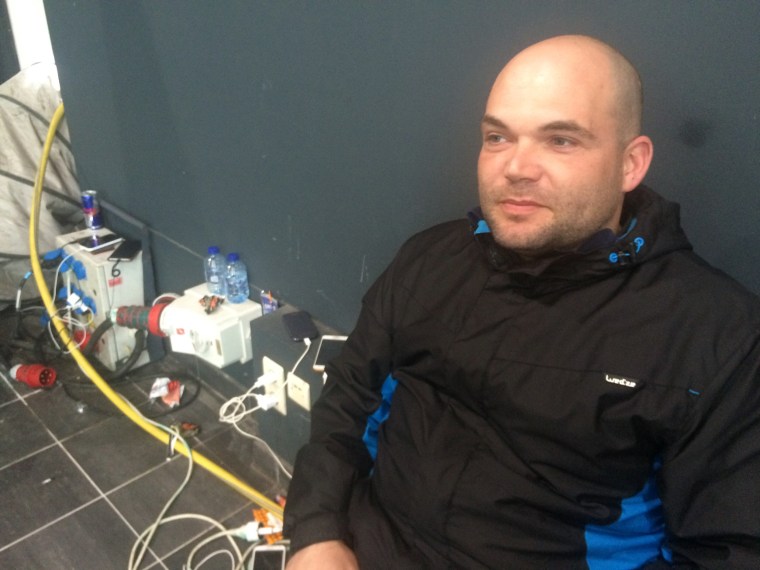 Officials running the operation acknowledged the challenges — but praised the overall response.
"We are doing everything to get the passengers back home or on to their destination," local police press officer Stephanie Gille told NBC News.
The Red Cross set up cots and distributed food, drinks and blankets. Airline companies set up makeshift desks, as did representatives from various embassies.
Gille said normally Brabanthal Hall is for "great events" under normal circumstances. She said putting the passengers in the hall versus hotels made it easier for companies to help rebook them.
She said the night passed largely without incident, and "all people are calm and respectful." Still, she acknowledged the stressful circumstances were starting to take a toll.
"Most people here are very glad that they are safe, that they were not injured but now after one day and a half in this shelter they are fed with it and they just want to home," she said.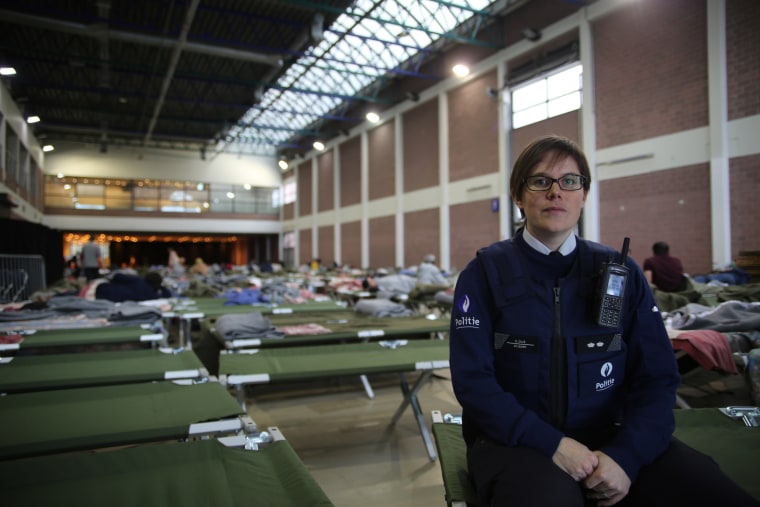 By Wednesday afternoon, there were signs of hope: The hall was slightly emptier and there were more people in line at a makeshift United Airlines desk that at one point saw a snaking queue.
United's Belgium-based sales manager Alex Vanryckeghem proudly shared how his team had managed to get more than 100 passengers booked onward and "taken care of" amid difficult circumstances.
"It was difficult because it's Easter holidays and flights are full, plus there's uncertainty of when the (Brussels) airport is going to reopen," he told NBC News while seated next to stacked crates of water. "It was sometimes chaotic in the moment itself but we managed to do what we should do — help each other."
As loudspeakers blared announcements about Embassy representatives in place, Vanryckeghem expressed hope that fears of further attacks would not deter visitors from coming to Belgium.
"There's more chance to be killed by chocolate and beer than guns here," he said with a laugh.
"Please come to Belgium," he added, turning serious. "It's not like Trump says — it's a very peaceful country. There can be criminals anywhere."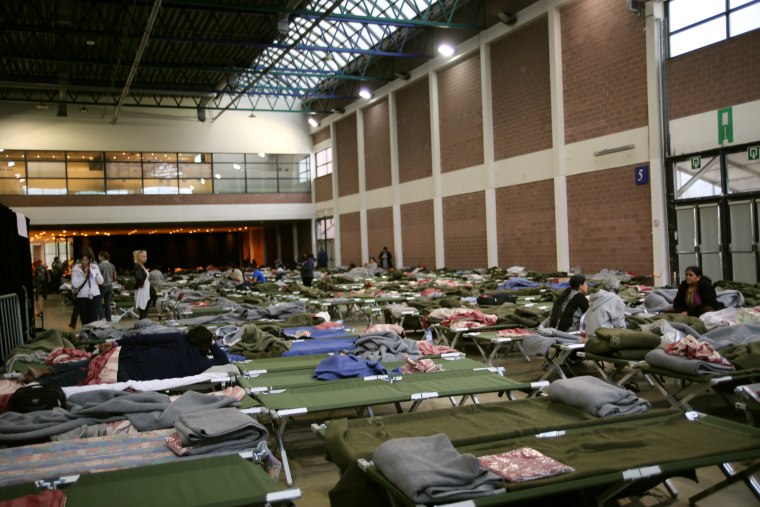 A few feet away, Paul Elvidge watched as his wife tried to dial a taxi number scrawled on a piece of cardboard perched atop those crates of water.
The couple initially started their journey in Britain on Monday, trying to head home to France when their flight was cancelled due to an air-controllers strike. They spent a night at a hotel and were offered a replacement flight that left too late for their liking.
"So we asked them if we could fly earlier and they said yes, as long as you go via brussels," Elvidge, 60, explained. "We arrived in Brussels just before the bombs went off."
While he praised the Red Cross for working "very hard" to get everything into place at the shelter, Elvidge said it had been "very difficult" to sleep.
With a shrug and a smile, he said simply: "I'll be pleased to be home."