The horrific suicide attacks in the Belgian capital on Tuesday killed more than 30 people and injured at least 260 others. Here is a timeline of how the tragic events unfolded:
7:55 a.m. (2:55 a.m. ET): Surveillance footage shows three suspected attackers exiting a taxi and pushing luggage trolleys through Brussels Airport. Surveillance captured images of the three suspects.
7:58 a.m. (2:58 a.m. ET): Gunfire reportedly heard in the departures terminal followed by an explosion. As passengers started running, a second blast erupted just 10 seconds later.
One of the attackers, identified by his fingerprints and killed in the explosions, was named Ibrahim El Bakraoui. A second attacker known to have died in the blasts has not yet been identified.
A third suspect, wearing a light-colored jacket and a hat, is believed to have fled the airport. He left a large bag. Just before the bomb squad arrived, this bag exploded due to the instability of the explosives.
8:20 a.m. (3:20 a.m. ET): With the rescue operation underway, Belgian authorities stopped rail transport to the airport and closed roads.
8:40 a.m (3:40 a.m. ET): Airport officials confirmed the explosions and urged people to stay away from the area. A crisis meeting was held at Belgium's Interior Ministry.
9:10 a.m (4:10 a.m. ET): A blast was reported on a train at the Maalbeek metro subway station, near the headquarters of the European Commission.
The train was leaving the station, heading towards Arts-Loi, when the explosion occurred in the second train car, which was still in the Maalbeek station.
The attacker was identified by his fingerprints as Khalid el Bakraoui, brother of Ibrahim el Bakroaui.
9:27 a.m. (4:27 a.m. ET): Brussels metro system was closed. At around the same time, French President Francois Hollande held an emergency meeting with government ministers.
10 a.m. (5 a.m. ET): Brussels' entire public transport system — including streetcars, buses and trains — was shut down. The Belgian Crisis Centre tweeted: "Stay where you are."
10:13 a.m. (5:13 a.m. ET): London's Gatwick Airport announced it was increasing security.
10:35 a.m. (5:25 a.m. ET): The Eurostar train service suspended service to and from Brussels Midi station. The rail service links London with Paris and Brussels via the Channel Tunnel.
11:15 a.m. (6:15 a.m. ET): President Barack Obama condemned the "outrageous attacks."
11:20 (6:20 a.m. ET): France deployed an extra 1,600 police officers to its borders and placed some of them on public transport.
11:25 a.m. (6:25 a.m. ET): Police and soldiers reinforced security around Belgium's nuclear power plants.
11:30 a.m (6:30 a.m. ET): Belgium deployed an extra 225 troops to Brussels.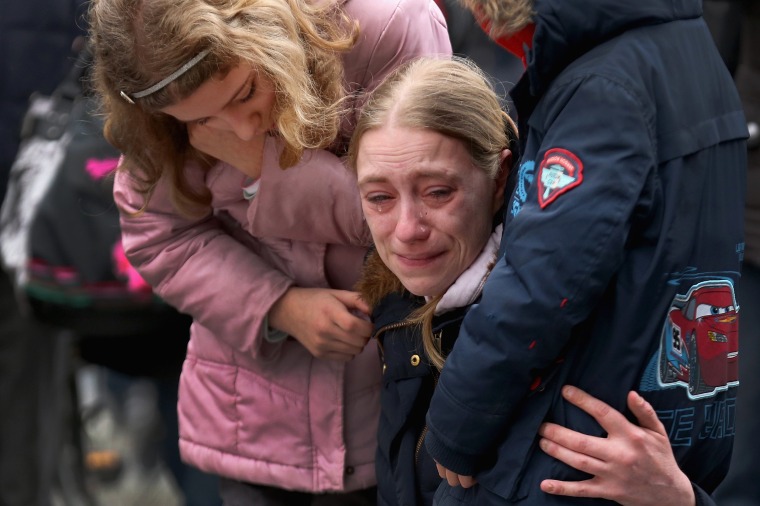 11:43 a.m (6:43 a.m. ET): Belgian Prime Minister Charles Michel condemned the "blind violent and cowardly" attacks.
11:58 a.m. (6:58 a.m. ET): U.S. European Command confirmed an American Air Force officer, his wife and four children were injured in the attack at the airport. They did not name the family.
12:20 p.m. (7:20 a.m. ET): Facebook activated its "safety check" system to help people check on their friends and loved ones.
12:30 p.m. (7:30 a.m. ET): Russian Foreign Ministry spokeswoman Maria Zakharova said the West's politics of "double standards" had led to terrorist attacks and that frozen diplomatic relations between NATO and Russia had slowed the fight with terrorism.
1:15 p.m. (8:15 a.m. ET): The U.S. Embassy in Brussels recommended that Americans in Belgium stay where they are and avoid public transportation.
3 p.m (10 a.m. ET): The Church of Jesus Christ of Latter Day Saints confirmed that three U.S. missionaries were injured in the attacks. Richard Norby, 66, Joseph Empey, 20, and Mason Wells, 19, were seriously injured when the blasts airport blasts occurred, they said in a statement.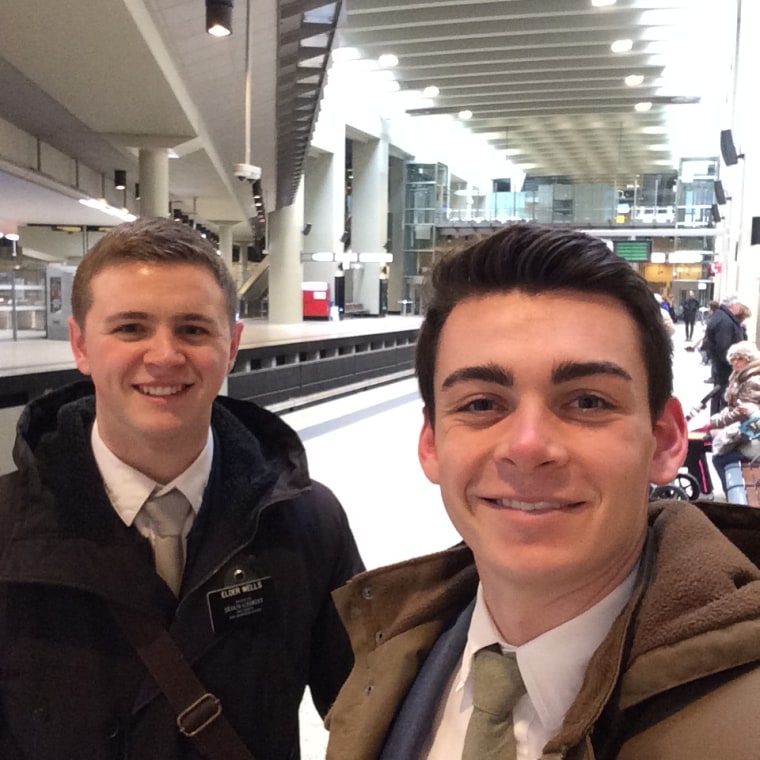 3:20 p.m. (10:20 a.m. ET): ISIS claimed responsibility for the attacks, saying their members detonated suicide belts.
4 p.m. (12 p.m ET): Belgium's King Philippe said he and Queen Mathilde shared the pain of all those who had suffered because of the "cowardly and odious" attacks.
5:30 p.m. (12:30 p.m. ET): A taxi driver contacted the police to state that he had picked up three passengers in Schaerbeek. A raid was carried out at the pick-up address and turned up bombmaking chemicals, detonators, a suitcase full of nails and screws and devices meant for the construction of explosive devices.
In a garbage bin in the same road, investigators found a computer containing the testimonial of Ibrahim el Bakraoui, in which he states that he "is in a rush, not knowing what to do, being looked for everywhere, not feeling safe and if this goes on, he risks ending up in a cell."
A fourth raid was carried out in Schaerbeek. One person was arrested and is being questioned by investigators.
11:04 p.m. (6:04 p.m. ET): A Peruvian woman, Adelma Marine Tapia Ruiz, 36, is confirmed as a victim of the airport attack. Her brother Fernando Tapia Coral told Peru's RPP Radio that she had been flying to meet her sister.