BRUSSELS — Four more people were charged with participating in terrorist activities linked to the Brussels bombings, Belgian authorities said Saturday as armed police swooped on a city suburb.
Belgian prosecutors identified the suspects as Mohamed Abrini, Osama K., Herve B.M. and Bilal E.M. — all charged with participating in "terrorist murders" and the "activities of a terrorist group" in relation to the March 22 bombings in Brussels' airport and subway.
Abrini, 31, a key suspect, was taken into custody following five months on the run.
Upon Abrini's arrest Friday, the prosecutors' office said they were trying to confirm whether he was the "man in the hat" seen in security footage with two other men and on Saturday said he admitted that he was the third man present during the airport bombings. He told investigators that he threw out his vest and sold his hat following the bombings.
Abrini had been wanted for the Paris attacks after he was filmed on security footage at a gas station with Salah Abdeslam, one of the alleged Paris attackers, just two days before the massacres in France, authorities said. Abrini was driving a Renault Clio later used by the Paris attackers, prosecutors have said.
Abdeslam was captured four days before the attacks in Brussels.
The announcement of the new arrests and charges came as 50 police officers were on the scene of an anti-terror operation in the Brussels suburb of Etterbeek, with roads closed off and nearby people evacuated.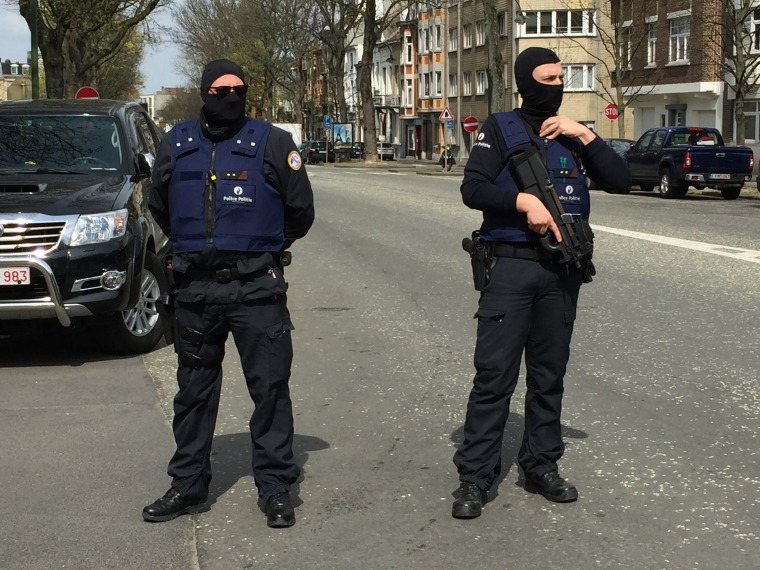 An apartment complex with a shop on the ground floor — suspected of being used by the terrorists as a "safe house" — was searched by police Saturday, according to a statement from Belgian prosecutors. Forensics experts were seen entering the cordoned-off building, and police said snipers had also been deployed. No weapons or explosive were found during the search, the prosecutors' statement said.
Meanwhile, the series of arrests marks a potentially big break in the investigation into an ISIS-linked terror cell with ties to the Paris investigation and the search for those responsible for the Brussels bombings in which 32 people were killed.
Prosecutors said Saturday that they had confirmed that Osama K. was the second person present during the attacks at the subway station and was also at a shopping mall where the bags used in the airport bombings were purchased.
The second person accused of bombing the subway station, Ibrahim El Bakraoui, was blown up in the blasts.
Separately, Belgian officials refused to discuss the number of tips they had received after Thursday's fresh appeal for information.
"We are not saying anything because we don't want to spook the possible suspects still at large. The less they know the better," Federal prosecutor's spokesman Eric Van der Sypt told NBC News. "We don't want the suspects to know the nature of the calls and panic."
The prosecutors' statement Saturday said two other suspects arrested in the last few days have been released "after thorough interrogation."