Police released new images Thursday showing the so-called man in white behind the Brussels Airport bombing and appealed for help from the public in tracing his escape from the scene of the attack.
Prosecutors in Belgium confirmed that the unidentified man was still on the run and said he ditched his light-colored jacket in the minutes after the bombing.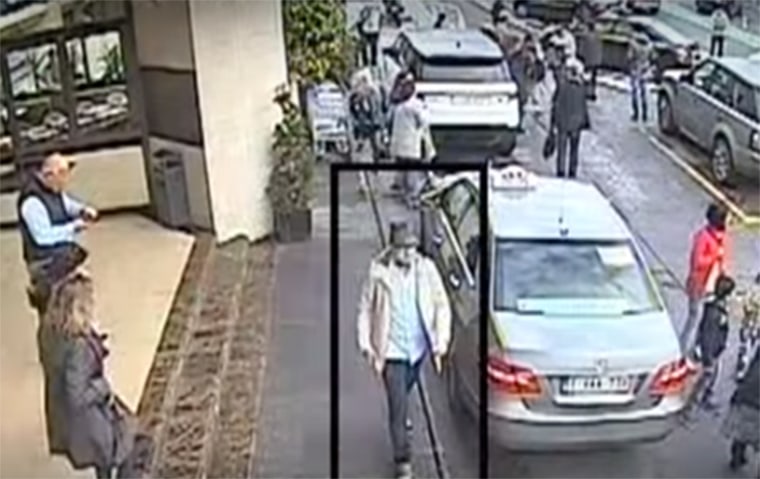 Surveillance video showed the figure, also dubbed "the man in hat," walking past the nearby Sheraton hotel and an Avis car rental parking lot. He was later seen in the town of Zaventem wearing just a bright shirt with rolled-up sleeves and elbow patches.
He appears to be walking calmly but at one point breaks into a slow jog.
Federal prosecutor's spokesman Eric Van der Sypt said that authorities were especially appealing to people who might have filmed or photographed the man, and said the discarded jacket could also yield clues to the March 22 atrocity.
Earlier video of the suspect at the airport showed him wearing a dark hat and glasses while pushing a luggage cart loaded with a black bag.
Two other men next to him in that video — Najim Laachraoui and Ibrahim El Bakraoui — blew themselves up in the attack. Bakraoui's brother, Khalid, carried out an attack in the Brussels subway on the same day. Thirty-two victims were killed in the bombings.
Police sources had at one point named the man in the hat and light jacket as Laachraoui, a suspected bomb maker in the November 13 attack in Paris. However, officials later corrected that and said Laachraoui had died in the Brussels attack.
Earlier Thursday, the lawyer for Paris attacks suspect Salah Abdeslam said it will take some weeks before his client can be extradited from Belgium to France.
Sven Mary spoke after a legal hearing on the Belgian-born French citizen's continuing detention in Belgium.
Separately, a court in Brussels extended the detention of other suspects linked to the Brussels attacks — Mohamed B., 37, Yassine A., 30, and Aboubaker O., 28. They were arrested March 27.