LONDON — The deadly blasts at Istanbul's Ataturk airport will once again spark debate over whether air security should include public areas, providing more safeguards at the expense of freedom and convenience.
Tuesday night's explosions appear to have struck close to the first of two passenger checkpoints at the global hub, between the parking lot and drop-off zone and the check-in hall.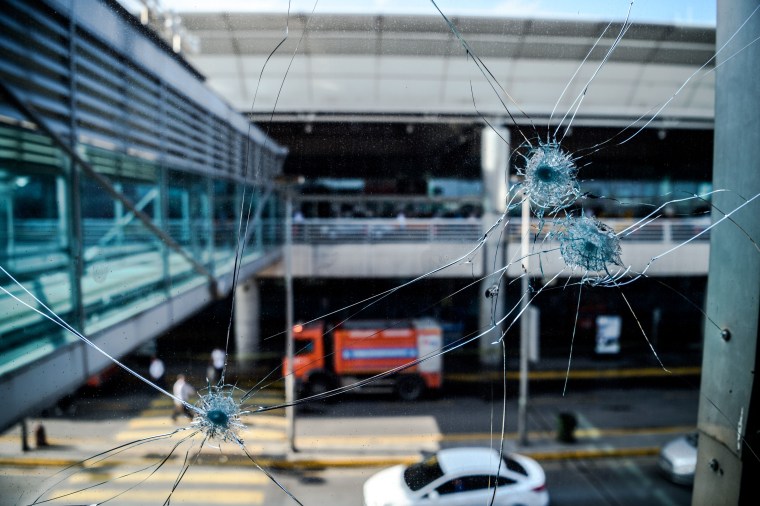 The additional screening — common at many airports in the Middle East — covers the check-in zone but still leaves a busy unprotected public area that security experts fear is a "soft target" for terrorists.
In the March 24 Brussels attack, powerful bombs hidden in suitcases killed and maimed travelers in the check-in hall who had yet to undergo the rigorous screening designed to keep air travel safe.
As passengers moved around the bustling departures and ticketing area, the three terrorists pushing luggage carts went unnoticed. Yet at least one of them was a suspected ISIS bomb-maker linked to the Paris attackswho was being hunted by authorities.
Might they have been spotted if the terminal had been protected by a wider security cordon? Similar questions were raised when a gunman fatally shot TSA agent Gerardo Hernandez with an assault rifle at Los Angeles airport in 2013.
The last major attack on a western European airport was in June 2007, when a Jeep packed with propane canisters was driven into the main entrance of Glasgow Airport in Scotland.
And in 2011, a suicide bomb in the busy arrivals hall at Moscow's Domodedovo Airport killed 37 people and wounded 173 others.
All three attacks took place in unsecured zones, proving that even as most travelers associate airports with tough security in the post-9/11 era, much of the space used by passengers is little more secure than an ordinary street.
"It strikes me as strange that only half of the airport is secure," said Matthew Finn, managing director of independent aviation security consultants, Augmentiq. "Surely the whole airport should be secure, from the minute you arrive."
Some changes were made in response to the Moscow and Glasgow attacks. In Scotland, terminal approach roads were remodeled to add distance between the curb and the terminals, while concrete posts were installed to thwart a vehicle-based suicide attacks.
At Domodedovo, pre-terminal security screening was introduced — bringing it into line with airports in Turkey, parts of the Middle East and much of Africa where passengers must pass a checkpoint and a basic X-ray before they can access check-in or arrivals areas.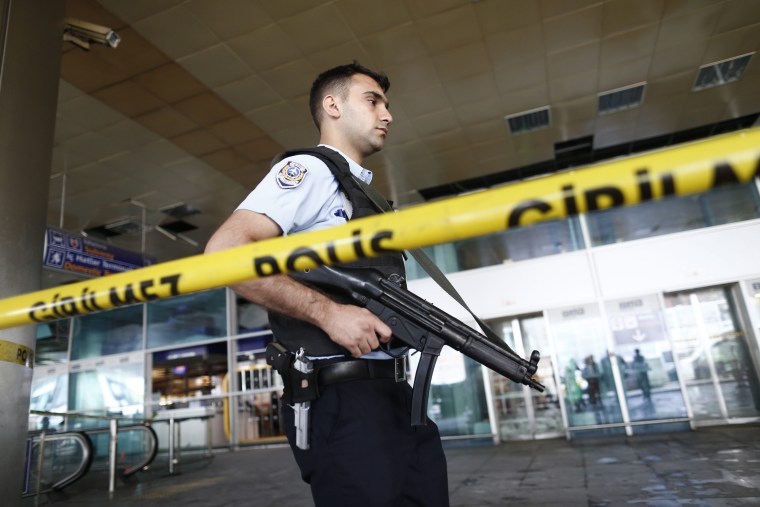 However, additional checks not only add to the hassles for air travelers but risk creating another line of people vulnerable to terror attack.
"Any movement of the security 'comb' to the public entrance of a terminal building would cause congestion, inconvenience and flight delays, while the inevitable resulting [lines] would themselves present an attractive target," said Ben Vogel, the editor of IHS Jane's Airport Review.
"We call it transferred risk, where you are simply moving the vulnerable point rather than eliminating it," said Simon Bennett, director of the Civil Safety and Security Unit at England's University of Leicester.
It is also costly. "Politicians cannot say it, but security experts can — it would be prohibitively expensive to have extra manned security checkpoints at entrances to airport terminals," Bennett said. "The cost would not be worth the benefits."
In Israel, where aviation security is regarded as the most effective in the world, passengers are not automatically screened before approaching airport buildings. Instead, they are subject to profiling in which they pass through checkpoints manned by military or security officials trained to spot and detain anyone most likely to pose a risk.
However, profiling comes at a huge risk to civil liberties — with citizens picked on because of their race or religion.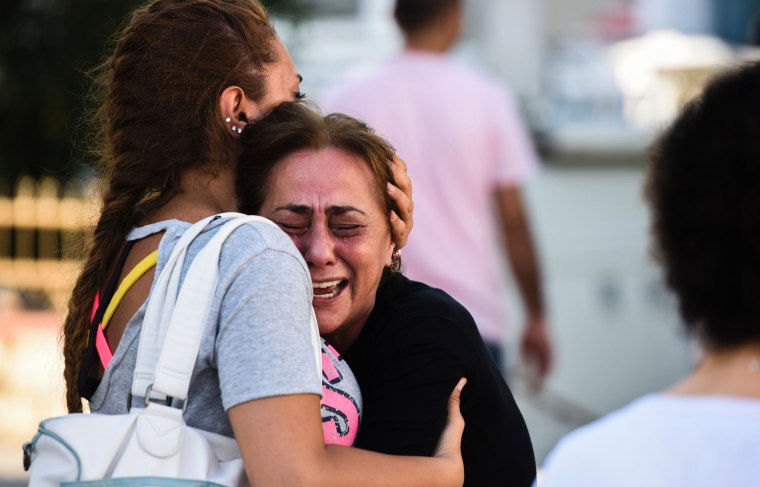 Israel spends approximately 10 times more per passenger on airport security compared to the United States, according to former TSA Administrator John Pistole.
"And of course, Tel Aviv uses profiling extensively to buy down risk, something our constitution prohibits us from doing," he notes.
Supporters of profiling say it represents the best chance of identifying threats.
"We need to focus much more on behavioral analysis, on negative intent, rather than prohibited items," said Philip Baum, author of "Violence in the Skies: A History of Aircraft Hijacking and Bombing" and editor of Aviation Security International.
"We need to reverse engineer the airport experience so that the thing we normally do last - the bit at customs where they focus on those people of greatest interest - comes at the beginning.
"I'm a staunch believer in profiling, not racial profiling but identifying behavior that is not normal."
In the meantime, the U.S. Department of Homeland Security has stepped up patrols of airports while Customs and Border Patrol recently implemented tougher visa restrictions on visitors who have previously been to terrorism hotspots including Syria and Iraq.
However, unsecured airport zone remain "soft targets" — places such as transit centers and malls where citizens might fear terrorism but also value the freedom to move without restrictions.
Secretary of State John Kerry said after the Paris attacks that ISIS and other groups was seeking to capitalize on the unexpectedness of attack locations to maximize fear.
"Shopping malls, a restaurant — anywhere. The idea is to make us believe that we are always going to be in such grave and imminent danger that we actually have to stop what we're doing and change our choices and change our way of life," Kerry said.
Yet permanent changes were made after previous attacks. The shock of 9/11 led to a drastic toughening of security and the introduction of pre-flight profiling in which authorities scrutinize passenger lists before planes are given clearance to take off.
The 2006 transatlantic liquid terror plot resulted in a ban on any containers larger than 100ml (3.5oz) — a regime mocked by travelers as "the war on toothpaste" — while the 2009 failed underwear bomber speeded up the introduction of body scanners that check passengers for concealed explosives.
Baum said one welcome measure would be the greater use of plain-clothes law enforcement officers and behavioral observers.
"Governments want to do something after an event like this," he said. "We are already seeing more armed police and visible security. I hope they would do something that is actually less visible."
Pistole says U.S. airport already use risk-based security with initiative such as TSA PreCheck that recognize trusted travelers.
"I believe our current system, with integrated strategic and tactical intelligence informing all decisions, is the best option," he said.