Investigators carrying out raids after Tuesday's terrorist attacks in Brussels believe they've found a bomb-making factory complete with chemicals used in explosives, nails and bolts.
Authorities are still hunting for one of three suspects caught on surveillance video as they pushed luggage carts through the airport. They believe he fled the gruesome, chaotic scene.
"I can understand that people are scared," Belgian Interior Minister Jan Jambon told NBC News as he visited a makeshift memorial.
"But I can say that our services are now in a high state of alert and are working day and night to arrest these guys."
ISIS claimed responsibility for the morning bombings at the airport and the subway, which killed at least 31 people. U.S. counter-terrorism officials said the claim appeared genuine — and Belgian officials said an ISIS flag was found along with bomb materials in one raid.
The terror group's statement, posted by the ISIS-affiliated Amaq news agency, said ISIS fighters carried out the bombings with "explosive belts and devices."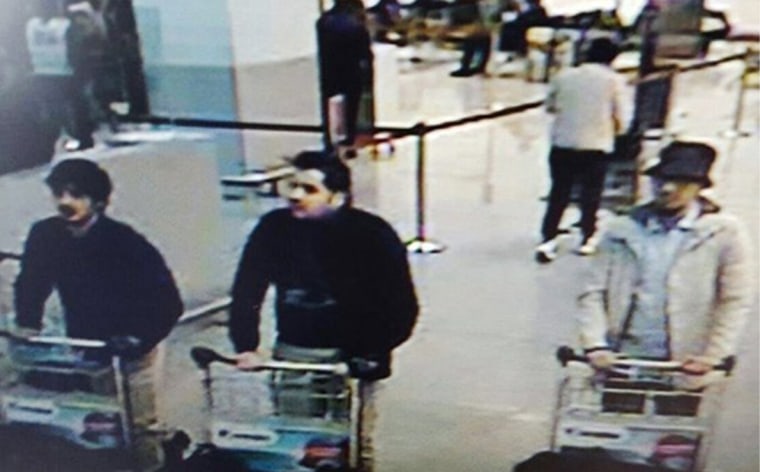 Counter-terrorism officials from the United States and other countries told NBC News that the airport attack involved three suitcase bombs. Two of them were detonated by the terrorists, while a third did not explode and was blown up by Belgian authorities. A fourth was reportedly discovered in a nearby house.
Belgian police confirmed that three men in a photo taken from security video at the airport are the suspects.
Two of the men, who were dressed in black, are believed to have died when the bombs exploded.
The third, wearing a black hat and a white jacket, is the one being sought. Police released his photo on a wanted poster with the question: "Do you recognize this man?"
The names of the men were not released.
In the hours after the attacks, investigators carried out raids across the country. Counter-terrorism sources described one site as a "bomb-making factory" and seized the elements of explosive devices.
The Belgian prosecutor's office said a raid in Schaerbeek yielded an improvised explosive device containing nails, chemicals and the ISIS flag.
The attacks came just days after the arrest Paris terror suspect Salah Abdelslam in Brussels -- but Jambon hit back at allegations of an intelligence failure.
"I don't think we have missed something," he said. "It's a difficult, difficult job.
"Our services as professionals," he added. The people of IS are also professionals. So that means that the job is extremely difficult."
U.S. intelligence officials said their working theory is that Tuesday's attacks were carried out by ISIS militants and sympathizers who were part of the same network that conducted the Paris attacks in November — although the Belgian prosecutor's office said they had not found any evidence of a link.
The Paris operation was led at one point by Abdelhamid Abaaoud, a Belgian-born jihadist who fought in Syria for ISIS and was killed in a raid last fall in Paris.
The same group also was involved in the attempted attack on a train from Amsterdam to Paris last August that was foiled by U.S. service members, and a failed attack last April on a concert hall in a Paris suburb.
One U.S. official said analysts believe the plot was already in motion, but may have been sped up after authorities arrested Abdeslam, who has information about the network's activities in Europe. Belgian authorities have said he is cooperating with interrogators, and U.S. officials say they have no reason to doubt that.
PHOTOS: Brussels Blasts Kill Dozens in Airport and Subway Attacks
The group includes operatives who got military training with ISIS in Syria. Officials believe the group is using encryption to mask its conversations and movements. It also is taking advantage of a fragmented Belgian counter-terrorism regime that is hamstrung by restrictions, such as a ban on night raids of private homes.
They have managed to employ TATP bombs without blowing themselves up, officials say, which is a testament to their experience with suicide and vehicle bombs in Syria and Iraq.