News analysis by R. Jeffrey Smith, managing editor for national security at the Center for Public Integrity.
Just months before the Brussels terror attacks that killed at least 35 people, two of the Islamic State extremists involved in those attacks were ominously helping to record the comings and goings of a Belgian nuclear scientist, adding an unusual new twist to their dangerous ambitions, authorities there say.
The Belgians have concluded that the filming, conducted from a small video camera stashed in bushes across from the scientist's home, was part of a potential plot to steal radioactive material for use in a so-called "dirty bomb," capable of spreading contamination that sows urban panic and financial calamity.
The scientist was a shrewd choice. Authorities have said he had wide access to sensitive areas of a Belgian factory that makes a substantial share of the world's radioisotopes. These are normally used for medical diagnoses or industrial purposes, but are capable of being diverted into a terrorist's explosive.
Radioisotopes are already spread around the globe in an estimated 70,000 medical, industrial, and research devices, most of them under light security. But if they are seized by terrorists, their radioactive materials could in theory be used to render parts of cities or military installations unusable.
The Obama administration has focused its attention until now on locking down or eliminating the fuel for actual nuclear explosions: plutonium and highly-enriched uranium. But "dirty bombs" have been a real source of worry among specialists, some of whom say that a detonation somewhere in the world is inevitable.
"I'm surprised it has not happened yet," Laura Holgate, the National Security Council's senior director for weapons of mass destruction terrorism, told a Washington symposium three years ago, because the mechanics of such a device are simple and widely-known.
An internal Energy Department report in 2013 said they are "poorly secured at facilities in nearly every country." Belgium, for example, resisted American pressure to heighten physical protections at its main nuclear research center for years –- where the scientist who was filmed was employed -- until Washington finally said it would stop providing radioactive materials for its medical isotope factory unless improvements were made.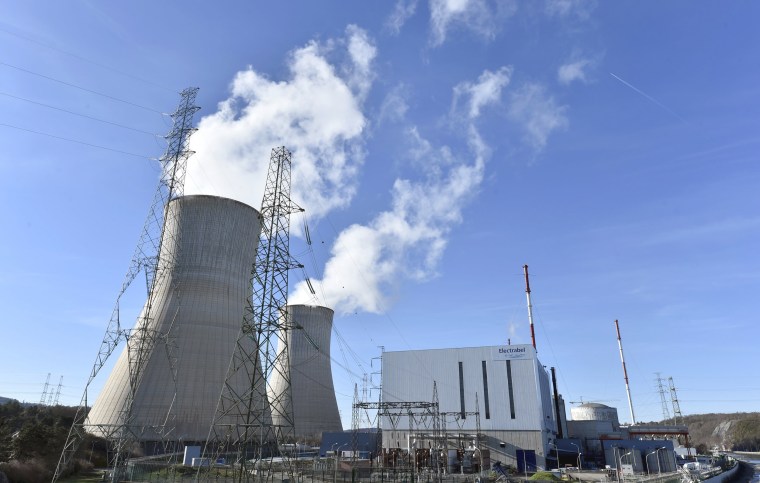 Even after local police forces were drilled on how to respond to a terrorist attack, U.S. experts worried –- and privately complained -- about the absence of any armed guards at any of the country's nuclear facilities.
While Belgium did not respond quickly to the discovery of the video late last year, it eventually decided –- in early March -– to order 140 armed soldiers to guard key nuclear sites containing dangerous nuclear materials. The previous month, Sweden similarly decided to order armed guards at its nuclear sites, although they are not required to be in place until early next year.
Matt Bunn, a nuclear security expert and former White House official who is now at Harvard University, said "every country, no matter how safe it thinks it is, needs to protect nuclear weapons and the materials you could use to make them against the full spectrum of plausible threats. And wherever there are potential nuclear bomb materials, they need to have armed guards."
Government studies have shown that in many cases, Bunn explained to us, attackers can reach sensitive areas at nuclear sites in a matter of minutes, and that "it's really hard to design systems" capable of significantly delaying a concerted assault.
That's why Britain, Canada, France, Germany and the United States have long posted armed guards at sensitive nuclear sites. But many other countries still don't have such guards in place; the Netherlands, next door, which also supplies a large portion of the world's radioisotopes, is one. Italy, Argentina, Brazil, Slovakia, and Spain similarly lack regulations requiring armed guards at their nuclear sites, according to data compiled by the nonprofit advocacy group, Nuclear Threat Initiative.
There are many other measures that can be taken to begin to limit the risks posed by radiological materials. Including expert training of security personnel, helping less developed countries find and use non-threatening industrial or medical alternatives, and creating rigorous systems to track the locations of such materials.
But the U.S. budget for this work has declined steadily in recent years, largely to make room for increased federal spending for the modernization of U.S. nuclear weapons. The administration in February proposed a $7.6 million cut for next year, for example, and suggested spending $270 million less than previously planned over the next four years. A U.S. target for securing radiological materials in 4,400 facilities has slipped by more than a decade, according to the Arms Control Association.
U.S. officials will try to use Obama's final nuclear security summit, slated to be held in Washington, D.C. on March 31 and April 1, to raise awareness about the threat of a "dirty bomb" in terrorist hands. But It's probably hard for U.S. diplomats to urge other nations to do more when Washington –- which has been talking about some of these dangers for the past seven years -- is suddenly doing less.
The Center for Public Integrity is a nonprofit investigative newsroom based in Washington D.C., and a Pulitzer-prize winner for investigative reporting. More of the Center's reporting can be found by clicking here.