Standing in the middle of his family orchard in the San Joaquin Valley, Tom Rogers plucks an almond from a tree and slices it open to reveal the meat inside.
It's perfectly moist — and that's the problem.
It takes up to a gallon of water to produce a single almond, and some critics in parched California think that's just too much.
As the drought crisis deepens — bringing state-government usage restrictions to homes, but not to agriculture — Rogers and his brethren have been painted as water-wasters.
"I gladly tell people I'm evil incarnate because I grow almonds," he joked while giving NBC News a tour of his operation, where each acre is home to 130 trees and produces 2,500 pounds of the nut.
"It's a shame because we are not the villain," he says. "We feed a hungry world."
Rogers is a third-generation farmer. His grandparents came to the United States from Italy, bought 175 acres in Madera and grew alfalfa, cotton and corn. In the 1980s, they turned over much of the land to almonds, and by 2006, it was the sole crop.
Demand from Asia has helped drive up prices for almonds, and farmers and investors in search of higher profits have been turning over vegetable farms to the thirsty nut trees.
A decade ago, California produced just over 1 billion pounds of nuts on 570,000 acres of land. These days, according to the industry trade group, the orchards yield 2 billion pounds a year on about 860,000 acres. The 2013 crop was worth about $5 billion, up from $1.2 billion 10 years earlier.
Dr. David Goldhamer, a water management specialist at UC Davis and a vocal critic of the boom, surveys one of the newer farms on the west side of the valley.
Land where cotton was once grown is now dotted with two-year-old trees that suck up twice as much water — enough to cover the soil in a four-foot-deep pool of water — as the previous crop.
The amount of water needed to produce the state's crop would cover the amount of water 60 percent of California's residents are recommended to use per year.
He does another quick calculation, toting up how many 65-foot tanker trucks would be needed to hold the water used to produce only the 70 percent of the state's almonds that are exported overseas.
"That would create a line of tanker trucks that would extend around the world at the equator about 30 times," Goldhamer said. "That's a lot of water…however, it's a lot of money."
PHOTOS: Click here for a close-up look at growing almonds in a drought
Rogers is the first to admit almonds are lucrative. "Farmers are not foolish people. You go where the money is," he says.
But, he adds, a big chunk of his profits are being plowed into improvements that will help the farm save water.
Sprinkler-style irrigation systems that spray water are being replaced by drip-irrigation systems that are more precise and less prone to evaporation, he said.
He shut down a big field — about 10 percent of his land and home to some of his oldest trees — because it wasn't using water efficiently enough, even though he was still making money off it.
"For us, it was a simple water decision: Is this the best use of water we had on the ranch?" he says.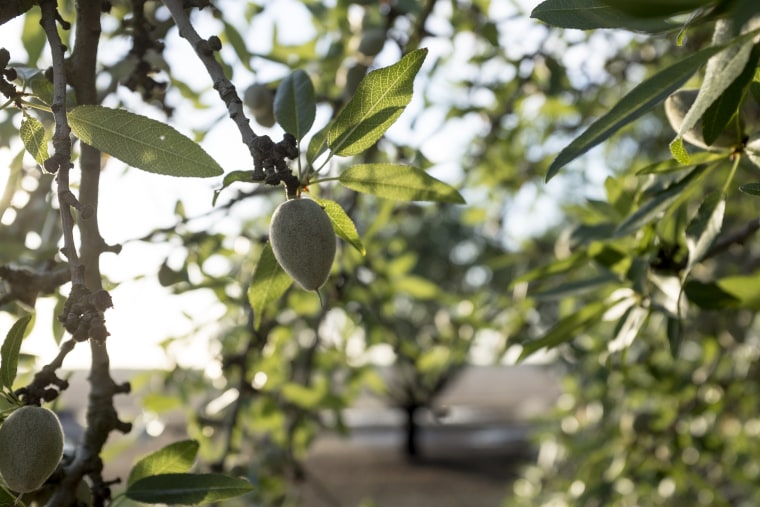 Rogers' efforts have been recognized; last year, he won California's Water Steward Award. So the criticism stings.
"I don't understand where production agriculture is getting the black eye," he says. "Food is cheap here and it is of extremely high quality and yet we're demonizing the people who make it."
To his mind, almond farmers are the scapegoats for a problem that should have been solved decades ago in the halls of government.
"A lack of [water] storage and a lack of foresight from our leaders — that's the problem," he says. "And the problem is being laid on our shoulders."
Still, he admits the almond farming trend may have gone overboard.
"Are there almonds planted where they probably shouldn't be? I'm not going to argue against that. Probably so," he says.
As the drought drags on, Rogers believes, it will become more difficult to grow almonds. He expects the state to impose restrictions on how much groundwater farms can pump from aquifers, and water will become more expensive.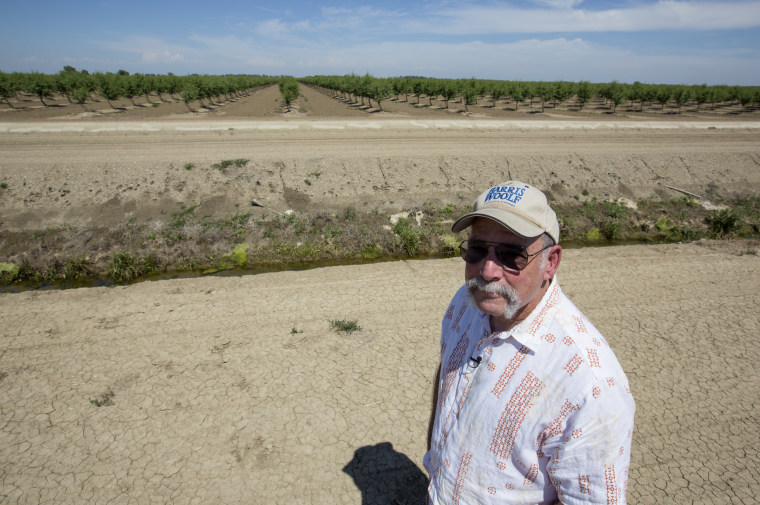 If the drought continues for another year or two, it could crush the industry, experts say. Some growers, looking warily at a drier future, are already turning to pistachios, Goldhamer says.
But the current boom is far from over, and Goldhamer thinks more action is needed to protect the environment.
"It has to be a balance between letting the market dictate what happens and doing what's best for all of society and not just almond growers," he says.
In the meantime, for Rogers, the hunt for that balance on his farm continues.
"We're starting all over as far as what we knew about irrigation," he says. "And we think we can do a much better job, reduce the water usage and still grow a superior crop."