As many as 58 million of California's large trees are at risk due to the ongoing drought, according to a new study — and researchers say that means big changes may be ahead for the state's forests even if El Nino does drive increased rainfall in the coming year.
Using imaging tools on board the Carnegie Airborne Observatory, ecologist Greg Asner and a team from the Carnegie Institution for Science surveyed forests affected by the drought that's been ongoing since 2012. Their research, which shows how California's forest canopies have lost water over time, was published Monday in the Proceedings of the National Academy of Sciences.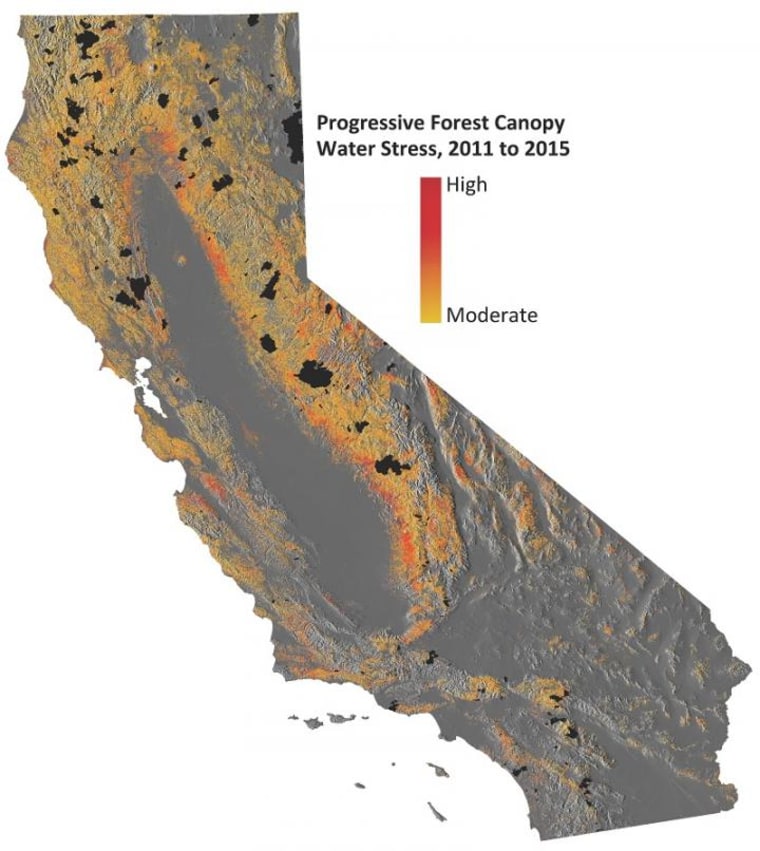 High temperatures and insect damage also contributed to the loss of water content in areas, the researchers note, though their results purposefully left out regions burned by forest fires between 2011 and the present. They found that forest regions accounting for up to 888 million trees experienced measurable canopy water loss, and that 58 million trees lost more than a third of their canopy water.
Read More: California Fines Water Suppliers for Failing to Cut Back in Drought
The prolonged drought has left California's forests weakened and vulnerable, the researchers say.
"California relies on its forests for water provisioning and carbon storage, as well as timber products, tourism, and recreation, so they are tremendously important ecologically, economically, and culturally," Asner said in a statement. "The drought put the forests in tremendous peril, a situation that may cause long-term changes in ecosystems that could impact animal habitats and biodiversity."
Sixty-nine percent of the state remained in a condition of extreme drought as of Dec. 24, according to the U.S. Drought Monitor. Nearly 45 percent of California is in a condition of exceptional drought, the highest level, up from 32 percent a year ago.
Read More: California Imposes Unprecedented Statewide Water Restrictions