In a historic move, California is ordering water use to be slashed by 25 percent across the state to deal with a drought that just won't quit.
With more than 98 percent of the state suffering from a drought that has stretched into its fourth year, Governor Jerry Brown issued an executive order from the mostly snow-bare Phillips Station in the Sierra Nevada mountains -– an area that would usually have snow pack more than 66 inches deep at this time of year.
"Today we are standing on dry grass where there should be five feet of snow. This historic drought demands unprecedented action," Brown said in a statement. "Therefore, I'm issuing an executive order mandating substantial water reductions across our state. As Californians, we must pull together and save water in every way possible."
Similar measures were considered during California's 1970s drought but were never implemented, according to the governor's office.
Brown announced the emergency measures at one of the regular surveys researchers take of the snow pack at what in wetter, colder times is a popular ski destination. Snow built up over the winter provides an important measure of the amount of water that will be available for California's taps and irrigation systems in the months to come.
Even before the governor's order on Wednesday, that supply wasn't looking good. Statewide, snow surveys were at about 5 percent of their average for the start of April, according to the California Department of Water Resources.
"This year looks like the lowest snow pack on record going back 70-plus years for many snow courses," Frank Gehrke, chief of snow surveys with the CDWR, told NBC News last week. Gehrke also conducted the measurement on Wednesday. "And that has very severe ramifications for what's going to flow into the reservoirs come next spring and summer."
The state has been instituting increasingly urgent steps to combat the drought. Gov. Brown declared a state of emergency more than a year ago, saying that "the magnitude of the severe drought conditions presents threats beyond the control of the services, personnel, equipment and facilities of any single local government and require the combined forces of a mutual aid region or regions to combat." Late last month, he signed emergency legislation to fast-track $1 billion for drought relief and water conservation projects.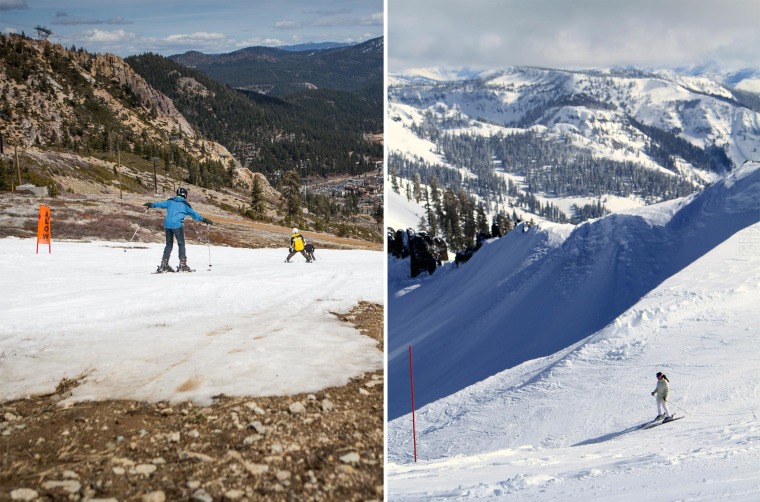 He has already called on businesses, farms and people in California to cut water use by 20 percent.
The executive order issued by the governor on Wednesday requires the State Water Resources Control Board to trim water use by 25 percent, which Brown's office says amounts to 1.5 million acre-feet of water over nine months.
Some locations in the Sierra Nevada are at 2 percent of what would be considered normal levels of snowpack over a 30-year period, according to experts, who consider April 1st to be the peak snowpack date for the region.
"April 1st is kind of what we hang our hat on," said Prof. Michael Strobel, Director, National Water and Climate Center Program Manager, Snow Survey and Water Supply Forecasting. He said that many locations reached their peak earlier and have been in decline for a few weeks already. Some are already snow-free.
"It's a pretty dire situation," said Strobel.
The snowpack is crucial for managing California's water supply, especially for irrigating farms. In some locations, precipitation levels have been normal, but it has come as rain rather than snow. "It can really throw a wrench in the gears for farms," said Strobel.
Polls have shown that Californians are worried about both the long- and short-term effects of the drought. A recent survey from the Public Policy Institute of California said that 66 percent of adults don't think their area of the state is doing enough. Sixty-nine percent of respondents in that poll said they were worried that the amount of water in their area a decade from now would be "somewhat inadequate" or "very inadequate."
To date, however, most residents have said they prefer voluntary cuts in water use to government-ordered rationing, with 34 percent saying mandatory measures should be taken in a Field Poll released in February.