In parched California, not everyone is taking the state's record drought seriously. That has led "water cops" to roam the streets, public shaming on social media and a host of apps meant to cut down on wasted water.
VizSAFE (free for iOS and Android) is like a virtual neighborhood watch. The app was developed so people could share photos and video of public dangers, from criminal acts to pollution. But during California's worst drought in a century, it has become a forum for "drought shaming," a phenomenon that has also taken off with the #DroughtShaming hashtag on Twitter.
"All this water being wasted, people obviously don't know California is in a drought right now," said VizSAFE user Mikey Budd in a video taken outside of the Brentwood Country Club.
Shooting a pool of water near the curb, he added, sarcastically, "As long as the country club is getting its green grass, it's all good."
A quick search in Los Angeles reveals everyone from home owners to hair salons being accused of wasting water. The accusers and accused are often anonymous, although some were easily identified, like The Meridian luxury apartment building in West Los Angeles and the Brentwood Country Club.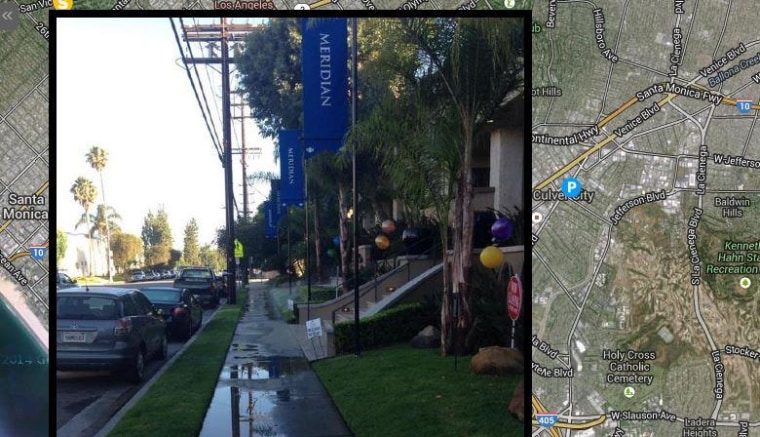 NBC News reached out to The Meridian, but the management declined to comment.
Daniel Enzler, general manager of the Brentwood Country Club, claims that the business he works for is being unfairly singled out.
"There is no way that it's coming from us, because the water is running into our property," he told NBC News.
He said the Brentwood Country Club is "very water conscious" and that the slope of the neighborhood means that run-off from nearby houses collects at the foot of its property.
"The video doesn't show you the terrain and what the neighborhood looks like," Enzler said. "When it rains, that street is always flooded, because water from the whole neighborhood runs towards the club."
VizSAFE is not the only app that people are using to finger others.
H20 Tracker (free for iOS and Android) also lets people report their neighbors' wasteful habits with photos, this time to the city government, and provides quizzes meant to boost your water IQ. (Fun fact: The average person uses 20 gallons of water while washing a load of dishes by hand, compared to the five gallons used by most new dishwashers).
Not all drought-fighting apps are meant to shame others. Dropcountr (iOS, free) lets people track their own water usage, giving them updates on how much H2O they are using every day, month and year. It also lets people compare their own habits with similar homes around them, and alerts them if there is a spike in usage — a sign that a leak might have sprung.
Drip Detective (iOS, free) kind of works like Flappy Bird, except instead of trying to keep a cartoon bird in the air, users tap along with their leaky faucet to determine how much it's costing them in the long run. For the kids, there is Captain Plop (free for iOS and Android), who goes on a magical adventure through a house's pipes, teaching children tips on how to be less wasteful.
None of them have garnered the amount attention that VizSAFE has received. As California's dry summer continues, its residents will have to debate whether that is a good thing.
"It's like Yelp," Enzler told NBC News. "Anybody can write whatever they want to."