The parched state of California is suddenly getting drenched.
Rain swept in Tuesday from Mexico to the Oregon line, dousing a state in the midst of a historic drought. Mandatory evacuations were ordered for a mudslide-prone neighborhood in Ventura County, more than 4,500 customers were without power in parts of Los Angeles, cities and counties in Northern California made sandbags available for pickup, and flooding and car crashes were reported in San Francisco.
Read more from NBC Los Angeles | NBC San Diego | NBC Bay Area
As a low-pressure system swept in from the Pacific Ocean, the National Weather Service said Los Angeles could break its record for the most rain on any Dec. 2: 1.1 inch in 1961. By Thursday, some inland cities could get more than 5 inches.
It won't be enough to cure the drought in California, where some lakes are at less than half their normal levels for this time of year. Because wildfires increase the risk of mudslides, it also has some people worried.
"I'm gone beyond nervous," Ed Heinlein, whose house in Azusa had 4 feet of mud around it after a mudslide last year, told NBC Los Angeles. "I'm down to the grim reality of you fight it, you do what you can, you deal with it."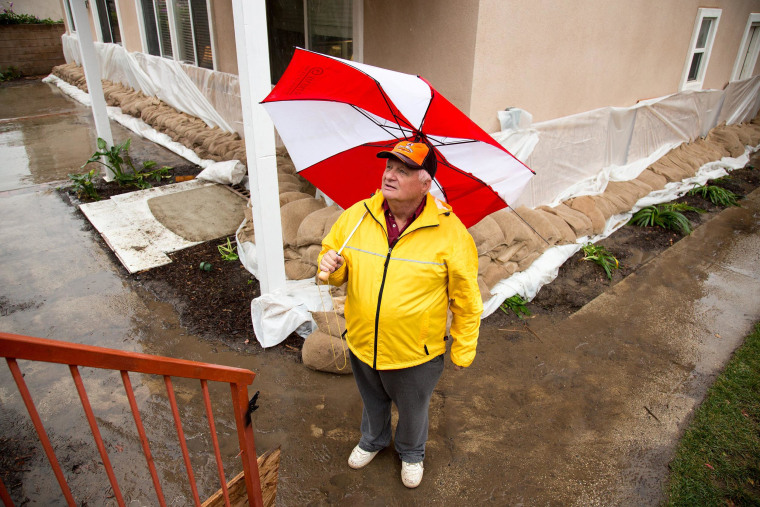 In Southern California, the heaviest rain fell Tuesday afternoon and was expected to continue into the evening. Los Angeles County fire officials sent patrols to the areas deemed at highest risk of mudslides and moved urban search-and-rescue teams into place.
Cities between Los Angeles and San Diego and north of San Francisco could get 3 inches of rain or more through Thursday, The Weather Channel said. In the Sierra Nevada Mountains, the storms could drop more than a foot of snow.
Parts of California got their first significant rain of the season Sunday. It triggered three mudslides near Malibu and forced the closing of nine miles of the Pacific Coast Highway.
IN-DEPTH
SOCIAL
— Erin McClam