The first of back-to-back rain storms swept the length of California on Wednesday, canceling flights and threatening floods and deadly landslides.
As much as a half a foot of rain was expected in some areas by the time the second storm moves out over the weekend — not enough to put a significant dent in the region's worst drought in 434 years, but enough to constitute the "largest rain event" in three years, the National Weather Service reported.
About one inch of rain fell in downtown Los Angeles by early Thursday as the storm system moved along the coast from Northern California, NBC affiliate KNBC reported.
One-and-a-half inches fell in Santa Barbara, and less than half-an-inch in San Francisco, The Weather Channel's Kevin Roth said.
"We are so thankful for the rain," Mary Jane Wittman told NBC station KCRA as she as she walked her dog at McKinley Park in Sacramento. "We need it."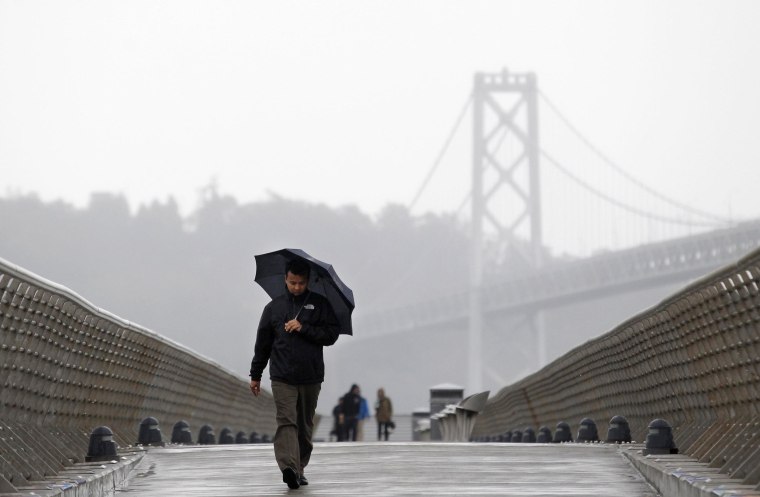 Not everyone agreed as the water drenched on ground too parched to absorb it efficiently.
Police in Azusa, in Los Angeles County, urged residents of the Ridge View Drive neighborhood to evacuate as soon as possible ahead of what were expected to be major landslides overnight.
They warned that "many deaths occur during a landslide when people are sleeping." City officials said the order would be made mandatory at noon on Thursday.
And officials in Palm Desert warned of floods in the arid Coachella Valley, while fire officials in nearby Palm Springs put out the word that they had no sand to pack sandbags to stanch the floodwaters.
In the next two or three days, Southern California could get eight times as much rain as the half-inch it's gotten in the last eight months, but Northern California was getting drenched, too:
By 7:30 p.m. (10:40 p.m. ET), more than 130 flights had been canceled Wednesday at San Francisco International Airport.
Storm winds downed power lines across the Bay Area, knocking out electricity for thousands of customers — 1,100 of them south of Mountain View alone, Pacific Gas & Electric said Wednesday night.
Winds up to 45 mph were expected north of the Bay Area through the weekend — with even a small chance of tornadoes in the Chico area, the National Weather Service said.
Even so, with the drought, "there's never enough water in California," Brad Daniel, founder of Rainsavers, which installs rain-collection barrels for homeowners, told NBC Bay Area.