For years, residents of a rural community in Michoacán, Mexico, struggled to find usable water. The wells they relied on often dried up, leaving them with no other choice but to purchase water elsewhere.
Farmers in that community were particularly struggling and wanted to find a solution. They turned to Samuel Sandoval for help.
Sandoval was only 22 years old and finishing up a bachelor's degree in engineering in Mexico City, where he was born and raised, when he started helping residents of the rural community find a way to extract clean drinking water from nearby springs. Part of his job was to measure the water flow coming out of the springs and to set up several water purification devices.
Related: California Towns Shrink Amid Drought
Sandoval's work led to the construction of a water plant that produces bottled drinking water. It also led to the creation of an elevated storage tank that provides water for domestic uses, such as washing clothes and bathing.
"I felt good knowing that what I was doing would allow them to have water every day," he said.
For Sandoval, the project in Michoacán marked the start of his career. Now at age 34, he is a water resource management expert and a professor at the University of California, Davis. He uses his expertise to help water agencies and farmers from across California develop strategies on how they can better manage and conserve water.
"When people ask me, 'How bad is the drought?' I tell them, 'Well, it's actually really bad. We really have to start to think more wisely about saving water." _ Samuel Sandoval, water resource management expert
Sandoval's water-saving habits
Sandoval's skills are greatly needed in California right now. The state is entering its fourth year of a worsening drought caused by a combination of warmer-than-normal temperatures and reductions in rainfall and snowfall.
The drought led California Gov. Jerry Brown to impose mandatory water restrictions earlier this month. He ordered residents and businesses to cut water use by 25 percent, a mandate that Sandoval supports.
"When people ask me, 'How bad is the drought?' I tell them, 'Well, it's actually really bad,'" Sandoval said. "We really have to start to think more wisely about saving water."
He believes everyone in California must to do their part to conserve water this year, as the drought shows no signs of easing. "It doesn't matter if it's a drop or a bucket, all of it will count," he said.
At home, Sandoval and his wife are taking steps to reduce the amount of water they use, such as using a cup of water to rinse after brushing their teeth. They also place a bucket in the shower while they wait for the water to warm up, and use that extra water on their trees. Furthermore, they're also planning to get rid of their green lawn and replace it with gravel.
"It is not that hard to do those things," Sandoval said, adding that he advises his students at UC Davis to do the same.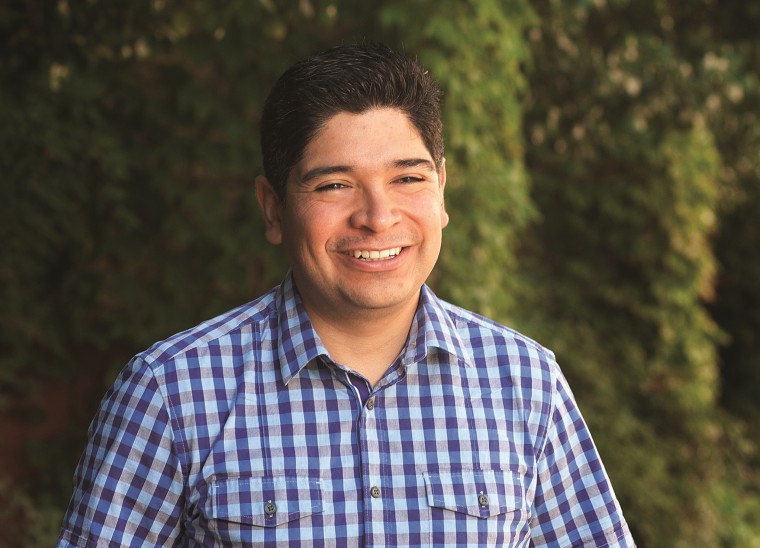 The situation is dire
California farmers, according to Sandoval, have taken the biggest hit during the worsening drought. Over the last few years, farmers have seen significant reductions in the amount of surface water allocated to them by water agencies.
One of those agencies is the Central Valley Project, which for the last two years hasn't been able to allocate water to farmers. Meanwhile, the California State Water Project predicts this year it will only be able to allocate 20 percent of the water it usually provides to farmers, as opposed to 5 percent in 2014.
That leaves desperate farmers with no other choice but to look for water in other places.
Many of them have turned to groundwater to keep their crops alive. They've been pumping water from dwindling aquifers and wells. But in some areas, the over-pumping of water has left residents with no running water. That's what happened at a rural community in San Joaquin Valley last summer.
A report by the UC Davis Center for Watershed Sciences estimated the drought would cost California's agriculture industry $1.5 billion in 2014. In addition, the report estimated 17,100 people would lose their jobs last year, including many farm workers.
"We're expecting the same will happen this year if things don't change," Sandoval said.
Sandoval takes on the drought
As a way to help reduce the burden of the drought, Sandoval has been educating farmers and farm workers—both in English and Spanish—about hydrology and steps they can take to become more efficient at using water.
He has also been providing technical advice on water conservation to cities and water management agencies. Most recently, he helped develop a plan to conserve water in a small agriculture region in Monterey County, where the over-pumping of groundwater was drying up the aquifers.
"Not even in my wildest dreams did I ever think that I would be doing this," Sandoval said.
Before moving to California, Sandoval worked on a number of other water planning and management projects, including one that dealt with the Rio Grande. He also earned a master's degree in hydrology in Mexico City before he moved to Texas where he earned a PhD in water resources engineering.
Now, four years into the California drought, Sandoval is proposing solutions to help alleviate the state's water woes.
One of those solutions is recharging the state's groundwater, which he said is rapidly disappearing because cities and farmers are extracting more water than can be replenished naturally. A way to do that, he said, is by improving the storage of water in reservoirs and aquifers when atmospheric rivers bring powerful rainstorms to California.
Sandoval said another solution is having farmers use more water-efficient practices, such as cultivating diverse crops instead of just having "thirsty crops" that require large amounts of water to grow.
He added that California residents could also do their part. One thing they can do, he said, is refrain from having lush, green lawns _ which account for 50 percent of residential water use.
Looking back at his career so far, Sandoval said he's still amazed at how he's able to use his expertise to help California deal with its drought. He said he hopes his story will exemplify how Latinos are "hard workers" who are moving up the career ladder.
"We're not only farm workers, we're not only people who work in the houses—and people shouldn't be ashamed to do those things," he said. "But we are also in other areas. We are journalist, we are professors, we are scientists, we are engineers—and that's becoming a little more visible."