PALM SPRINGS, Calif. –- Coming in from the sky, California's Coachella Valley is brown and dry, a scrubby desert landscape broken up by the wrinkles of the San Jacinto mountains.
Then, as the mountains sink to the valley, it appears: Palm Springs, a man-made oasis blanketed with more than 120 golf courses, and dotted by swimming pools, a water park and plenty of green lawns.
Around it, a whole state is drying up.
On April 1, California Governor Jerry Brown ordered water officials to put in place measures that would cut water use in cities and towns (which accounts for a fifth of the state's water use) by 25 percent, an aggressive and unprecedented step taken to combat the region's worst drought in 1,200 years.
The Desert Water Agency, which provides water to Palm Springs and nearby areas, reported consumption of 221 gallons per person per day for February of this year, above the state average of 77 gallons, according to numbers released by the State Water Resources Control Board on Tuesday.
In Palm Springs and the Coachella Valley, "the infrastructure was built on water usage at a time when it was plentiful and cheap," said David Ready, Palm Springs city manager, "but we know that's got to change, and we're taking aggressive steps to reverse that course."
Periodic dry spells are nothing new for California, or for Palm Springs, and city officials say they have been active in recent years to set ambitious goals to cut down on water amid a four-year drought.
A year ago, before Brown ordered mandatory restrictions, Mayor Steve Pougnet said he wanted to bring water use at city facilities down 50 percent by 2020, and asked residents to make voluntary cuts of 30 percent. The city and the DWA also both run "turf buy back" programs that pay residents to replace their water-guzzling lawns with desert-style landscaping, a practice known as xeriscaping.
"Palm Springs is emblematic of a lot of the waste that we see in California," said Heather Cooley, water program director at the Pacific Institute, a nonprofit environmental think tank. "Of course, they're an easy target, but we all can and need to be doing better."
"We need to be reevaluating, and reexamine how we define a beautiful landscape in California," she said.
'Our Araby': A resort built on water
It was water that first brought settlers to Palm Springs. The Agua Caliente band of Cahuilla Indians had lived in the area and enjoyed its hot springs for centuries, before lawyer J.G. McCallum arrived in the late 19th century and started buying up land.
Palm Springs only gets about 5.5 inches of rain a year, so its water doesn't come from clouds overhead, for the most part. As with much of California, its residents rely on groundwater and snowpack stored high in the mountains in cold seasons for crucial water supplies -– and those stores have shaped Palm Springs' development over the years.
"Heavy falls of rain and snow occur on the mountain which rises close behind us, and we come in for the fringe of these storms," J. Smeaton Chase wrote in his 1920 travelogue 'Our Araby: Palm Springs and the Garden of the Sun.' "Besides which, the mountain acts as our trustee in general, collecting our winter income of moisture and dealing it out to us as we need it by means of the Chino and Tahquitz Cañon streams."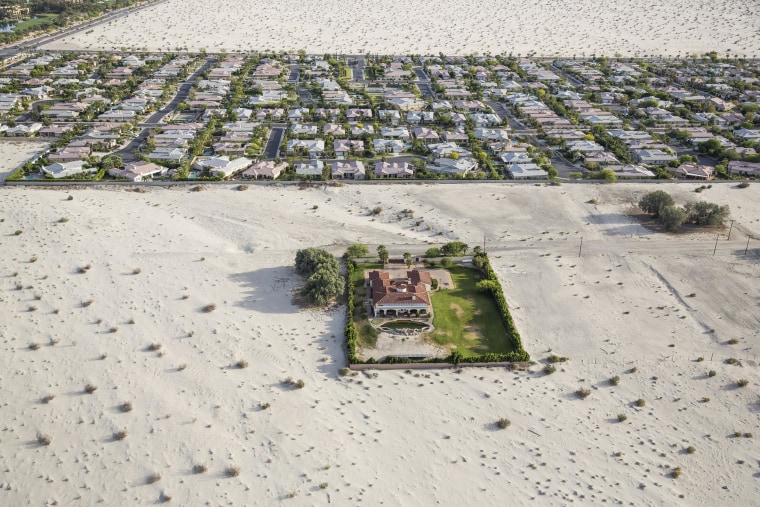 Those streams now provide only about 5 percent of the Palm Springs-area water supply, according to the DWA, with the remaining 95 percent pumped from a massive aquifer that sits under the valley floor. Since 1973, the area's water agencies have channeled more than 3.1 million acre-feet of imported water back into the aquifer.
And as long as the water has flowed, Palm Springs has flowered.
In the boom decades following World War II, Palm Springs became a favored retreat of America's glamorous and powerful. After Dwight Eisenhower expressed his preference for its golf courses (of which there were about a dozen at the time), Fortune magazine sent a photographer out to capture the community's growth, proclaiming "Green and Playful Grows the Desert" in 1961. The very existence of Palm Springs has been a quintessential American triumph of engineering, money and grit over Mother Nature.
The ongoing drought is hardly the first time people have pointed to Palm Springs' brilliant green lawns surrounded by brown sand and said that something looked a little off. Over the years, though, the town has been adamant about its water practices.
"It really bugs me that people see us as bad guys," then-Mayor Sonny Bono told the Los Angeles Times in 1991, amid a drought that lasted six years. "If we hadn't taken good care of our resources, we wouldn't be in good shape. But we did."
Even under the most severe drought conditions, it seems unlikely that a town like Palm Springs won't fight to maintain the landscaping and water-fed luxuries that have made it synonymous with West Coast rest and relaxation.
"It's hard to imagine Palm Springs turning into green concrete and cactuses for the landscaping," said David Sedlak, co-director of the Berkeley Water Center. And even if desert towns have to implement desalination measures or other techniques that drive up prices, residents still won't be putting up For Sale signs, he said.
"Even if one of these advanced technologies cost twice as much as the existing supply, people will pay it, because they are not going to give up on their valuable real estate and they are not going to give up on their way of life," Sedlak said.
'Fingers crossed'
The drought has economic ripple effects beyond Palm Springs. A report published last summer out of University of California, Davis's Center for Watershed Sciences found that the 2014 drought had direct and indirect costs of $2.2 billion for the state, resulting from the impact to the agricultural, livestock and dairy industries. That led to the loss of 17,100 jobs. If this year and next are similarly dry, crop growers in the Central Valley area would lose $1 billion a year, the report said.
California has a GDP of $2 trillion, making the state's economy about the size of Italy's. Losing $2 billion might not be much in those terms, but California has an outsized impact on America's agricultural production: It has been the top agricultural state in the country since 1948, and as of 2010, about 12 percent of the value of the country's agricultural output came from California.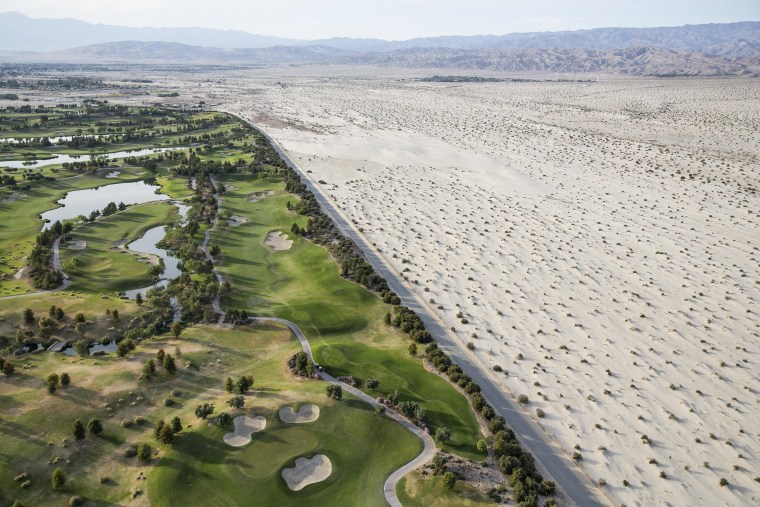 The 25 percent cuts imposed by Brown do not affect agricultural use, which makes up about 80 percent of California's water use. Farmers say they've already had to make sacrifices, fallowing large swathes of land and portioning out decreased water allocations.
"We're all going to have to keep our fingers crossed for next year," said Sedlak. "I think it's prudent for communities to plan on next year being just as dry as this year, and they're going to have to start looking for new sources of water."
As for golf courses in California, the 25 percent cuts Brown has called for on urban use don't apply there either, though he did ask for "significant cuts" in their water consumption. Golf courses across the state, including in the Coachella Valley, have for years explored ways to make efficient use of their water supplies, said Craig Kessler, director of governmental affairs for the Southern California Golf Association. Those include using recycled water on courses and working with local and state water officials.
"We've been doing these things," Kessler said. "We'll be doing a little bit more, and accelerating them."
A return to nature
Some Palm Springs residents say they're more than ready to toss off their thirsty greenery. Homeowner Garth Paterson participated in both the city's as well as the DWA's turf buyback programs last fall. The Canadian snowbird, who lives in Palm Springs during the winter months, said his water bills fell by about 60 percent.
"We went from about 70-odd dollars a month to $26," he said. "It's a major, major difference."
Paterson estimated his $8,000 investment — which included $4,000 he got from the two programs — will pay off in just four or five years, between savings on water and not having to spend around $300 a year planting seasonal grass.
"We're trying to be ecologically sensitive," he said. "We feel that everybody has a responsibility to try to conserve resources … especially since in California, it's a major drought here."
Although Paterson said eco-friendly desert yards are derisively labeled "gravelscape" by people who want to keep traditional lawns, more homeowners in his neighborhood were switching to desert landscaping.
"We've had lots of people go by and ask us about the program," he said. "We get more compliments on our yard now than when we had grass."
--- NBC News' Patrick Rizzo and Martha C. White contributed to this report