Lapping more than one thousand miles of coastline in drought-stricken California is a tantalizing, vast source of water: the Pacific Ocean.
Cost and environmental concerns have kept Californians from tapping the salty Pacific. But now, as the historic drought enters its fourth year with no end in sight, the state is taking the plunge with plans to turn the ocean into drinkable water.
"This is going to change the way we look at water in California for decades to come," said Peter MacLaggan, senior vice president of California project development at Poseidon Water, which manages large water infrastructure projects.
The desalination process itself is complicated and uses a technique called reverse osmosis, pushing seawater through filters to remove salt and other particles. The leftover, extra-salty seawater is pumped back into the ocean.
Poseidon's facility in Carlsbad in San Diego County is the largest desalination plant in the western hemisphere, and will start pumping 50 million gallons of fresh water into the community each day starting this fall.
It's not the state's first desalination plant. The tiny town of Sand City has operated a desalination facility for five years, serving as an example for larger-scale efforts to take a sip out of the Pacific.
Related: Parched California Pours Mega-Millions Into Desalination Tech
But not everyone is on board with the Carlsbad project, which came with a $1 billion price tag.
"It's nonsensical, it's absurd. I'll go to my grave fighting these things," attorney Marco Gonzalez with the Coastal Environmental Rights Foundation said.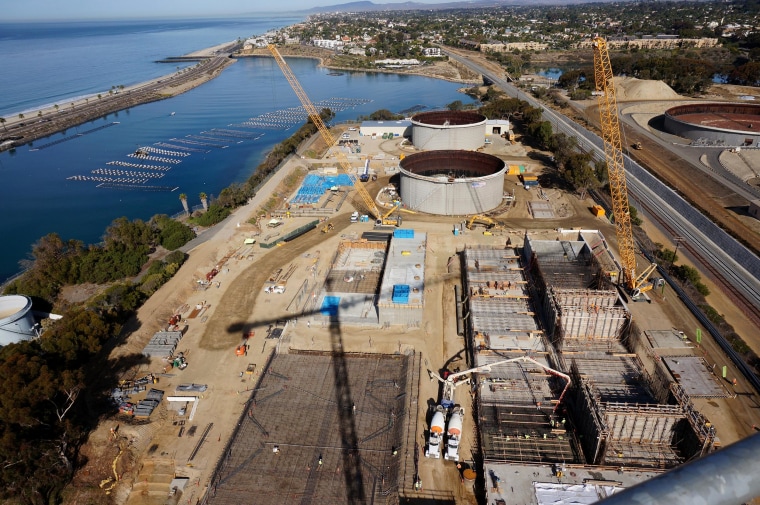 Gonzalez, who sued Poseidon and lost, is one of many environmentalists arguing that desalination is too expensive, too energy-intensive, and destructive to the coast.
"We waste so much water in southern California. It's a matter of enforcement and accountability," he said.
But California is running out of water — and options.
Desalination is catching on: Nearly 200 miles north of Carlsbad in Santa Barbara, officials are planning to reopen a desalination plant that was built 23 years ago during California's last monster drought. The plant was never used because rains returned before it could start operating.
"This drought has been more severe, more extreme, and faster than anyone ever thought," Santa Barbara Mayor Helene Schneider said. "I think the city residents get it, that desal, this desal plant, is an absolute last resort."