The shooting of an Army reservist and storming of the Canadian Parliament in Ottawa last week by a rifle-wielding man had barely ended when American commentators began predicting that the attack would ignite a new debate on gun control in Canada, where conservatives have been trying to roll back gun control.
Unlike the U.S., Canada has some of the toughest gun regulations in the world and no equivalent to the 2nd Amendment to the Constitution, which protects U.S. citizens' right to bear arms.
"Our courts have said that firearms ownership is a well-regulated privilege and not a right," said Solomon Friedman, a Canadian gun law expert and defense lawyer from Ottawa. "Absent some minor tragedies, gun violence has never really been a great social problem in Canada."
Backers of Canada's tough approach say it plays a major role in the difference between gun violence rates in the U.S. and Canada.
In 2011, the firearms-related death rate in Canada was 1.97 per 100,000 residents, or 679 total deaths. That compared to the U.S., where the rate was 10.3 per 100,000 people, or 32,163 deaths, according to statistics compiled by Canadian and U.S. authorities. Take guns out of the equation and both countries had comparable homicide rates: 1.33 per 100,000 in the U.S. vs. Canada, which had 1.07 per 100,000.
Canadians tend to view most of the nation's restrictions on gun ownership as a given, say experts. After last week's shooting, the national discussion focused not on gun laws but on the need to improve security in and around the Parliament building.
That may be in part because many questions remain about the gun that Michael Zehaf-Bibeau allegedly used to kill reservist Nathan Cirillo at the National War Memorial -- a 1890s-era eight-shot, 30-30 Winchester lever-action hunting rifle. Canadian authorities say they have not yet determined how Zehaf-Bibeau obtained the weapon, which is legal in Canada but which he was barred from owning because of a history of violence and drug offenses.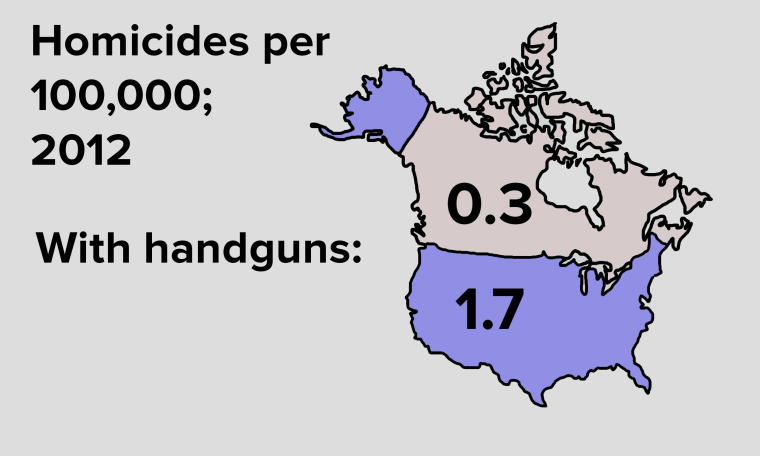 Many of Canada's restrictions were implemented after the so-called Montreal Massacre on Dec. 6, 1989, when 25-year-old Marc Lépine, armed with a legally obtained Mini-14 rifle and a hunting knife, shot twenty-eight people before killing himself at the École Polytechnique.
Unlike the U.S., where gun laws vary significantly between states, the federal government in Canada strictly controls the sale and possession of firearms. Canadian law bans automatic weapons and certain types of military-style, semiautomatic rifles and restricts ownership of handguns. Those with barrels longer than 10.5 cm. are banned and those with shorter barrels must be registered and authorities must be told if those weapons are sold or transferred.
The government also requires licensing for both rifles and handguns that includes a firearms safety course and background checks and continuous screening of gun owners.
"Criminal charges are not necessary for police intervention."
When applying for a first-time gun license or renewal, individuals need two references and the approval of a domestic partner or spouse. The latter requirement extends to former spouses or partners.
Applicants can be disqualified for criminal, domestic violence, mental health or addiction histories. And police often move quickly to revoke a gun license.
In fact, Friedman said, "Criminal charges are not necessary for police intervention."
"Public safety warrant powers," allow police to seize firearms and suspend a gun owners license based on public safety concerns or complaints, he said.
With little fanfare, critics, led by conservative Prime Minister Stephen Harper, have been pushing back against the rules, which they say are unnecessarily cumbersome and costly -- noting that the licensing regime alone cost $2 billion to create and $20 million a year to support.
Two years ago, Harper's government eliminated a registration requirement for so-called long guns like the hunting rifle used in the Ottawa shooting. It also destroyed data on more than 5 million firearms and moved to prevent local police from requiring gun dealers to record personal information of buyers and link it to information about the kind of firearms they bought.
This year, the government slapped new restrictions on the ability of the Royal Canadian Mounted Police to reclassify firearms, saying the move was necessary so that ownership of certain gun models could not be criminalized after the fact.
Critics say the moves are overdue because the nation's gun laws have not been shown to be effective.
"No methodologically sound study has found any important effect on homicide, suicide or violent crime rates from Canadian gun laws," said Gary Mauser, professor emeritus at the Institute for Canadian Urban Research Studies Beedie School of Business at Simon Fraser University. "Spending $20 million per year barking up the wrong tree is simply wasting taxpayers' money."
He also argues that the "sizeable pool of illegal guns in Canada" comes almost entirely from the United States, so the registry was ineffective when it came to solving crimes.
Related
Canada Parliament Shooter Made Video Before Attack, Police Say
'Symbol of Freedom': Canadian MPs Vow Open Parliament Hill
Ottawa Shooter's Mother: 'He Did Not Fit In'
The statistics offer some support for that view.
According to law enforcement officials, Canadian authorities, with help from the U.S. Bureau of Alcohol, Tobacco, Firearms and Explosives, recover and trace approximately 1,300 guns annually that are used in crimes there -- the majority of which originate in the United States.
That number is likely a fraction of the guns that make it into the country, they say, in part because there is big money to be made smuggling illegal weapons. Friedman noted that a Glock pistol, a restricted firearm, would sell for $4,000 on the street in Toronto vs.$ 400 in the U.S.
But Wendy Cukier, president of Canada's Coalition for Gun Control and coauthor of "The Global Gun Epidemic," said Harper is making policy changes that that will fuel "crime, conflict and terrorism," even as he seeks longer sentences for gun crimes.
"Most countries have been strengthening their national firearms regulations," she said. "… Indeed Canada used to be regarded as a global leader in the fight against global firearm violence. In recent years, Canada, along with the United States, has been one of the few countries in the world that has relaxed rather than strengthened controls over firearms, eroding the protections that have been in place for decades, a bit at a time."
Follow NBC News Investigations on Twitter and Facebook.
Cukier called it a "tragic irony" that the Canadian government was scheduled to debate legislation that would futher relax gun controls on Wednesday, the day of Zehaf-Bibeau's rampage.
While the debate over Canada's gun laws does occasionally get strident, Friedman said it is nowhere near as heated as in the United States.
"No matter which way you come at it, Canadians make the argument by attempting to muster rational, evidence-based policy," he said. "Our level of political discourse is different."