A Canadian soldier guarding the National War Memorial in Ottawa was shot and killed Wednesday, and a burst of gunfire minutes later terrorized Parliament and sent lawmakers scrambling for safety.
Sources identified the gunman to NBC News as Michael Joseph Hall, 32, a convert to Islam who was using the name Michael Zehaf-Bibeau. He was confirmed dead. The victim was identified as Cpl. Nathan Cirillo of Hamilton, Ontario, a member of the Argyll and Sutherland Highlanders, one of Canada's largest reserve units.
Authorities told NBC News they believe Hall had a string of low-level criminal offenses in the past but that they had uncovered no links in the U.S. with anyone being watched in connection with terrorism investigations.
RELATED: Who Is the Canadian Parliament Shooter?
Few other details of either man were available, and confusion continued to grip Canada's capital well into the evening. As members of Parliament remained locked down on Parliament Hill 8½ hours later, police couldn't say whether anyone was still on the loose or what the motive might have been.
But Prime Minister Stephen Harper — who was on Parliament Hill when the first shots were fired — didn't hesitate to call the gunman "the terrorist," saying in a nationally televised address Wednesday night that the attack was proof that "Canada is not immune to the types of terrorist attacks that we have seen elsewhere around the world."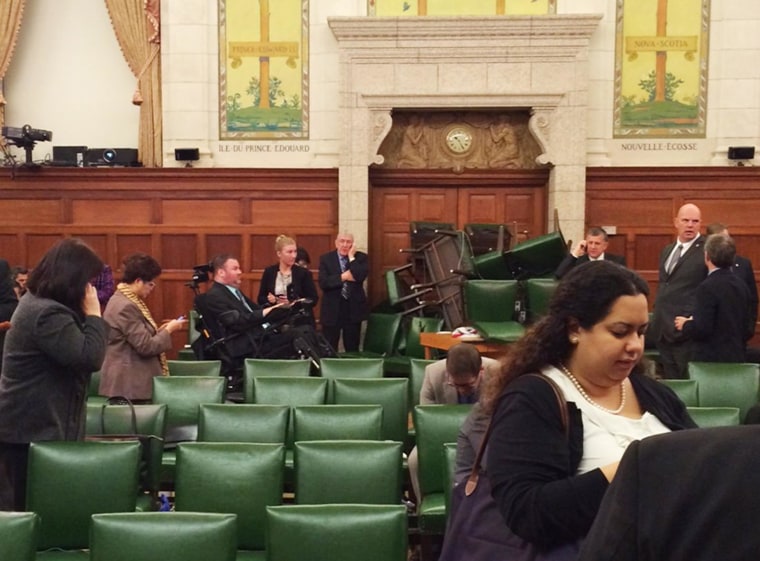 The attack came at a time of heightened concern about terrorism in Canada. On Monday, a man described as a radical Islamic convert ran down two Canadian soldiers with his car, killing one of them.
NBC News reported this week that Canadian officials have been concerned about the potential for knife and gun attacks, including strikes against military personnel, because of the nation's involvement in international fight against ISIS.
The attack paralyzed the center of the Canadian government after the first shots were fired just before 10 a.m. ET. For hours, there was confusion about the number of shooters. Ottawa police Constable Marc Soucy told MSNBC at midafternoon: "We're not sure how many suspects there are. We're still actively looking."
There were also reports of shots fired at a nearby mall, the Rideau Centre, but police said nothing had happened there.
Ottawa Hospital said it treated and released three patients for minor injuries.
Cirillo was standing guard across the street from Parliament at the War Memorial, a tall granite cenotaph adorned with bronze figures representing Canadians who fought in World War I.
Sen. Jim Munson, a retired journalist who represents Ontario, told MSNBC that his wife, who drove him to work in the morning, may have seen the gunman approach Cirillo as she returned home.
Munson said that his wife saw a car stop in heavy traffic in front of the memorial and that she watched a man carrying a bundle in blankets toward the site, followed by a bright flash. He said his wife believed that it was the gunman and that he was carrying a rifle or rifles in the blanket.
A few minutes later, inside Parliament about a third of a mile away, a volley of gunfire could be heard for about 10 seconds in a video posted online by the Canadian newspaper The Globe and Mail. Sen. George Baker, a member of Parliament, told MSNBC from his office, where he was holed up, that about 50 shots had been fired.
Tyrone Benskin, a member of Parliament representing part of Montreal, said he was in a weekly caucus meeting when "we heard pops."
Benskin told MSNBC the pops "initially sounded like something metallic being dropped in the hallway," which is made of granite and echoes loudly. He and fellow caucus members were hustled to a secure location in the building, where they remained for hours, he said.
Soucy, of the Ottawa police, told MSNBC that witness descriptions of the shooter or shooters ranged from people "wearing a scarf around their head to dressed in all black, so we're looking at everyone."
The Royal Canadian Mounted Police urged people in downtown Ottawa to stay away from windows and roofs. Baker, the member of Parliament, said that he could see about 100 armed officers circling the building.
Police and military officials clarified little at an afternoon news conference. They asked people to stay away from the center of downtown and be vigilant, but they couldn't say whether a suspect remained at large. They also couldn't say what kind of gun was used.
Amid the uncertainty, members of Parliament paced the room with phones pressed to their ears, talking to staff members they were separated from. Cafeteria staff made the circuit handing out coffee and sandwiches.
The shooting came days after Canada raised its domestic terrorism threat level. The Royal Canadian Mounted Police said it was watching at least 90 known ISIS sympathizers. And the FBI has been working closely with Canadian authorities as both countries watch for threats against their citizens.
"This is exactly, again, what intelligence officials have been worried about," said Michael Leiter, former director of the U.S. National Counterterrorism Center and an NBC News analyst.
In the car attack Monday, authorities identified the attacker to NBC News as Martin Rouleau, 25, a radical Muslim who may have acted alone but had links to other suspected fundamentalists. One soldier died, and the other was injured. The suspect was shot by police and later died.
Authorities were monitoring him and had revoked his passport before the attack.
In the attack Wednesday, an Instagram user, Amer Adas, posted video of paramedics loading someone into an ambulance and of police with weapons drawn:
A U.S. Department of Homeland Security official told NBC News that there was "no specific reporting" to indicate a threat to the U.S., the attack reverberated there, as well. The U.S. Embassy in Ottawa was locked down, and The Tomb of the Unknowns at Arlington National Cemetery in the Virginia suburbs of Washington increased security. NORAD, the joint U.S.-Canadian air command, went on high alert. New York police said they would assign "special attention" to certain locations.
President Barack Obama, who spoke by phone with Harper, told reporters Wednesday afternoon that while it was too early to know what motivated the shootings, he had assigned his national security team to work closely with Canadian authorities because the long U.S.-Canadian border could "factor in to ongoing efforts to counter terror attacks in our country."
In Toronto, the largest city in Canada, police said they knew of no specific threat, but they ordered stepped-up patrols at City Hall, courthouses and other government facilities and on the subway.
Two events honoring the Pakistani teenager and recent Nobel Peace Prize winner Malala Yousafzai, who was shot in the head by the Taliban two years ago for promoting education for girls, were canceled. At one, she was to have received honorary Canadian citizenship.
The National Hockey League postponed a game scheduled for Wednesday night between the Ottawa Senators and the Toronto Maple Leafs.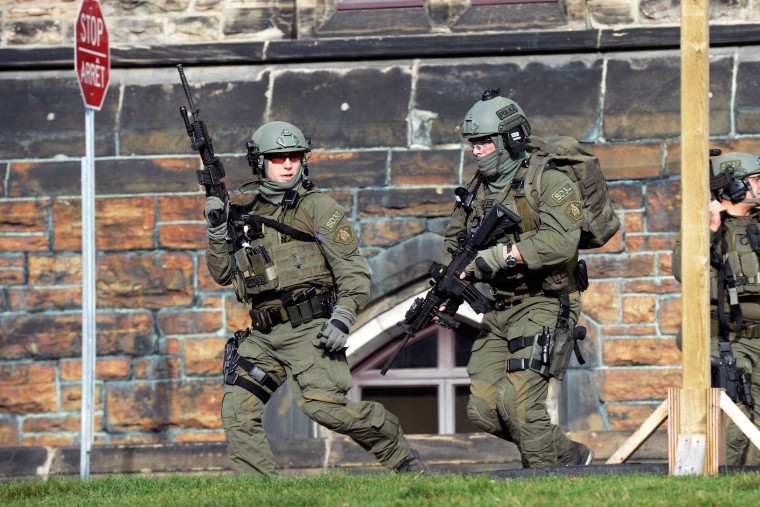 Kristin Donnelly, Alastair Jamieson, M. Alex Johnson, Justin Ling, Kristen Welker, Pete Williams and Robert Windrem of NBC News contributed to this report.