The shooting rampage in Ottawa that killed a soldier and locked down Parliament for hours shook Canada to its core, ushering in a new era of increased vigilance and tighter security that began immediately Thursday.
Canadian and U.S. investigators stressed that they still hadn't determined a motive in Wednesday's shootings, which left reserve Cpl. Nathan Cirillo of Hamilton, Ontario, dead and sent lawmakers scrambling for cover as up to 50 shots rang out in the halls of Parliament while police and security officers exchanged fire with the gunman.
But Prime Minister Stephen Harper linked the attack to terrorism, telling Canadians on Wednesday night that the country is no longer "immune to the kinds of terrorist attacks that we have seen around the world."
The shootings came just two days after a man described as a radical Islamic convert ran down two Canadian soldiers with his car in Montreal, killing one of them.
And sources told NBC News the gunman who was killed Wednesday was a recent convert to Islam named Michael Joseph Hall, 32, who went by the name Michael Zehaf-Bibeau.
"It's a day, I feel, where Canada lost its innocence," Sen. Jim Munson, who represents Ontario, told MSNBC.
An NBC News freelance journalist who was locked down in the Parliament building for hours described jittery lawmakers and chain-smoking Parliament workers pacing the floors behind makeshift barricades they'd erected from chairs in their caucus meeting rooms.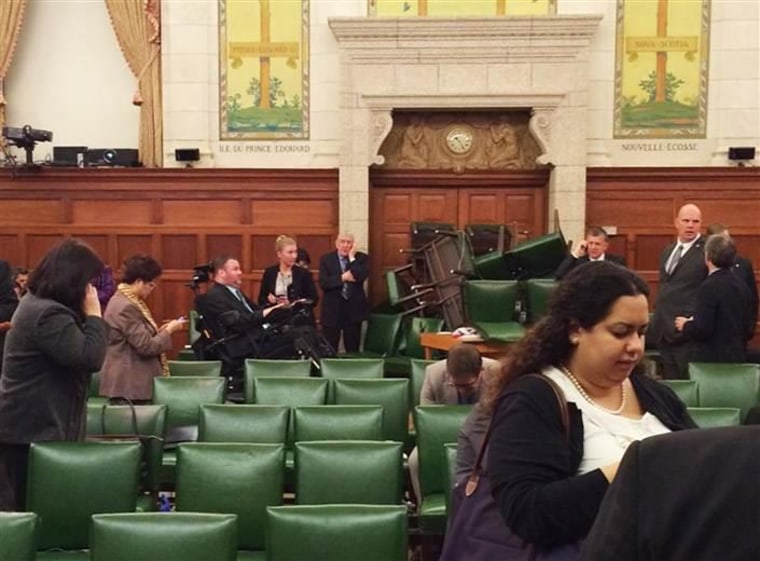 Members of Parliament pasted their phones to their ears, demanding information from staffers who were lucky enough to have been elsewhere when the shooting began.
"Parliament has got to sit tomorrow," one of them could be heard barking. Echoing the prime minister, the lawmaker said, "We need to show that we will not be intimidated!"
Canada had already recently raised its terrorism threat level from low to medium after the Montreal attack Monday and what officials called an increase in "chatter" from the militant Islamist group ISIS and members of al-Qaida.
Intelligence officials told NBC News this month that Canadian authorities were already monitoring "hundreds of people" who had either gone to Syria to link up with ISIS and other Islamist groups and returned, or who had tried and failed to make the trip. Among those designated "high risk" was Hall, Wednesday's gunman, which meant his passport would have been seized.
Effective Thursday, parts of Canada will look a little bit more like the U.S., beginning with a noticeably increased police presence in Ottawa's downtown corridor, among other new security measures, authorities said. "We are the nation's capital," Ottawa Police Chief Charles Bordeleau said Wednesday night. "It's a very sad day."
Among other steps:
Toronto initiated "advanced security precautions," Police Chief Bill Blair said Wednesday night. He didn't specify what those were.
The military put many of its bases on lockdown and said it, too, was raising its security level. Public access will be restricted at armories and bases, the National Defense Department said Wednesday night.
The Canadian Broadcasting Corp. reported that soldiers received an email message Wednesday telling them not to wear their uniforms — even on base. Capt. Marie-France Poulin, a military spokeswoman in Montreal, confirmed that military personnel in the province of Quebec had been ordered not wear their uniforms in public places unless they were on official duty, but she said she didn't know whether the order applied nationwide.
National customs officials said they were considering tighter security at bridges from Ontario across the U.S. border to Detroit. "Travellers may experience an increase in border wait times or increased scrutiny," the agency said in a statement.
In Montreal, security was doubled at the Quebec legislative complex, and tunnels linking government buildings were closed, as were public tours, The Montreal Gazette reported.
Toronto transit passengers will see more transit enforcement officers and Toronto police on subway trains and in stations, the Toronto Transit Commission said Wednesday night. "All TTC personnel will be looking for suspicious activity or suspicious packages," it said.
"It's important for all Canadians to be vigilant and report anything they think is suspicious to their local police so it can be assessed and followed up upon," said Assistant Commissioner Gilles Michaud, commanding officer of national operations for the Royal Canadian Mounted Police.
Sharp disagreement colors Canada's decision this month — approved almost solely by Harper's Conservative Party — to join the coalition of nations carrying out airstrikes against ISIS targets in Iraq. Dozens of protests have taken place across the country since discussion of the plan emerged over the summer.
But in his address to the nation, Harper said Wednesday's shootings were proof that "Canada is not immune to the kinds of terrorist attacks that we have seen around the world" and promised that "we will not be intimated."
The attack Wednesday, he said, will serve to "strengthen our resolve to identify and counter threats and keep safety here at home."
That could be tricky in Canada, which sees itself as a beacon for freedom and human rights, said NBC News security consultant Michael Leiter, former director of the U.S. National Counterterrorism Center.
"The challenge will now be for Canada to come up with new, smart security precautions — but not to overreact," he said.
Justin Ling contributed to this report from Ottawa.