A survivor of the killings of nine parishioners at a church in Charleston, South Carolina, said she watched her son "take his last breath" and witnessed her best friend be brutally slain at the hands of suspect Dylann Roof during an emotional opening day of the federal trial Wednesday.
Felicia Sanders described the horrific moments as Roof opened fire during a Bible studies class at the Emanuel African Methodist Episcopal Church on June 17, 2015. Sanders' granddaughter was also present during the shooting, but survived.
"I grabbed my grand-baby, who said 'I am so scared,'" she recalled during her testimony Wednesday afternoon.
Her son, Tywanza Sanders, had already been shot but stood up and asked Roof why he was doing this, she said.
"Roof said 'I have to do this because you are raping our women and taking over the world,'" Felicia Sanders testified.
"That is when he put about five bullets into my son," she said through tears. "There were 77 shots in that room from someone we thought was looking for the Lord.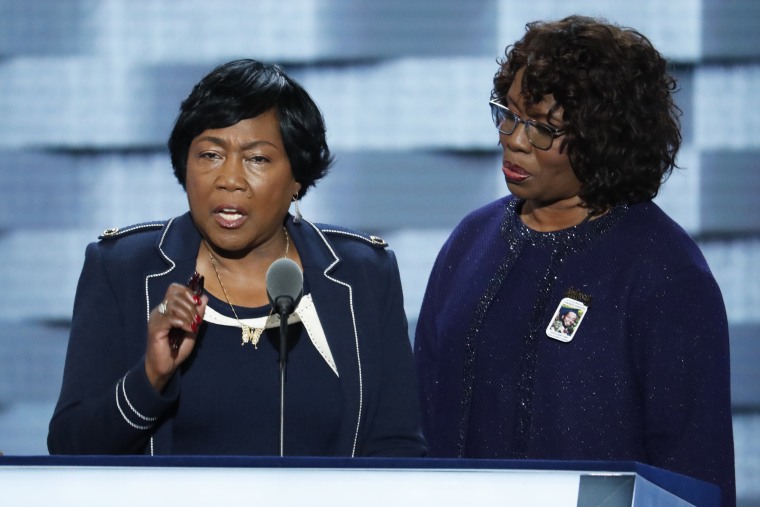 "I watched my son take his last breath. I saw my son come into this world and leave this world."
Along with Tywanza Sanders, eight other worshipers were killed during the shooting rampage, including Rev. Clementa C. Pinckney. The other victims were: Cynthia Hurd, 54; the Rev. Sharonda Coleman-Singleton, 45; Susie Jackson, 87; Ethel Lance, 70; Rev. Depayne Middleton Doctor, 49; Rev. Daniel Simmons Sr., 74; and Myra Thompson, 59.
Related: Judge Denies Motion to Delay Charleston Church Shooting Suspect Dylann Roof's Trial
Sanders lost another family member during the shooting, her aunt Susie Jackson.
"She was my best friend," Sanders said, wiping away tears.
The opening day of the trial began came one day after Roof's attorneys attempted a delay over another racially charged case in the same city — the mistrial of former patrolman Michael Slager, who fatally shot Michael Scott, an unarmed black man, during a routine traffic stop in April 2015.
A federal judge rejected the defense team's request to delay the trial on Tuesday night.
Lead prosecutor Julius N. Richardson said during opening statements "this is going to be a long and difficult trial."
"He seemed to them to be harmless. Little did they know what a cold and hateful heart he had," Richardson said, according to the Associated Press.
In the defense's opening statement, attorney David Bruck said "there is not a great deal to dispute" and both he and Richardson expected the jury would find Roof guilty.
"You will see unbearable grief," he said. "You will see things you will not be able to un-see."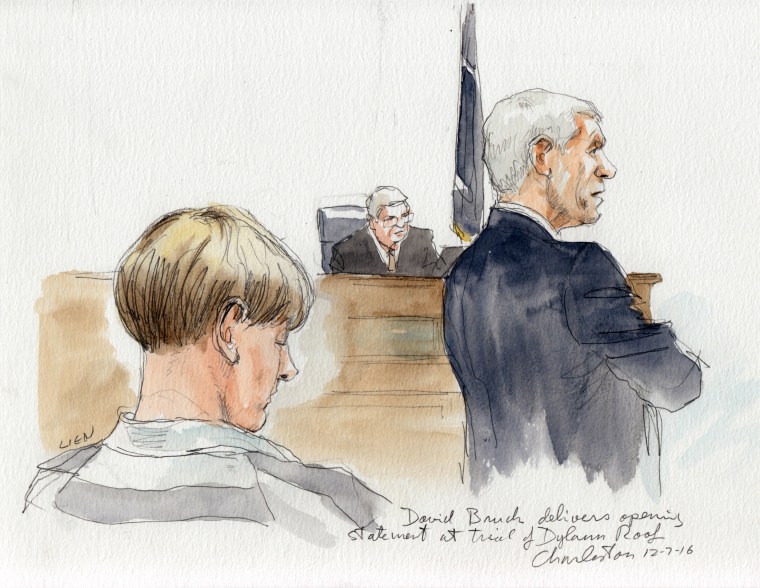 The defense has said repeatedly in federal and state court that Roof would be willing to plead guilty if capital punishment was taken off the table, according to the AP.
While the defense has said it expects Roof to be found guilty in this first phase of the trial, going through the motions gives them a chance to argue in the penalty phase — should he be convicted — that he should be spared the death penalty.
Roof faces 33 counts in the federal trial, 24 of which fall under federal hate crimes statutes. Eighteen of them carry the death penalty. He has also been charged with nine counts of murder in state court in a trial scheduled for January.
Related: Judge Allows Dylann Roof to Hire Back His Lawyers for Guilt Phase of Trial
Roof a self-proclaimed white supremacist, wrote several manifestos, including a 2,500 online screed proclaiming his hatred for minorities. In August, authorities discovered two additional white supremacist manifestos in Roof's possession, according to court documents.