The white gunman who fatally shot nine people at a historic black church in Charleston, South Carolina, on Wednesday hinted that he was going to carry out a shooting a week before the massacre, a friend told NBC News.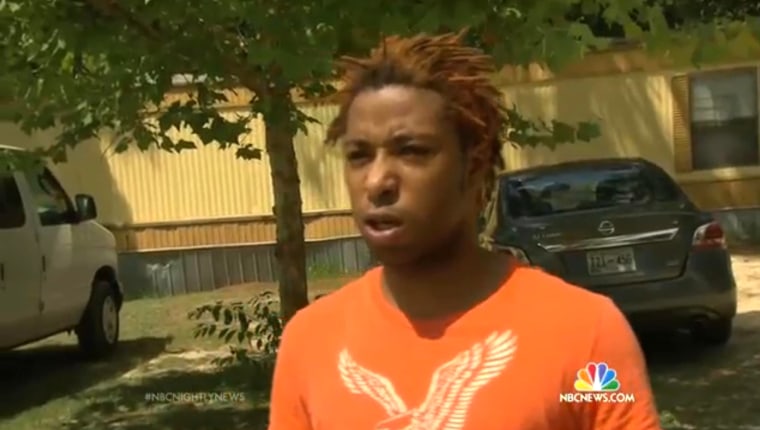 "He said that he was going to the college, to shoot the college up," Christon Scriven, 22, said. "I think that because that college campus is so hard to get onto … maybe he couldn't get into that school, and he settled on that church."
Dylann Roof, 21, confessed to opening fire on a Bible study group at Emanuel African Methodist Episcopal Church, one of the nation's oldest African-American churches, just after 9 p.m. Wednesday, killing nine people, sources said.
Authorities told NBC News that Roof targeted the church because of its significance to the black community. Police have said they believe the attack was a hate crime.
RELATED: Dylann Roof's Family Expresses 'Shock, Grief' After Killings
Scriven and another friend, Justin Meek, 17, said Roof told them he recently bought a handgun and he was the registered owner of the firearm. Law enforcement sources confirmed Friday that Roof bought the gun used in the killings.
Scriven, who is black, said he never heard Roof use racial slurs or complain about African Americans. A relative of one of the victims said she was told by a survivor that the gunman said the shootings were motivated by race. A police affidavit released Friday said Roof "uttered a racially inflammatory statement" to a witness before leaving the scene of the killings.
Scriven said that when Roof mentioned shooting up a school last week, he thought the statement was a joke, and Roof didn't bring it up again. "He just said on Wednesday, everything was going to happen. He said they had seven days," Scriven said.
Scriven said he was shocked when he learned that Roof was identified as the gunman. "I just ran through my head that he did it," he said. "Like, he really went and did what he said he was going to do."