CHARLESTON, S.C. — Dylann Roof's mother suffered a heart attack not long after prosecutors described how her son planned a cold and calculated killing of nine black church members in a racially motivated attack, his attorney said in court documents Thursday.
Roof's mother collapsed and said "I'm sorry" several times on Wednesday as family members and court security came to help her during the opening of her son's federal death penalty trial.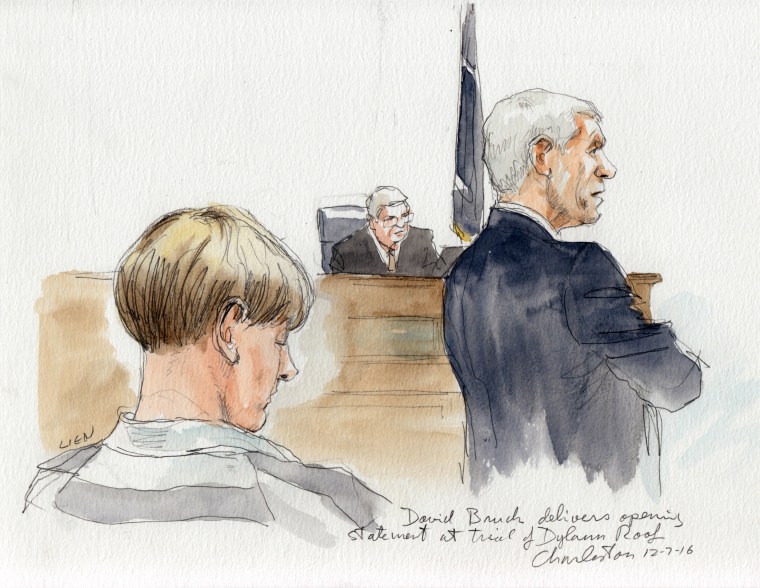 Roof's attorney mentioned the heart attack in court documents asking for a mistrial, saying a survivor's testimony was so emotional that "spectators and even court personnel — including members of the prosecution and defense — were crying with her."
The documents didn't give the mother's current condition.
Related: Charleston Church Massacre Survivor Tells of Watching Son Die as Trial Begins
Later Thursday, in an eerily silent courtroom, 360-degree computer images of the crime scene were shown to the jury. The pictures showed the victims lying in pools of blood on the beige tile floor of the fellowship hall at Emanuel AME Church. Most were clustered around circular tables where they had been holding a Bible study.
Shell casings and cartridge magazines were scattered around as were Bibles and purses. One of the 15 scans showed a wall poster with the words "Faith, Hope and Love." Several people in a courtroom area for family members of the victims comforted each other while others dabbed tears from their eyes.
Roof's attorney David Bruck argued in the motion for the mistrial that Wednesday testimony from shooting survivor Felicia Sanders was inappropriate because it seemed to contain a statement on what Roof's sentence should be.
Sanders told jurors about the horror of seeing her son and her aunt shot to death and sheltering with her granddaughter beneath a table. At one point, she looked across the courtroom toward Roof and called him "evil, evil, evil."
Bruck asked her on cross-examination whether she remembered Roof saying anything in the aftermath of the shootings.
"He said he was going to kill himself," she said. "I was counting on that. There's no place on Earth for him other than the pit of hell."
Related: Death Penalty Trial of Accused Shooter to Begin
U.S. District Judge Richard Gergel denied the mistrial request and said he interpreted Sanders' testimony as "a religious comment." He instructed jurors that any decision on guilt or a sentence is up to the jury — not the attorneys or witnesses in the case.
Also Thursday, jurors watched surveillance footage of Roof leaving a Charleston church with a gun in his hand. Charleston police Sgt. Dan English showed the jury more than 20 video clips taken from cameras at the church on June 17, 2015.
The clips showed many of the victims and Roof entering the church. Roof is seen leaving the church 52 minutes later, and a final clip taken about 25 minutes after that showed one of the victims carried out on a stretcher.
Roof is charged with 33 federal counts, including hate crimes in the case. He sat again Thursday just staring down at the defense table. But instead of the striped prison jumpsuit he had worn during previous court appearances, he was wearing a gray sweater and light-colored slacks.
The defense has said Roof is willing to plead guilty if the death penalty is taken off the table. They have made a similar offer in state court where Roof is charged with nine counts of murder and faces another death penalty trial next year.