CHARLESTON, South Carolina — The historic church where nine people were shot dead reopened its doors early Sunday, with thousands lining up to attend an emotional service less than a week after a massacre that shocked the nation.
It was the first worship service at Emanuel African Methodist Episcopal Church since Dylann Roof, 21, sat among a Bible study group and opened fire, saying that he targeted them because they were black, authorities said.
Every Charleston church and about 100 more across the country rang church bells Sunday morning at 10 ET as a symbol of solidarity with Emanuel AME — affectionately referred to locally as Mother Emanuel.
Individuals all over the world were encouraged by Charleston city officials to "make a joyful noise" at that time to support Emanuel AME and the mourning Charleston community.
Police have called the shooting at the historic black church a hate crime. The FBI is examining a 2,444-word white supremacist screed posted to a website that may be linked to Roof.
PHOTOS: Charleston Unites as Church Opens Doors for Sunday Service
The names of the nine people who lost their lives were read by the Rev. Norvel Goff Sr. in the middle of the service.
"Now is a time for us to focus on the nine families," he said.
But "we're going to pursue justice and we're going to be vigilant and we're going to hold our elected officials and others accountable to do the right thing," Goff said before thanking police for "working together to bring about a safer place."
South Carolina Gov. Nikki Haley, Sen Tim Scott, Charleston Mayor Joseph Patrick Riley, Jr. and North Charleston Mayor R. Keith Summey were in attendance.
Goff, who delivered the sermon, centered it around Psalm 46, which begins: "God is our refuge and strength, a very present help in trouble. Therefore we will not fear, even though the earth be removed."
"It has been tough. It has been rough," said Goff, a presiding elder of the 7th District AME Church in South Carolina. "But through it all, God has sustained us and has encouraged us. Let us not grow weary in well doing."
"We have some difficult days ahead, but the only way evil can triumph is for good folk to sit down and do nothing," Goff preached passionately as some congregants fanned themselves with paper. Others cried.
Emanuel's packed-out sanctuary was swept by security Sunday morning before the service, and officers were scattered in balconies and on the outskirts of pews.
"They did a good job cleaning it up, there were a few bullet holes around but what they did, they cut them out so you don't see the actual holes," Harold Washington, 75, told The Associated Press after going inside the room where the victims had been.
Washington said he expected a large turnout for the service, which was described as an opportunity for "healing" in the community. "It's a church of the Lord — you don't turn nobody down," he said.
"Because the doors are open on this Sunday it sends a message to every demon in hell and on Earth that no weapon, no weapon shall prosper," Goff said. "Some wanted the divide between black and white and brown," but "no weapon formed against us shall prosper."
Emotions are still raw in the church community, who lost, among others, the Rev. Clementa Pinkney, a state senator who served as the church's lead pastor.
Cookie Washington, a Charleston artist and president of the board of the Unity Church in nearby North Charleston, was friends with Pinkney.
"He's got two beautiful little girls that were just the apple of his eye," she told NBC News before the service on Sunday — Father's Day. "You couldn't have a conversation with him about anything without him eventually talking about his children. He was such a good father."
No one questioned Roof when he walked into the Bible study meeting because "that's how you are when you're a Christian church," she said. "Bible study is open to all who are seeking the face of God."
Beverly McArthur knew two of the other victims, Myra Thompson and Cynthia Hurd. Hurd, a librarian, would have turned 55 years old on Sunday.
"[Hurd] laughed, smiled, any time," McArthur told NBC News. "It's senseless. Didn't have to be."
Cookie Washington said she was confident the church would rise above the tragedy.
"We will not let this little person that did this horrible act, we will not let this destroy us," she said.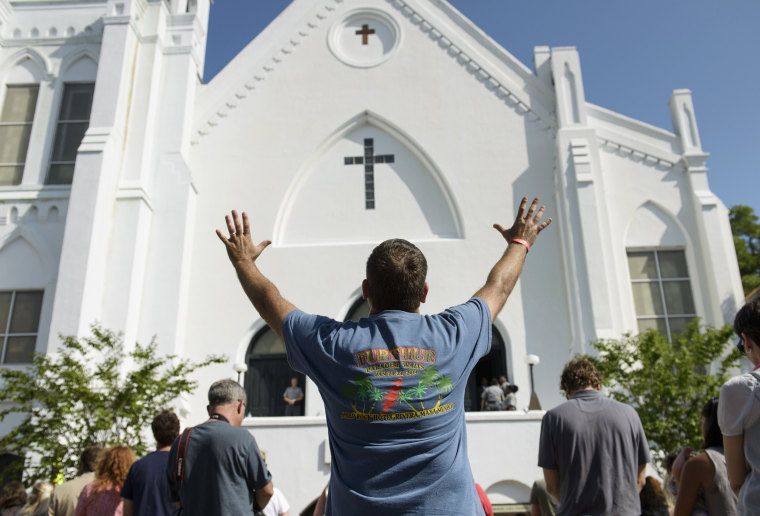 Goff noted that many were astonished that some of the relatives of the nine who were killed "spoke of forgiveness and didn't have malice in their hearts," when they addressed Roof during his bond hearing Friday.
"A lot of folk expected us to do something strange and to break out in a riot" Goff said. "They just don't know us because we are a people of faith, and we believe that when we put our forces and our heads together working for a common good, there is nothing we cannot accomplish together in the name of Jesus."