The South Carolina man accused of gunning down nine parishioners at a historically black church in Charleston has told his defense lawyers that he wants to plead guilty — but they don't want to make the offer until authorities decide whether they will seek the death penalty.
That revelation came during Dylann Roof's arraignment Friday in federal court on 33 counts related to the June 17 massacre. Roof, 21, also faces nine counts of murder in state court. The death penalty remains a possibility in both jurisdictions, though authorities have not said whether they would seek it.
"Mr. Roof has told us he would like to plead guilty," lead defense lawyer David Bruck told U.S. Magistrate Judge Bristow Marchant in Charleston. He added, "Until we know whether the government is seeking a death penalty, we will not be able to enter a plea of guilty at this time."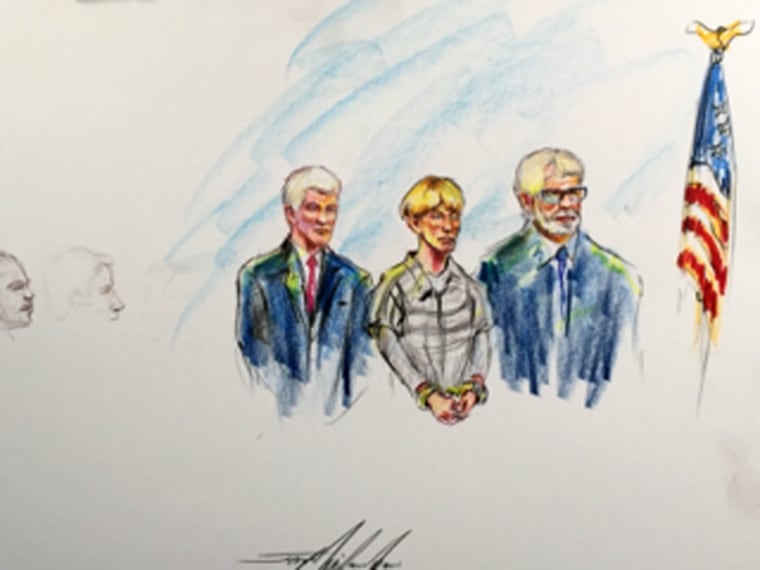 Marchant then entered a plea of not guilty on Roof's behalf.
Roof faced the judge in a blue-grey jumpsuit with horizontal stripes, arms shackled. He spoke three times, all brief answers to yes-or-no questions from Marchant.
Stephen Schmutz, an attorney for families of at least two victims, said the families have not expressed an opinion as to whether they wish Dylann Roof to be sentenced to death.
Roof, who authorities say frequented white supremacist websites and took photos of himself with the Confederate flag, has reportedly confessed already. A manifesto believed to have been penned by him said he planned to start a race war, but the crime instead sparked a backlash against the Confederate flag and a stirring eulogy on race by President Obama.
Two days after the shooting, in a state court hearing conducted with Roof appearing on a jail video feed, relatives of those who died told him they forgave him.
On Friday, several relatives addressed the court, each of them detailing the depths of their grief.
"He has taken the most precious thing in my life, but he will not take my joy," said Gracyn Doctor, whose mother, the Rev. Depayne Middleton-Doctor, was killed. "Satan will not win, and may the lord have mercy on his soul."
Tyrone Sanders, the father of victim Tywanza Sanders, said of Roof, "I don't know what's going to happen to this young man. But the rest of his life, I want him to think... Just think and continue to think about it."
Outside the federal courthouse, Malcolm Graham, whose sister, Cynthia Hurd, was killed in the church, said Roof's Friday appearance took the families a bit closer to seeing the killer properly punished.
"The road to justice starts one step at a time and we took a very good step today," Graham said.
Roof's tentative trial date in state court is next summer.