The man suspected of killing nine people at a historic African-American church in South Carolina Wednesday recently complained about "blacks taking over the world" a friend of the suspect said Thursday.
Joseph Meek Jr. told The Associated Press in an interview that slaying suspect Dylann Roof recently went on a rant about the Trayvon Martin case and riots in Baltimore over the death of a black man in police custody. The two were childhood friends and recently reconnected over Facebook.
"He said blacks were taking over the world. Someone needed to do something about it for the white race," Meek told the AP. "He said he wanted segregation between whites and blacks. I said, 'That's not the way it should be.' But he kept talking about it."
RELATED:Suspect Dylann Roof Captured in North Carolina
Roof, 21, of Lexington, South Carolina, is suspected of opening fire on a Bible study group at Emanuel African Methodist Episcopal Church in Charleston Wednesday night, killing nine people.
Roof was captured in Shelby, North Carolina, Thursday morning and agreed to be taken back to South Carolina. Police have called the killings a hate crime. A survivor told a relative the gunman said African-Americans are "taking over our country" during the rampage.
Roof was previously jailed in March on a drug charge and then arrested again a month later for trespassing, records show.
Roof was picked up March 2 on the drug charge following a Feb. 28 incident at the Columbiana Centre, a shopping mall in Columbia, according to police records.
Mall security found Roof wearing all black and asking store employees "out of the ordinary" questions, according to an arrest report obtained by NBC News.
The questions included how many people worked at the stores and what time the establishments closed. Roof later told a police officer that his parents wanted him to find a job, according to the report.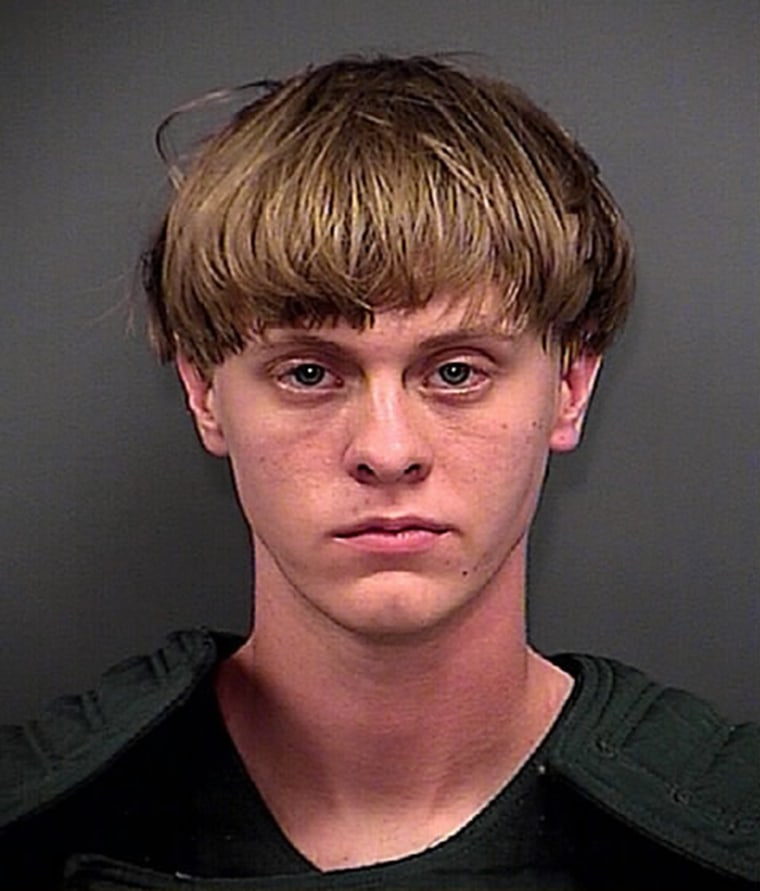 The officer, who said Roof looked nervous, then searched him and found an unlabeled white bottle and orange strips, according to the report . Roof claimed they were Listerine Strips but then admitted that they were unprescribed suboxone, a Schedule 3 narcotic used to treat opiate addictions.
He was arrested and charged with possession of controlled substances. His car, a Hyundai Elantra, was also towed.
Roof was banned from the mall for a year, but on April 26, he was charged with trespassing after he was found in the same mall's parking lot, Columbia police said. He was banned from the mall for three more years.
The car that was towed in March was the same one used when he the gunman fled Wednesday night's rampage at Emanuel AME, authorities said. Charleston officials are investigating the shooting as a hate crime. The U.S. Justice Department also announced that it is opening a parallel civil rights investigation.
As the manhunt intensified Thursday morning, Roof's uncle told Reuters that he recognized the man in the surveillance photo as his nephew.
Carson Cowles, 56, told Reuters that authorities were at Roof's home and that his nephew had been given a .45-caliber handgun from his father for his birthday in April.
Cowles later told MSNBC that he "hopes [Roof] gets what's coming to him."
"We didn't see this coming," he said. "We had no clue. And I will say this: I hope he gets what's coming to him. They got his ass now."
He added, "Not only has he destroyed nine people's lives and his own, he's destroyed his whole family."