Speaking in public for the first time about the massacre of nine people at a South Carolina church, avowed white supremacist Dylann Roof tried to assure jurors on Wednesday that "there is nothing wrong with me psychologically."
He said that was his motivation for mounting his own defense in the penalty phase of his trial.
"I chose to represent myself to prevent my lawyers from presenting mental health evaluation," 22-year-old Roof told the federal jury that convicted him last month and now is considering whether to send him to death row. "That's true, but it isn't because I have a mental illness that I don't want you to know about. It isn't because I'm trying to keep a secret."
Related: Opinion: Why Dylann Roof Has a Right to the Death Penalty
Prosecutors' case for execution hinges on his planning for the June 17, 2015 massacre, in which Roof targeted a group of worshipers who'd invited him to study the Bible with them at Emanuel AME Church in Charleston, waiting nearly an hour before opening fire.
The government has also stressed Roof's apparent lack of remorse afterward.
Assistant U.S. Attorney Nathan Williams shared with the jury previously unreleased portions of Roof's jailhouse journal, dated six weeks after the killings.
In one, Roof wrote: "I do not regret what I did. I am not sorry."
In another: "Sometimes in my cell I think about how good it would be to watch a movie but then I remember how good it felt to do what I did and I think it was worth it."
The third prong of the government's case for the death penalty is to show the killings' impact on the victims' families and communities.
Related: Restricting Dylann Roof's Courtroom Movement Could Pose Problems: Experts
"You will hear tears shed in this courtroom by the families of the good people this defendant killed," Williams said. "And when you see tears, know that this defendant thinks it is worth it."
He showed the jury pictures of each of the victims, whom he called "pillars of the community": the Rev. Clementa Pinckney, 41; the Rev. Daniel Simmons, 74; Sharonda Coleman-Singleton, 45; Depayne Middleton-Doctor, 49; Cynthia Hurd, 54; Myra Thompson, 59; Ethel Lance, 70; Susie Jackson, 87; and Tywanza Sanders, 26.
The first witness at the federal courtroom in Charleston was Pinckney's widow, Jennifer, who described their courtship, marriage and raising two daughters. The recollections were accompanied by photos, including some that showed him preaching at Emanuel and as a South Carolina state senator.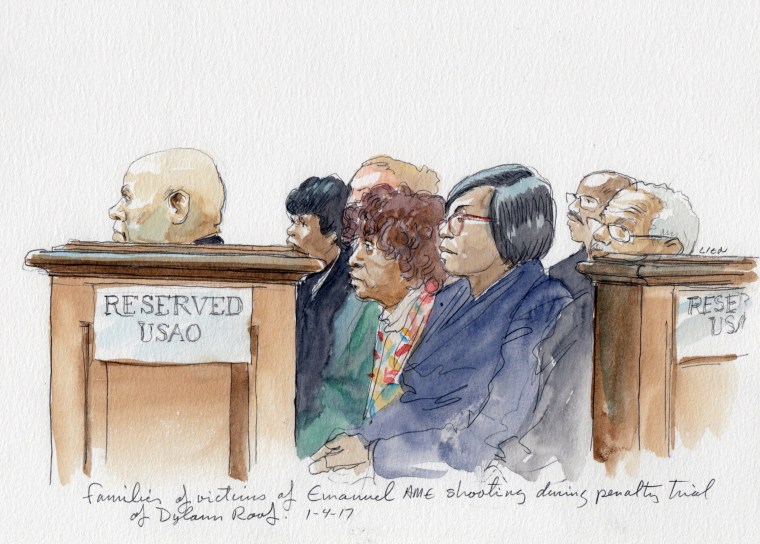 Pinckney described accompanying her husband to Emanuel on the day of the shooting. She was in a study with one of their daughters when she heard gunshots, including one that pierced a wall. Picnkney said her daughter asked, "Momma, is Daddy gonna die?"
Not long after, Pinckney heard Roof's voice from the shooting scene.
"I'm not crazy," Roof said, according to Pinckney. "I have to do this."
She called 911. A recording of the call was played in court. Pinckney heard her voice asking an officer if her husband was dead. She looked down and cried.
Pinckney then described giving her daughters the terrible news.
"It was tough to tell a 6-year-old and an 11-year-old that their daddy was dead," she said. "Especially since earlier that day we were talking and laughing."
Those watching in the courtroom, including victim's relatives and some members of the jury, appeared to follow along in Pinckney's emotional journey. They laughed with her more jovial memories, and grew somber with the sadder ones.
There was also anger, including a small outburst during Roof's brief but unorthodox opening statement.
It was the first time Roof commented with any substance during the trial. During the guilt phase last month, he sat stone-faced and quiet, even when the jury was shown a video of his confession to federal agents.
Roof, standing at a podium, told the jury that his lawyers had forced him to undergo competency hearings, which ended with a judge allowing the trial to proceed. He said he didn't want them arguing that he was mentally unfit during the trial's final phase.
"So you can say, 'What's the point?'" Roof continued, standing at a podium. "And the point is that I'm not going to lie to you."
As he spoke in a voice barely audible, the relative of one victim walked out of the courtroom and muttered, "Stupid." Two other women followed her out.