First the flag. Next, the statues?
Calls to remove a Confederate battle flag from the grounds of the South Carolina Capitol after last week's church shootings serve as an uncomfortable reminder for many Americans that the Confederacy still commands places of honor across the U.S. — particularly in the U.S. Capitol, where the statues of eight leading Confederate figures grace the grounds.
There used to be nine, until 2009, when Alabama swapped its statue of Confederate soldier Jabez Curry for one of humanitarian Helen Keller.
The fact that only four states have ever updated their statues on the Hill is testament to the difficulty involved: New statues must meet certain architectural specifications, and they must pass muster with the Joint Committee on the Library of Congress. And, of course, sculptors have to be hired and the money to pay for them and their materials must be raised.
Some famous Southerners who served with the Confederacy are honored more for their lives after the war, like John E. Kenna of West Virginia, who enlisted in Gen. Joseph O. Shelby's Iron Brigade at just age 16 in 1864 but became famous as a legal scholar and lawmaker after the war. And Ohio — for now — honors Gov. William Allen, who supported the Southern slave owners. His statue is scheduled to be replaced with one of inventor Thomas Edison, which was unveiled just last month.
But eight men are enshrined by their states specifically as heroes of the Confederacy:
Jefferson Davis — Mississippi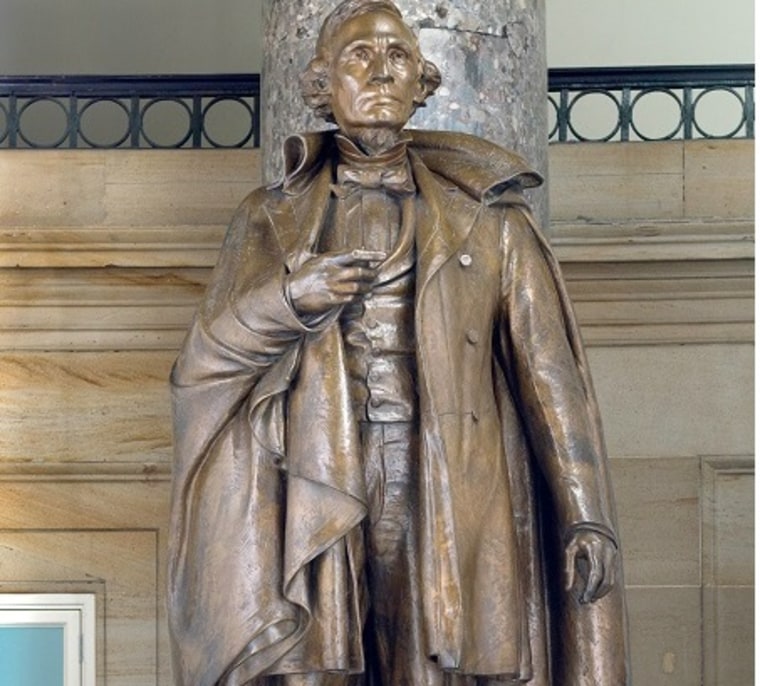 A graduate of the U.S. Military Academy, unit commander in the U.S.-Mexican War, member of both houses of Congress, and secretary of war under President Franklin Pierce, Davis resigned from the Senate when the South seceded and was elected president of the Confederate States of America. Many historians blame Davis' desire to control every detail and lack of political skill for his inability to outmaneuver President Abraham Lincoln.
After the South surrendered in 1865, he was arrested for treason and was imprisoned at Fort Monroe, Virginia, for two years awaiting a trial that never happened.
Later, he wrote "Rise and Fall of the Confederated States" and died quietly in New Orleans in 1889.
James Zachariah George — Mississippi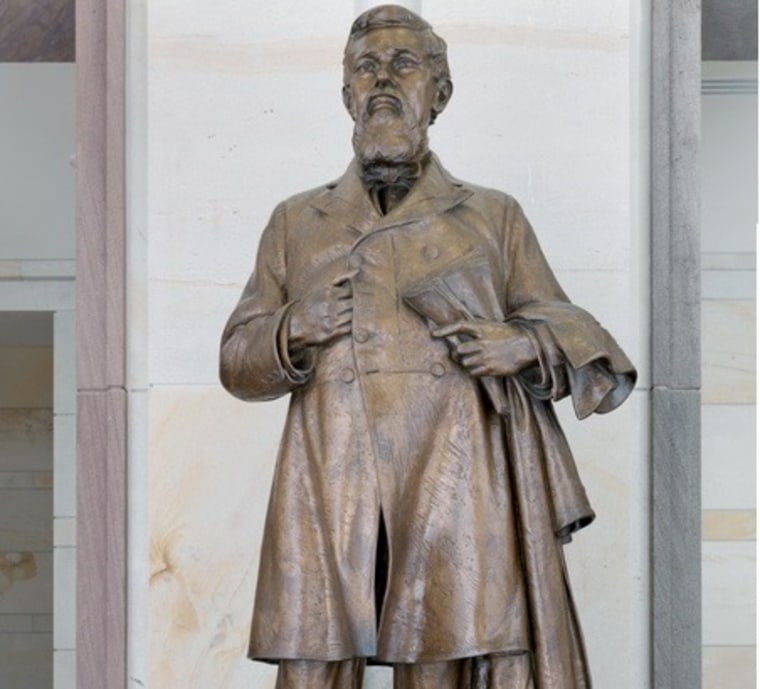 George — who served as a private in the U.S.-Mexican War under Jefferson Davis — was one of the signers of the Ordinance of Secession and became a colonel during the war.
Twice captured by the North, George — a prominent lawyer in Mississippi before the war, organized law courses for his fellow prisoners. In 1879, he became chief justice of the Mississippi Supreme Court, serving two years before he was appointed to the U.S. Senate, where he is credited with helping to shape the Sherman Anti-Trust Act.
Wade Hampton III — South Carolina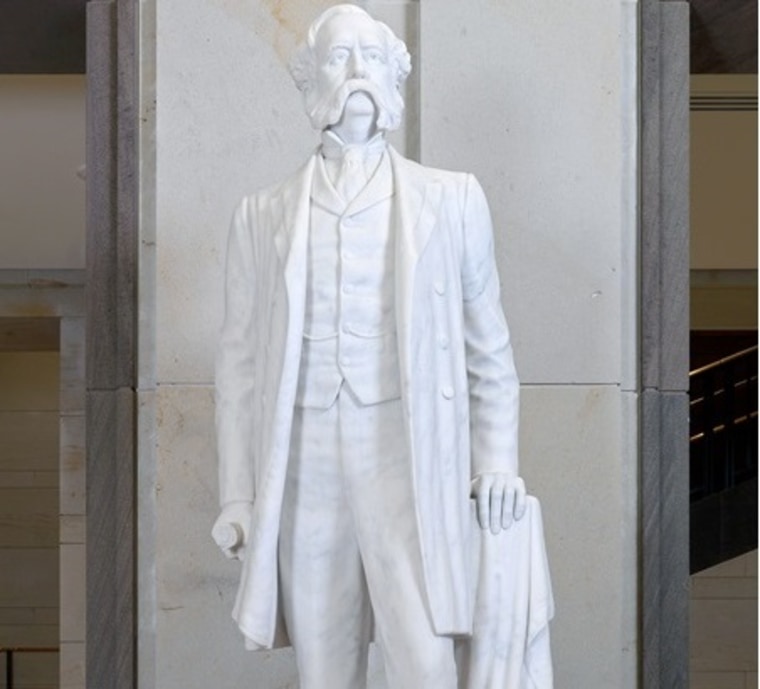 Hampton, a planter and farmer before entering state politics in 1852, opposed secession but signed up with the Confederacy out of, he said, loyalty to his state — he even traded his cotton to European merchants for arms for his unit. A brilliant cavalry commander, he rose to lieutenant general, serving in many famous battles, including the First Battle of Bull Run, Fredericksburg, Trevilian Station and Gettysburg.
After the war, he returned to find his home burned to the ground by the Union Army and became a vocal opponent of Reconstruction and — at least in the writings of some historians — a behind-the-scenes supporter of the Ku Klux Klan. He became governor of South Carolina in 1876 after a disputed election that took six months to settle in the courts, and he then served two terms in the U.S. Senate before becoming railroad commissioner in the government of President Grover Cleveland. Hampton County, South Carolina, is named for him, and at least 47 towns and cities across the state have streets named in his honor.
Robert E. Lee — Virginia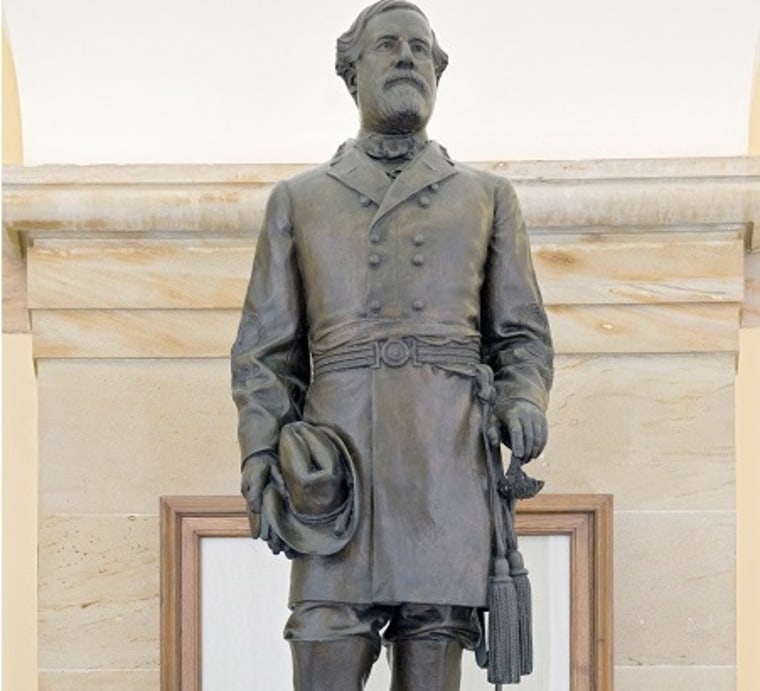 A highly decorated 32-year veteran of the U.S. Army — including service as superintendent of the U.S . Military Academy — Lee resigned his commission when the South seceded and accepted command of Confederate forces in Virginia, saying he could never fire on his home state. By May 1862, he was commander of the Army of Northern Virginia, and eventually he became supreme commander of the Southern armies.
His surrender at Appomattox in April 1865 was the signal for remaining Southern forces to surrender. After the war, Lee — who remained respected by leaders on both sides — became president of what's now Washington & Lee University in Lexington, Virginia, supported Reconstruction and worked to reintegrate the South into national affairs.
Edmund Kirby Smith — Florida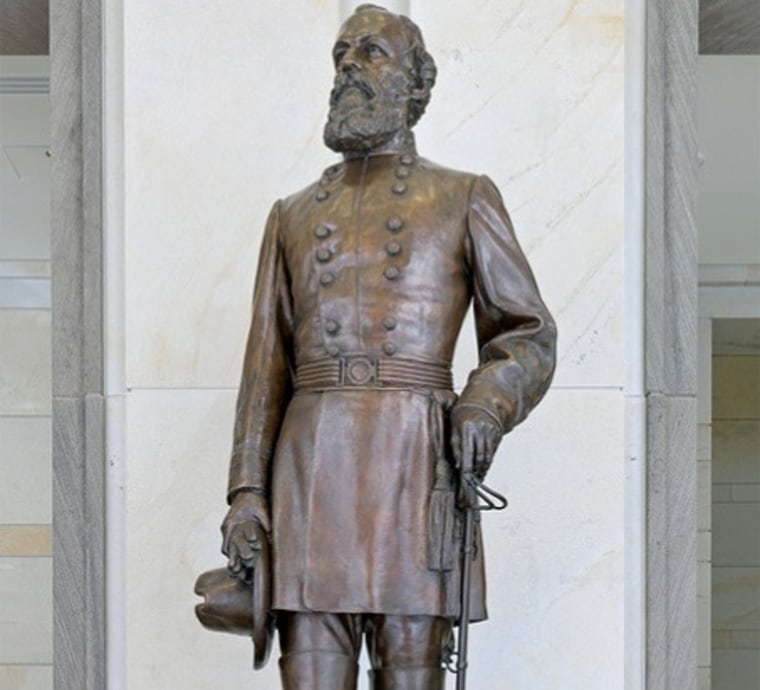 Smith was honored for bravery in the U.S.-Mexican War of 1846-48 and taught math at the U.S. Military Academy. But in 1861, he resigned from the U.S. Army to join the Confederate army, which eventually promoted him to general. Smith helped to organize the Army of the Shenandoah and was badly wounded at Manassas, but he returned to battle in Mississippi, and on June 2, 1865, he signed the terms of surrender for the last Confederate field army, in Galveston, Texas.
After he returned to the U.S. under amnesty from Mexico, where he'd fled to avoid prosecution for treason, Smith ran the Atlantic and Pacific Telegraph Co. and became chancellor of the University of Nashville in Tennessee, near what is now Vanderbilt University. When he died in 1893, he was the last surviving full general of either army.
Alexander Hamilton Stephens — Georgia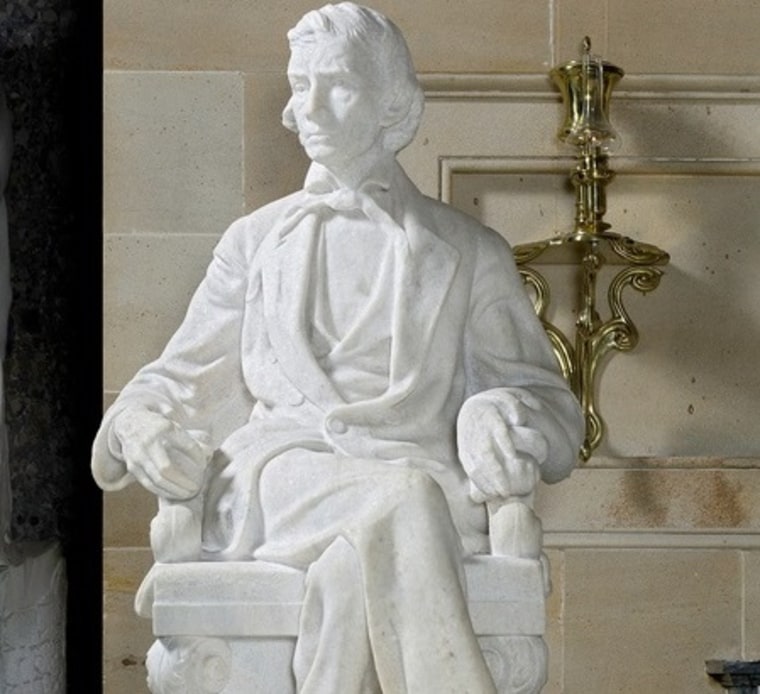 Stephens was vice president of the Confederacy — even though he voted against secession. But that doesn't mean he didn't believe in the cause. In March 1861, he delivered the so-called Cornerstone Speech, rallying Southerners to the defense of slavery as "the natural condition of blacks and the foundation of the Confederacy."
But Stephens bickered frequently with Confederate President Jefferson Davis over several other major issues, and in February 1865, he was he was one of the three Confederate representatives who met with Lincoln at the failed Hampton Roads Conference to find a way to end the war. Stephens returned to Congress in 1873 and in 1882 was elected governor of Georgia, dying only four months after having taken office. Stephens' Capitol statue was produced by Gutzon Borglum — the sculptor of Mount Rushmore.
Zebulon Baird Vance — North Carolina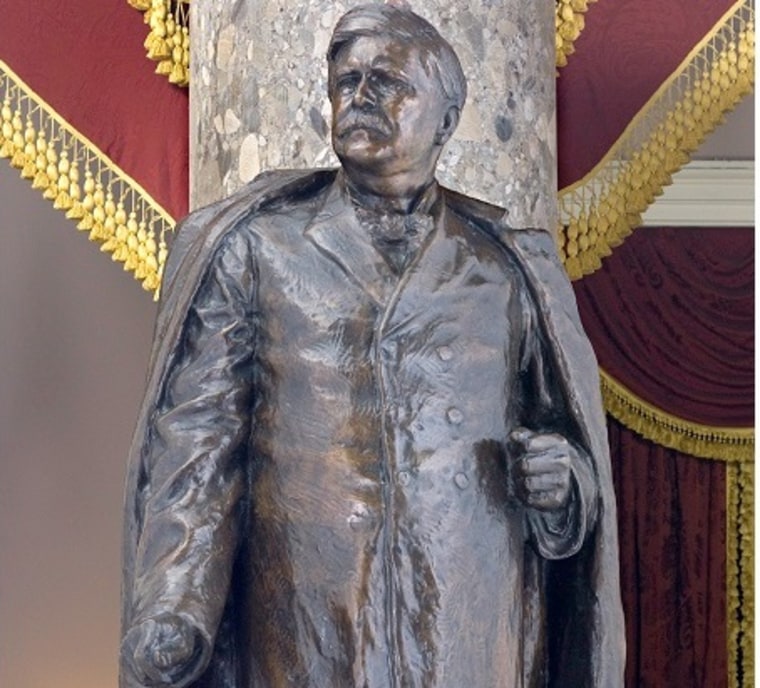 A member of Congress and opponent of secession until President Abraham Lincoln called for troops to put down the Southern rebellion in 1861, Vance organized his own company of Rough and Ready Guards of the 14th North Carolina Regiment. In 1862, he became governor of North Carolina, overseeing the Confederacy's harsh conscription laws.
Briefly imprisoned by the North near the end of the war, Vance returned to law practice afterward, returned as governor in 1877 and was appointed to the U.S. Senate in 1879, serving until his death in 1894. Vance's Capitol statue also was produced by Gutzon Borglum, the sculptor of Mount Rushmore.
Joseph Wheeler — Alabama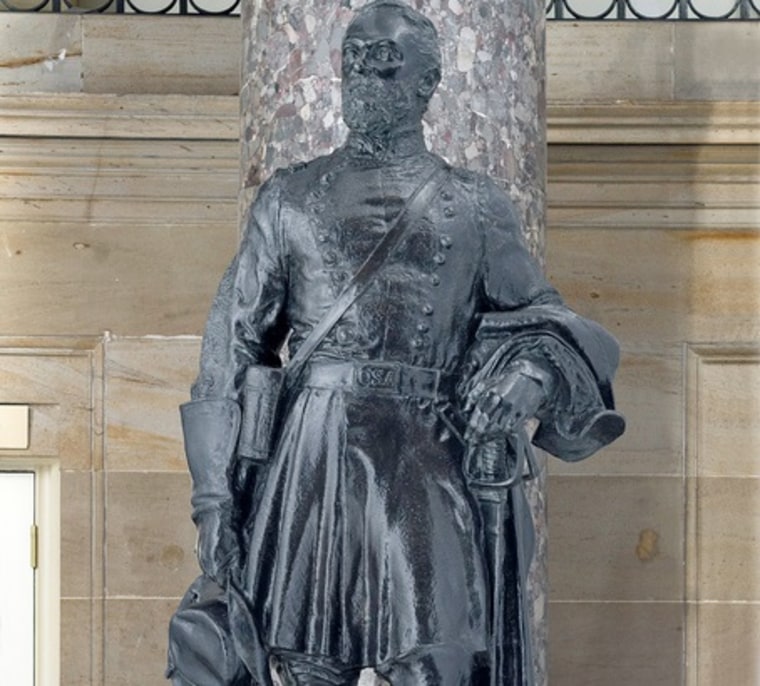 The Confederate commander, Gen. Robert E . Lee, called "Fighting Joe" Wheeler — who helped lead the defense of Atlanta against Gen. William Tecumseh Sherman's "March to the Sea" in 1864 — one of the Confederate army's two best cavalry leaders.
Historians credit Wheeler, however, with working to unite North and South after the Civil War as a member of Congress for almost 20 years until 1900. Wheeler, in fact, rejoined the U.S. military in 1898 and saw action as a cavalry commander during the Spanish-American War. He is buried in Arlington National Cemetery.