A federal judge rejected a request Tuesday night by Dylann Roof's defense team to delay his death penalty trial because of another racially charged case in the same city.
Jury selection is scheduled to begin Wednesday in Roof's federal trial in Charleston on 33 counts in the fatal shootings of nine worshipers at Emanuel African Methodist Episcopal Church in June 2015.
Police say Roof yelled racial slurs and intentionally let three church members live so they could tell the world that he hated black people.
Twenty-four of the counts fall under two federal hate crime statutes, and 18 of them carry the death penalty.
Lawyers for Roof, 22, sought the delay because of blanket media coverage of the mistrial Monday in ex-cop's Michael Slager's separate murder case in same city.
Roof, 22, had been acting as his own attorney since last week, but on Sunday, U.S. District Judge Richard Gergel granted his request to bring his defense team back on board.
Tuesday, those lawyers argued that outrage over a jury's failure to reach a verdict in the trial of Slager — a white former patrol officer who shot and killed Walter Scott, a black man who was unarmed, in North Charleston last year — could sway jurors to take out their frustration on Roof.
"The Slager case has been closely linked with this case from the start," his lawyers wrote in a motion filed Tuesday, which cited what they called a "widely-held view that justice has not been served in the Slager trial."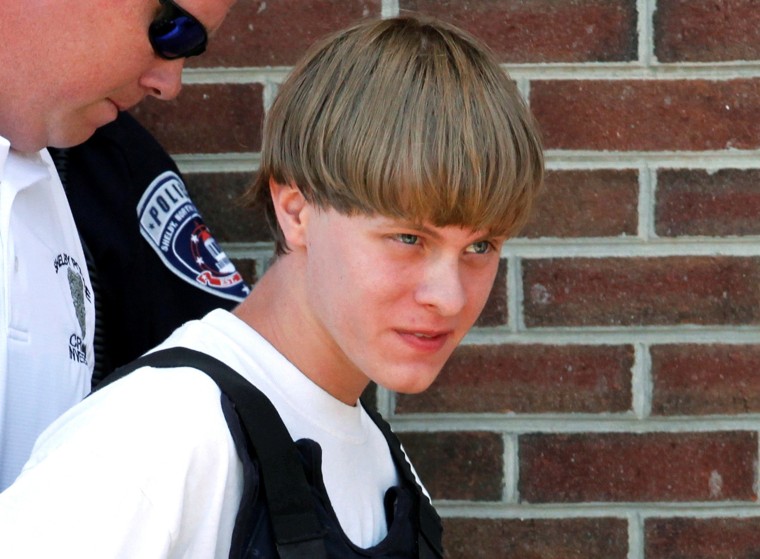 "The Slager mistrial, declared less than 48 hours before the scheduled start of the trial in this case, is highly likely to create undue pressure on the jury to compensate for the judicial system's apparent failure to punish Mr. Slager by imposing a harsher punishment here," the wrote.
The motion also asked that the jury selection process be reset because Roof wasn't able to defend himself competently.
But Gergel refused both requests in an order filed Tuesday night, writing: "The Court cannot respond to every breaking news story or development in the local court system by continuing a trial that has been scheduled since June 2016. ...
"The Court must maintain the orderly process of criminal trials," he added.
Roof could face two proceedings in his federal trial. The first — the one he asked to delay on Tuesday — is to determine his actual guilt or innocence. If he's convicted, a second phase would begin to decide whether he would be sentenced to death or to life in prison.
Roof is also charged with nine counts of murder in state court. That trial is scheduled for January.