Andrew Cohen has covered criminal justice for 20 years as a lawyer and network legal analyst. He is the senior editor at The Marshall Project and a fellow at the Brennan Center for Justice.
Dylann Roof has a constitutional right not to try to spare his own life.
U.S. District Judge Richard Gergel did the wise thing last week when he ordered a new competency hearing for Roof, the Charleston church shooter who does not want to put on a mental health defense when he represents himself Wednesday at the start of the penalty phase of his capital trial in South Carolina.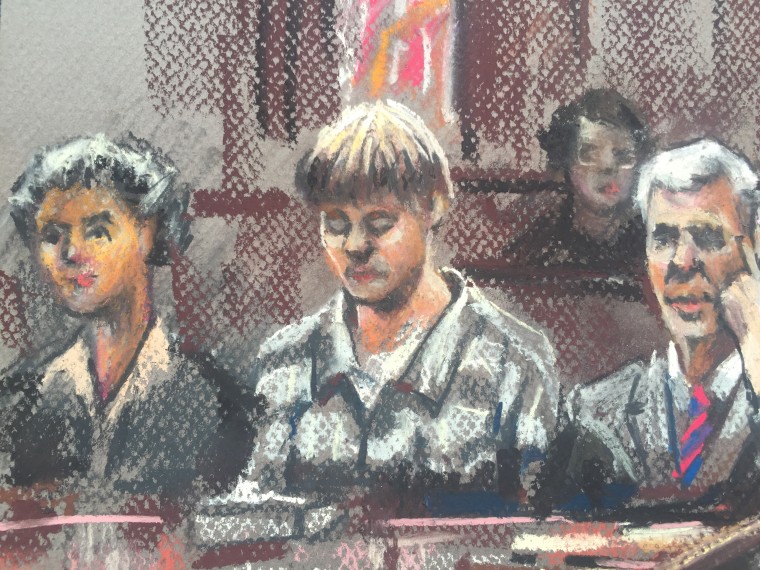 Gergel may understand there probably will be some sort of an appeal of Roof's conviction and sentence, regardless of what it ends up being, and that this appeal will focus primarily on the delicate dance Roof has had with his court-appointed lawyers (and his own self-representation) as the case has evolved. By making a new competency finding Monday, one that essentially updates the initial one, the judge almost certainly has made it measurably harder for any appeal to succeed — while at the same time ensuring Roof's fair trial rights.
In the end, despite the drama of a closed hearing in the middle of a capital trial, it likely wasn't a close call as a matter of law to allow Roof to continue to represent himself. The standard for "competency" in these circumstances is low, on purpose, to give defendants the chance to control their own fates. Roof has consistently shown he understands the nature of the proceedings against him. The truth is that Roof's decision not to present mitigating evidence seems entirely consistent with his racist beliefs and with his evident antipathy toward psychiatry and psychology. He wrote in the past that he is "morally opposed to psychology," calling it a "Jewish invention."
Roof also appears to share the mentality of other notable murderers who for one reason or another eschewed a defense their lawyers would have chosen for them.
For example, Theodore Kaczynski, the Unabomber, rejected his attorneys' plans for an insanity defense on his behalf before accepting a plea deal that spared him the death penalty. Oklahoma City bomber Timothy McVeigh gave up the rest of his appeals following his capital conviction and opted for an expedited execution, which took place at the federal death chamber in Terre Haute, Indiana, on June 11, 2001. The Beltway Sniper, John Allen Muhammad, also sparred with his own lawyers in Virginia before he was convicted and sentenced to death.
Related: Dylann Roof, Facing Death, Will Present No Evidence During Sentencing
For all the hand-wringing over the constitutionality (and morality) of self-representation in a capital case, for all the arguments that every capital defendant should always present every non-frivolous defense at trial, the truth is that Roof has a constitutional right not to present a defense, to choose to increase the likelihood he'll get the death penalty instead of a life sentence without the possibility of parole.
It is not necessarily a sign of mental illness, or mental instability, or mental incompetence, to take responsibility for one's murderous actions rather than blame them, in some fashion, on some sort of mental disease or defect. Some killers, like McVeigh, saw it as one final act of control over their lives. This may be why Roof on Wednesday in his first direct interaction with jurors chose not to beg for his life but rather to tell the panel: "There is nothing wrong with me psychologically."
Nor is it necessarily a sign of mental incompetency to chose to want to die sooner, rather than later, after spending years in solitary confinement in a federal prison — which is where Roof will be headed no matter what his jury decides. If he doesn't want to save himself, in other words, or if he doesn't want the world ever to perceive him as having been mentally ill when he killed those innocent people inside that church, there is nothing his lawyers can do to save him so long as he's judged competent.
Related: Dylann Roof Says He Won't Call Mental Health Experts During Sentencing
Finally, a point that's been under-reported these past few days: Just because Roof won't put on any mitigating evidence doesn't guarantee he'll get the death penalty. All it would take for the jury to preclude a capital sentence for Roof is for one juror to decide that consigning the 22-year-old defendant to 50 or 60 or 70 years in ADX-Florence, the federal prison in Colorado that Roof soon will call home, is a punishment worse than a death penalty. That, too, is not an unreasonable position to take.