The figures can be numbing: There were more than 2,000 shootings in Chicago last year, and the city is on pace for more this year. The violence rises in the heat of summer. But beneath the sobering figures are personal stories, both of fear and resilience. NBC News' Tracy Jarrett spent time in Chicago to hear them.
Lula Hill has a strategy for keeping her three sons alive.
It begins just before they leave for school in the morning. She rubs their foreheads with anointing oil and says a prayer that God might protect them when they are not in her sight.
Then there are the more practical steps, like teaching the boys to stay away from the windows of their own home, on the South Side Chicago neighborhood of Roseland. Jaden, the youngest, who is 8, knows why.
"A man might have a gun in his hand, and he can look through the window and see me and he can shoot," he said. "That makes me feel, like, scared because I don't want to get killed."
These are the practicalities of life and family as another summer of violence breaks over Chicago.
Like most cities, it is far safer than it was two decades ago. But Chicago recorded more than 200 killings through late June and more than 1,000 shootings, both more than 20 percent higher than the year before.
And summer is the most dangerous season. Newspapers run weekend shooting trackers, and the July Fourth holiday numbers are stark: at least 46 people were wounded and 9 others killed — including a 7-year-old boy.
Mayor Rahm Emanuel's office told NBC News that reducing gun violence is a priority. Chicago Police Supt. Garry McCarthy said at a Sunday night news conference that the city "will not relent."
"We're doing everything we can to fight this," McCarthy said. "We need to repair a broken system."
In the meantime, families navigate the danger.
'We've gotten this far without my kids being shot'
Across town from Roseland, in the West Side neighborhood of North Lawndale, Lisa Russell prays every morning with her 19-year-old son and his younger brothers, 11-year-old twins.
Then she walks them to school, even though it's only a block away.
Some other parents and school administrators have called her overprotective, she said. Her response is simple: "We've gotten this far without my kids being shot or getting a record. We aren't going to start now."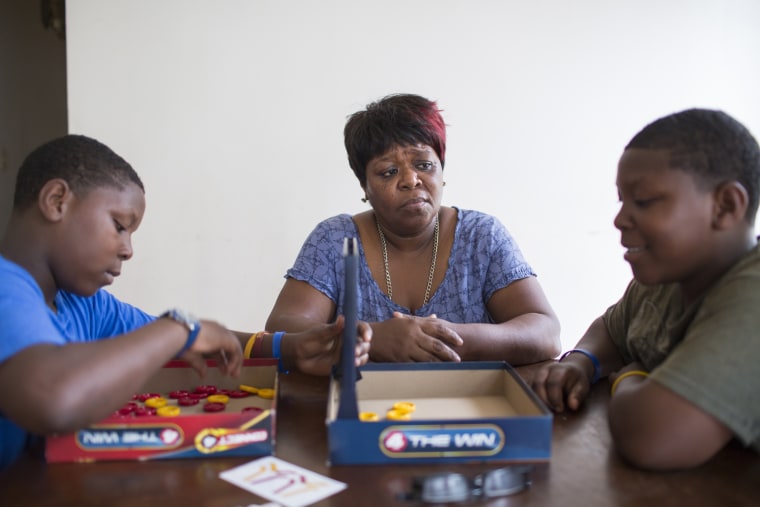 Like Roseland, North Lawndale is overrun with boarded-up buildings and rundown parks.
To stay safe, Russell's sons spend time in academic programs or playing games together at home. Playing outside without their mother is not an option. Russell saves money to enroll them in summer day camps.
"If my sons end up not making something out of themselves or in trouble, it won't be because I didn't introduce and expose them to everything I could," she said.
Protecting her sons carries more than a financial cost. In four years, T.J., the 19-year-old, gained 70 pounds because she did not want him playing outside.
"I'd rather him die of obesity than a gunshot," Russell said.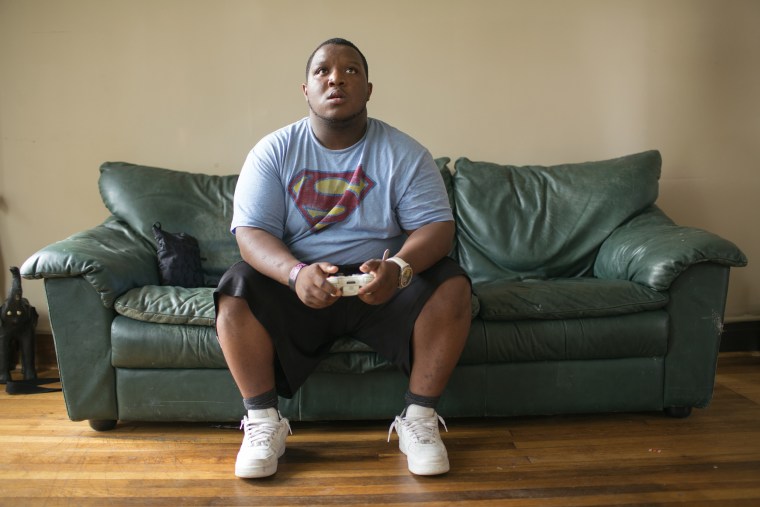 The gangs of Roseland
Roseland, where Hill and her sons live, once was thriving and multicultural. Now it is plagued by unemployment, abandoned buildings and empty lots, infested with gang violence and gunfire.
It is notorious for gang violence and shootings. Last year there were 102 shootings in the neighborhood, ranking it among the 10 worst in the city, and already this year 46 people have been shot, according to statistics kept by the Chicago Tribune.
Jaden's older brothers are 15 and 16. The decisions that Lula Hill must make as their mother are "a tug-of-war type thing," she said. Pulling from one side is freedom: They need to live their lives, to be boys. Pulling from the other side is fear.
"I worry about gangs. I worry about them going to school and getting a phone call that will say to me that they have been shot," she said.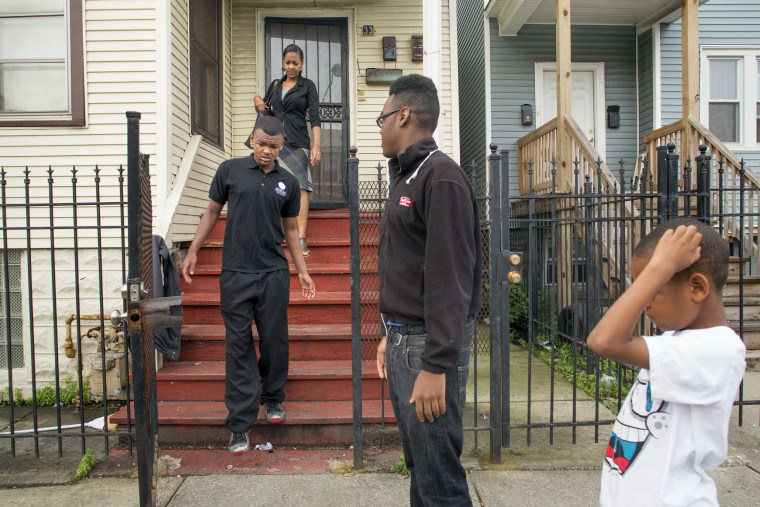 So she keeps the children busy, and she keeps them out of their own neighborhood whenever she can.
All three go to school outside Roseland. The boys play on sports teams between the end of the school day and when Hill gets home.
They go to church in another neighborhood. On Sundays, Jaden sings in the children's choir. Andre, the 16-year-old, helps with media, and Fabian, the 15-year-old, volunteers in the kitchen.
Wednesday night is Bible study, and other nights are for family outings to the movies.
The children are rarely allowed to play outside alone. Hanging out in the neighborhood parks is out of the question, Hill said, because of the risk of stray bullets.
Stray bullets are a risk anyway, and the children know what to listen for.
"When you've got used to it, it starts getting very easy," Fabian said.
Jaden, the 8-year-old, is used to it, too. When he hears gunshots, he tells his mother and older brothers to close the windows to stay safe. He said he wishes he could live in a neighborhood where he could go outside without worrying.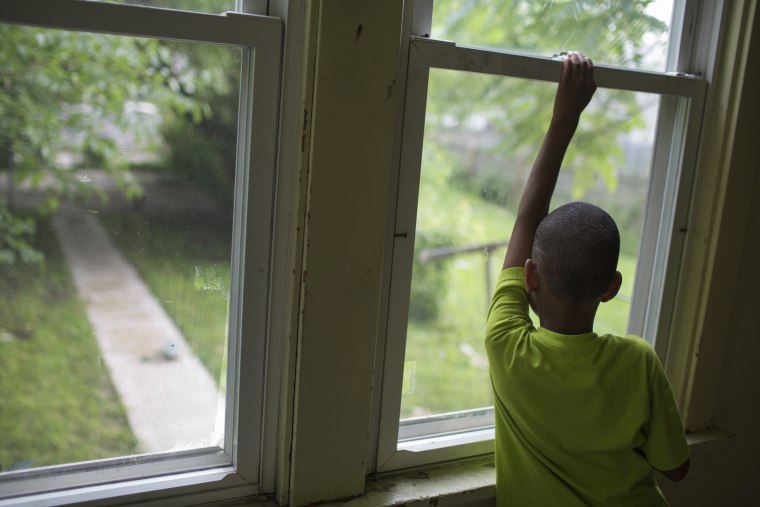 'Everyone has heard a gunshot before'
Andre, the oldest, can recite the rules of living in Roseland: Watch your surroundings. Keep to yourself. Make sure you walk with a friend: If you're alone, a gang member might walk up and question you.
Try to show courage. Try not to look frightened.
"You're gonna hear a gun no matter who you are," Andre said. "You're gonna hear a gunshot any day of your life," he said. "That's just how life is. Everyone has heard a gunshot before."
All three of Lisa Russell's boys have witnessed shootings or other violence such as robberies or neighborhood kids in fights.
T.J. was at a convenience store when it was robbed. The twins, Lloyd and Floyd, saw a gunshot victim on the ground outside a window at camp one summer, and their school is sometimes locked down because of gang violence, their mother said.
As a result, Russell has had to talk to her sons about what their family will do if one of them gets shot and dies.
Both mothers, Hill and Russell, have thought about moving, but they said they can't make the money work. In the meantime, they will do what they can to prepare and protect the children.
"It's sad they have to grow up so fast," Russell said. "But our struggle is how to get home and how to get back every day. I don't think people understand that."