As a jury deliberates the fate of two former Chris Christie allies who were allegedly involved in the political payback scandal known as "Bridgegate," one of the biggest questions actually centers on Christie himself.
What will this verdict mean for New Jersey's governor?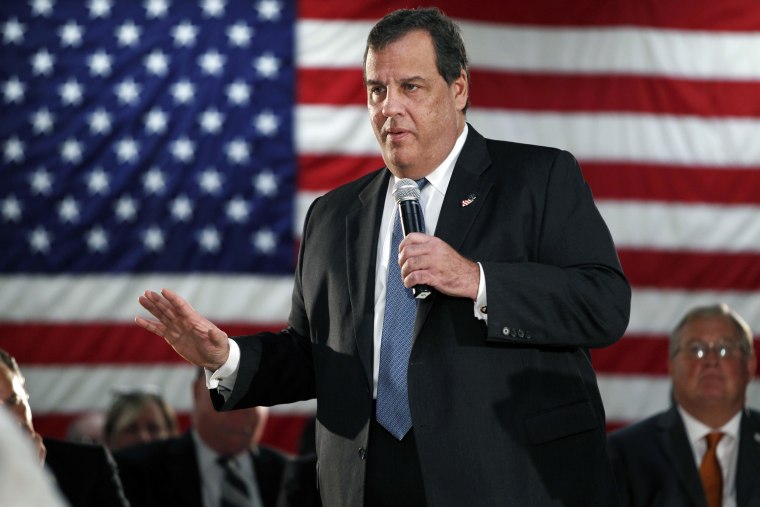 Once considered a top-tier presidential candidate, Christie never recovered from accusations that he knew about the scheme to block access to the George Washington Bridge as a means of political retribution. With approval ratings hitting new lows in his home state, he has since become a notable backer of Republican presidential nominee Donald Trump, but has acknowledged that so-called "Bridgegate" was likely a factor in why Trump didn't select him as his running mate.
From the beginning, Christie has denied any knowledge or involvement in the 2013 lane closures, and has never been named as a conspirator in the case or charged. But throughout the trial — in which Christie's ex-deputy chief of staff Bridget Anne Kelly and his former top Port Authority official Bill Baroni have been charged on nine counts of conspiracy and fraud stemming from the plot — several witnesses said Christie was aware of the plan before, during and after.
The prosecution's star witness, David Wildstein, another former Christie former ally and a Port Authority official who has already pleaded guilty, went as far as to say that top Christie allies used the Port Authority, which controls the George Washington Bridge, as a "goody bag" to sway local Democratic politicians to endorse Christie's re-election bid in 2013.
Related: Ex-Christie Aide: I Told Gov. About 'Bridgegate' Lane Closures
While on the stand, Kelly described the intimidating environment the governor created, recounting how he once threw a water bottle at her during a discussion about an upcoming press conference. When asked by her lawyer if she was afraid of Christie, Kelly said "yes."
If Kelly and Baroni are found guilty, they could face lengthy jail time. The most serious charges in the indictment carry a maximum penalty of up to 20 years behind bars. And though Christie faces no such penalty, a conviction of his top aides could do even more lasting political damage to him.
"If they are found guilty, it impacts him because they are so closely intertwined with him. It's a reflection on his leadership and it would tarnish him even worse," said Michael Weinstein, a former Department of Justice trial attorney and current chair of the White Collar Defense and Investigations Department at Cole Schotz in New Jersey.
But what if they're exonerated? A not-guilty verdict may not do Christie much good either, according to Matthew Hale, an associate professor at Seton Hall University. That's because declaring Kelly and Baroni not guilty might suggest that the jury believes Christie is the real guilty party.
Related: Jury Begins 'Bridgegate' Deliberations
"A not-guilty verdict is kind of an act of jury nullification," Hale said. "It says that the jury really wants to hold Chris Christie accountable for the Bridgegate mess but can't because he isn't on trial. The defense, particularly for Bridget Anne Kelly, tried to paint them as pawns of large political forces and therefore not really the guilty ones."
Hale added, however, that outside of New Jersey, people may see it differently —as if Christie has been vindicated. Brigid Harrison, a political science professor at Montclair State University, echoed that sentiment.
"A universal not guilty would be a vindication for the governor. It would signify that the jury believes the narrative that there was this traffic study and there was no administrative role in this whole scenario," she said.
Christie's best-case scenario may be that Baroni and Kelly are both found not guilty and Trump wins the presidential election.
"I think there's a very slim chance of Gov. Christie having a political future," Hale said. "A lot of things have to happen. Trump has to win and these two people have to be found not guilty. And Christie would have to play a significant role in a top [Trump] administration beyond just being transition to elevate his stature. But all of those are long shots. Bridgegate has already destroyed him in New Jersey and it's likely to destroy him nationally."
Related: Chris Christie Aide Accused Him of Lying on Bridgegate, Documents Say
The governor still has one more year in office, which may be pretty tough. According to a a new survey from Fairleigh Dickinson University's PublicMind, just 21 percent of registered voters approved of the job the governor is doing, with almost three quarters, 72 percent, saying they disapproved. The poll also showed that a majority, 52 percent,/ said they believed there is ample evidence that Christie knew about the lane closures and did nothing to prevent or stop them from continuing.
Separately, Christie is expected to appear in court on Nov. 23 after receiving a criminal summons for official misconduct allegations in connection to the scandal.
And the trial isn't helping. Indeed, it's reminded many voters of the ugly nature of Jersey politics.
"It's like watching the sausage getting made," Weinstein said. "It's not pretty. I think people know it goes on and expects it to happen but I think the use of government resources and the pettiness and the aggressiveness of political leaders to do what they did will really make people more callous to their officials."