What started as a mystery over a monster traffic jam has erupted into a multifaceted scandal for Gov. Chris Christie of New Jersey, who gets sworn in for a second term Tuesday just as he's battling allegations of a pattern of political bullying.
As the fiasco enters its third week, here's where things stand.
The storm over the storm
Two top officials in the Christie administration are flatly denying an assertion by the mayor of Hoboken that the administration withheld Hurricane Sandy money because the mayor would not support a real estate project favored by the governor.
"This week I found out he's cut from the same corrupt cloth that I have been fighting for the last four years," Hoboken Mayor Dawn Zimmer says.
Lt. Gov. Kim Guadagno on Monday called the charge "completely false" and offensive.
The mayor, Dawn Zimmer, told MSNBC over the weekend that Guadagno and an official in Christie's cabinet both tied the Sandy money to the real estate project — and that Guadagno vowed to deny it if Zimmer ever went public.
Zimmer said Monday that she met with the U.S. attorney and turned over a handwritten journal from May 2013 in which she wrote of the governor: "This week I found out he's cut from the same corrupt cloth that I have been fighting for the last four years."
"I stand by my word, remain willing to testify under oath, and I will continue to answer any questions asked of me by the U.S. Attorney's office," the mayor said Monday.
The real estate project was proposed by the Rockefeller Group, which is represented by the law firm of David Samson, Christie's handpicked chairman of the Port Authority, the agency that controls the George Washington Bridge.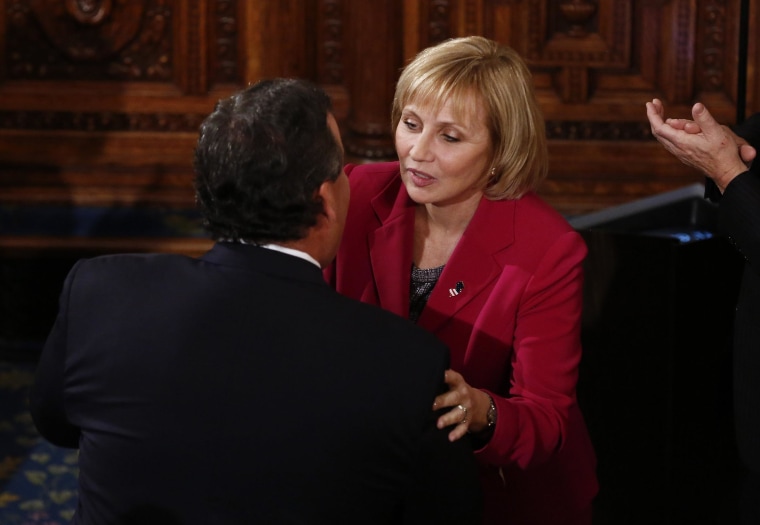 Christie team fights back
Christie's team struck back over the weekend with a blistering, almost 1,600-word statement largely devoted to attacking MSNBC as a partisan network that has been "almost gleeful in their efforts attacking him."
The Christie team chalked up the mayor's allegation to politics "as Democratic mayors with a political axe to grind come out of the woodwork and try to get their faces on television."
Zimmer said that Hoboken had requested more than $100 million in state-controlled Sandy money but received only $342,000.
Colin Reed, a spokesman for Christie, responded by saying that Hoboken had received almost $70 million in hurricane relief, but much of that money was in federal grants and insurance settlements and was paid to people and businesses, not the city.
Christie's team stressed to reporters Monday that Hoboken's request amounted to a third of the 300 million that the state had to spend on what is known as hazard mitigation — money meant to protect against future disasters, not rebuild from Sandy.
Bridge mess takes its toll
Meanwhile, 17 allies of Christie, plus the governor's office and his 2013 re-election campaign, have until Feb. 3 to hand over documents related to the apparently politically motivated closing of access lanes to the George Washington Bridge last September.
Among those given subpoenas by a committee of state lawmakers is Bridget Kelly, Christie's former deputy chief of staff, who last August appeared to trigger the closures with an email: "Time for some traffic problems in Fort Lee."
Christie's team: Ads were "a key part in helping New Jersey get back on its feet after being struck by the worst storm in state history."
Four Christie associates have resigned, been fired or had their ties to the governor cut. But the subpoenas include plenty of people still working for him, including his chief of staff, his legal counsel and his top spokesman — plus Samson, from the Port Authority.
The chairman of the committee, Assemblyman John Wisniewski, suggested over the weekend that it might expand its probe to include the Hoboken matter. "This certainly has attracted our attention."
Stronger than the storm?
Relief money for Hoboken isn't the only Hurricane Sandy problem for Christie.
The Department of Housing and Urban Development is auditing $25 million that the state spent after Sandy to promote tourism and the Jersey Shore — including ads that prominently featured Christie while he was running for re-election.
A Democratic congressman, Frank Pallone, charged that the state paid $4.7 million to a marketing company that proposed including Christie in the spots, while a competing firm proposed charging $2.2 million less and leaving the governor out.
Christie's team says such federal reviews are routine, and that the ads were "a key part in helping New Jersey get back on its feet after being struck by the worst storm in state history."
Christie on the move
The governor has spoken only briefly about the scandal since a two-hour news conference earlier this month in which he apologized and said he had been deceived by his staff about the lane closures.
He gets his next chance on Tuesday, when he is sworn in for a second term as governor. Christie will attend a morning church service, then take the oath of office in Trenton and give his inaugural address.
He plans to attend an inauguration party Tuesday afternoon on Ellis Island.
Christie has made no secret of considering a run for president, and he swung through Florida over the weekend to meet with Republican donors. According to published reports, when he was asked about 2016, he deflected: "Come see me next year."