After more than three years since the infamous lane closure scandal known as "Bridgegate," which has continually dogged New Jersey Gov. Chris Christie, the fate of two of his former allies is officially in the hands of jurors who have begun deliberations.
Federal jurors have heard six weeks testimony with Monday capping off closing arguments by the defense. The case is now with the jury, which resumed deliberations on Tuesday.
Christie's ex-deputy chief of staff Bridget Anne Kelly and his former top Port Authority official Bill Baroni have been charged on nine counts of conspiracy and fraud stemming from the 2013 plot in which the two allegedly conspired to close local access lanes and create massive traffic jams of the George Washington Bridge. Federal prosecutors argued it was part of an elaborate scheme to punish Democratic Fort Lee Mayor Mark Sokolich for not endorsing Christie's re-election bid.
As the jury deliberates and determines whether Kelly and Baroni are guilty (the most serious charges in the indictment carry a maximum penalty of up to 20 years behind bars) here's a look at some of the biggest developments that have happened over the course of the trial.
Wildstein: Christie knew about the plot
David Wildstein another one of Christie's former allies and a Port Authority official—has already pleaded guilty in connection with the scheme and was the prosecution's star witness. He testified that the governor, who has long denied any knowledge or involvement in the lane closures, was very much aware of the plan.
Wildstein said at a 9/11 memorial ceremony at Ground Zero in 2013, Wildstein and Baroni spoke to the governor about the plan. Baroni, according to Wildstein, sarcastically said "Governor, I have to tell you, there's a tremendous amount of traffic in Fort Lee this morning." Baroni, said Wildstein, was frustrated that his calls to Port Authority were being ignored. Christie, Wildstein said, responded "I would imagine that he wouldn't be getting his phone calls returned."
Prosecutors presented photos to the jurors showing the three men laughing at the event, which was on the third day of lane closures.
Wildstein: There was a "One Constituent Rule'
Wildstein said he and Baroni and a "One Constituent Rule" in which the only person who they had to please was Christie. "If it was good for Governor Christie, it was good for us. If it was not good for Governor Christie, than it was not good for us. "He also said top Christie allies used the Port Authority as a "goody bag" to sway local Democratic politicians to endorse Christie's re-election bid.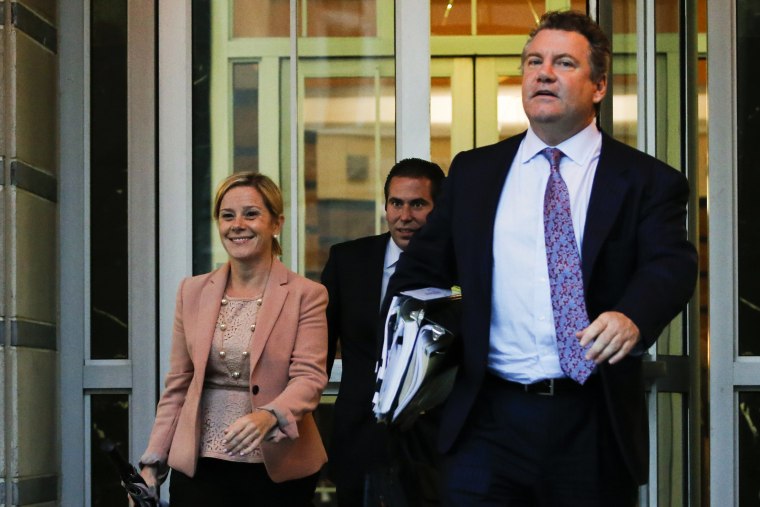 Wildstein also painted Kelly, who wrote the now-infamous Aug. 13, 2013 email in which she declared, "Time for some traffic problems in Fort Lee" as a mastermind of the plan.
Kelly and Baroni: We really thought there was a traffic study
Baroni and Kelly have maintained that they believed the lane closures were for a traffic study and not a political retribution plot. Baroni said the conversation at the 9/11 event was about that study and easing traffic at the George Washington Bridge.
Kelly also claimed on the stand that she thought the traffic study was legitimate and even told Christie about it. "Governor, by the way I spoke to David Wildstein and the Port Authority will be doing a traffic study in Fort Lee and I explained the access lanes. He said 'OK'," Kelly said. "I told him there would be tremendous traffic in Fort Lee he didn't really react and said that's fine."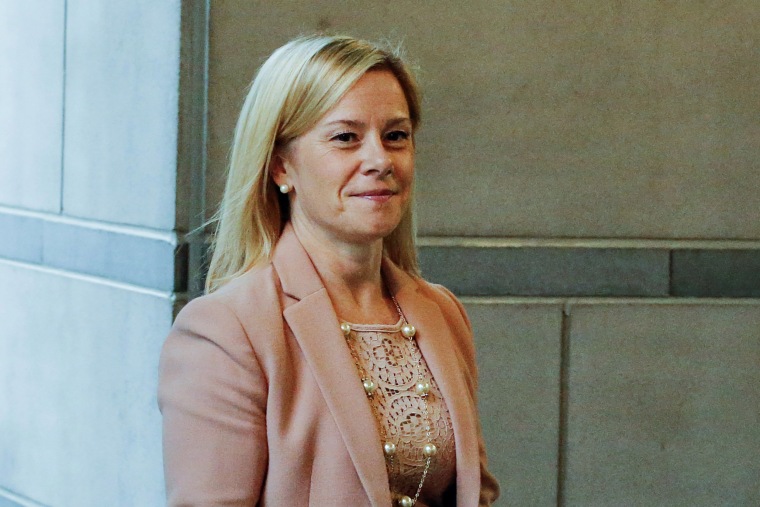 Defense lawyers also painted Wildstein as vengeful and untrustworthy.
Christie adviser: I told the governor that staffers knew about bridge plot
Christie's former top political adviser Mike DuHaime testified that Christie had been told that Kelly and another one of his staffers, Bill Stepien, knew about the lane closures — even though Christie told the media after during a December 2013 news conference that he had "no reason to believe" his senior staff were involved.
Christie maintains his innocence
Christie press secretary Brian Murray said in a statement after Kelly testified that the Republican governor did not know about the lane closures. "As the Governor has said since January 9, 2014, the Governor had no knowledge prior to or during these lane realignments, and he had no role in authorizing them. Anything said to the contrary is simply untrue," Murray said.
Christie has not been charged with any wrongdoing. Separately, Christie is expected to appear in court on Nov. 23 after receiving a criminal summons for official misconduct allegations in connection to the scandal.
Kelly: Christie had a very short temper
During her testimony a tearful Kelly also described Gov. Christie's short temper and the intimidating environment he created, recounting how he once threw a water bottle at her during a discussion about an upcoming press conference.
"He had a water bottle in his hand and he said, 'What the f--k do you think I am? A f-----g game show host?" and then he threw a water bottle at her, she said, according to NBC New York. "I moved out of the way and it hit my arm."
When asked by her lawyer if she was afraid of Christie, Kelly — painted by her attorneys as an eager-to-please employee, said "yes."