Samuel Granillo survived the 1999 shooting at Columbine as a 17-year-old junior. He was in the cafeteria when the shooting started and found himself hiding from the shooters in a nearby supply room with 17 other terrified students. The supply room's door had no lock and Sam soon heard the shooters' voices on the other side. Sam immediately understood that if he couldn't keep the door shut everyone in the room would probably die.
Now 32 years old, Sam is still struggling with the traumatizing memories of the violence he encountered that day. Even though they're ever-present, he is able to live a fairly normal life for eleven months of the year — but everything changes when the month of April comes around.
"It's spring. The weather is beautiful. Everything is blooming with life. And all I think about is death," Sam says.
And he's not the only one. Fifteen years after the massacre, the lives of many Columbine survivors come to a stand-still as the shooting anniversary nears.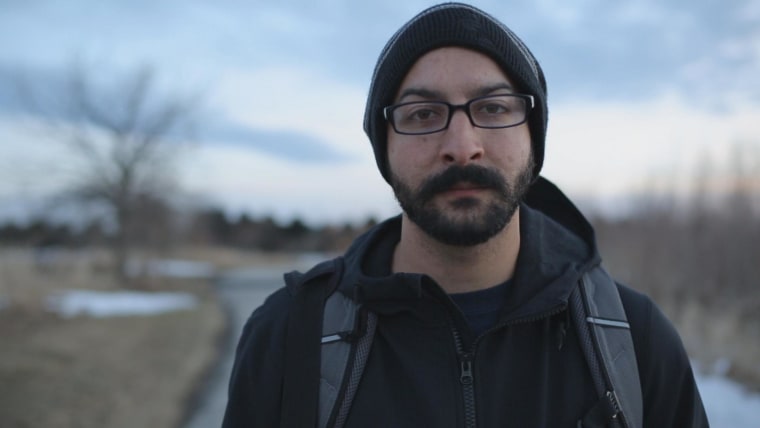 In March, with Dateline NBC, Sam embarked on a journey he hoped would help him find a more positive way to confront April and the tragedy that has shaped his life. Followed by Dateline cameras and producers, Sam traveled to four other schools where shootings occurred — Westside Middle School, Virginia Tech, Northern Illinois University and Red Lake High. He met with survivors, and shared experiences and strategies. He hoped doing so would help him confront his pain and survivor's guilt.
Sam, a filmmaker himself, recorded his meetings and conversations for a documentary project called "Columbine: Wounded Minds." He hopes the film will bring attention to the fact that survivors of school shootings need long-term counseling, which he says many of them can't afford.
Dateline NBC's story, airing on the 15-year anniversary of the Columbine High School Shooting this Sunday, April 20th, 2014, will document Sam's journey, culminating in his remarkable return to Columbine, where he experiences a real breakthrough. We invite you to relive some of Sam's journey with us.
Jonesboro, AR — Westside Middle School
March 24, 1998: 4 students and one teacher killed, 10 injured
Sam's first stop was Westside Middle School in Jonesboro, Arkansas. On March 24, 1998, two students — 11 and 13 years old — opened fire at Westside, killing five people. Sam met Debbie Spencer, a teacher who saved a young girl's life in the hallway outside her classroom. He also met Lynette Thetford, a teacher who was shot in the stomach, and barely survived. Both Debbie and Lynette have suffered from post-traumatic stress syndrome and say March is a hard month for them.
During the journey, Sam turned the camera on himself to document his own transformation and reflect on his experiences, the people he met and the lessons he learned.
A Producer's Notebook: Izhar Harpaz
Debbie and Lynette had agreed to be part of our program because they felt that following Sam's journey of healing was different than a show that just sought to recount the horrors of that tragic day. But in order for us to understand Debbie and Lynette's emotional and physical trauma and their subsequent struggle to heal, we had to understand what they had gone through on March 24th, 1998 when senseless violence changed their lives forever.
And so there we were, in a dark room, a camera directed at a solitary chair. When I arrived, I was worried when I found out it was Lynette's birthday, and that afternoon Debbie's boyfriend had a work accident and was in the hospital. And yet I found both of them waiting in the interview room, ready to share their story. What courage, I thought.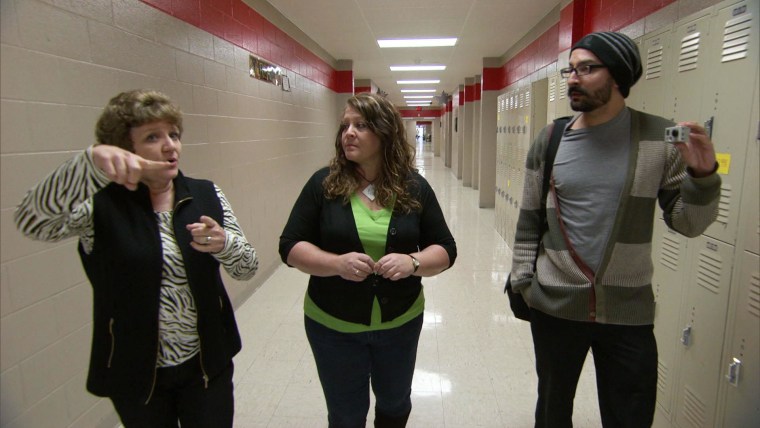 To say that the interview was difficult would be an understatement. I asked painful questions - I wanted to get as close an insight into a moment I prayed no one would ever experience. Debbie and Lynette accepted my inquiries with an open heart, answered with grace and determination, but you could see how heavily the subjects weighed on them. You could also feel how spiritually and emotionally connected Debbie and Lynette were — theirs was a bond stronger than the shackles of trauma. But at the end of the interview it was all a bit too much for Lynette. As I was thanking her for her extraordinary courage in sharing her story, she suddenly broke down. I felt guilty. I put my arms around her, offered her my shoulder to cry on. It was the least I could do.
I closed my eyes. Everyone in the room was silent, their heads lowered. In the midst of sadness, we bonded. And together we mourned.
Watch Dateline NBC's full report, 'The Road Home,' Sunday, April 20th at 8 p.m. ET.