Columbine High School Littleton, Colorado
April 20, 1999
13 killed (15 including the shooters), 21 injured
Sam's entire ten day journey has led up to his final stop, Columbine High School. It was here, on April 20, 1999 that two students dressed in black trench coats entered the school and took the lives of thirteen people. Columbine, one of the deadliest school shootings in U.S. history, shocked the nation and left unimaginable scars on the small town of Littleton, Colorado.
Sam has returned to the school several times since his graduation, but some places have been off limits -- like that room in the cafeteria where he and 17 others hid, the source of a lot of his trauma. Now Sam will have the opportunity to judge just how transformative his cross country trip has been. With him will be five other Columbine survivors and his principal Frank DeAngelis, who is completing a long journey of his own. Something remarkable is about to happen, something that will surprise even Sam.
Producer's Notebook - Columbine: Izhar Harpaz
E-mail written to "The Oh Hellos" on March 26, 2014
"Hello there. My name is Izhar Harpaz. I am writing to you in the hope of getting your permission to use one of your beautiful songs for a very special documentary project I am producing, directing and writing for Dateline NBC. It is the story of an extraordinary journey of healing for a survivor of the Columbine High School shooting which marks its 15th anniversary this April 20th. Together with the survivor I have been criss-crossing the country, visiting other mass school shooting sites and meeting with other survivors who have taken the courageous step to share the stories of their attempts to overcome trauma. As you can imagine the journey has been painful, emotional, but nothing short of transformative - for the survivor, and for myself.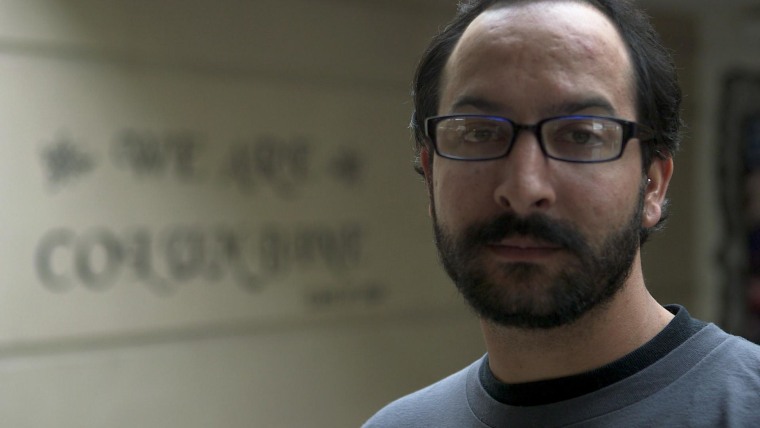 And that's where your song comes in. As a journalist and documentary film maker I have learned to separate myself from the people I profile, erect an emotional wall, so to say, so I can continue telling stories of heartbreak, so I wouldn't get lost in the sadness and grief and lose the most important of abilities: to discover and convey the hope within the tragedy. And so it was with this journey: I managed to keep my inner emotions at bay, that is until I heard your song for the first time, by sheer by sheer coincidence on a Denver college radio station. We had just wrapped up our last shoot when the survivor returns to the halls of Columbine to confront one of his worst fears. I was driving back to the hotel scanning radio stations, reflecting on the remarkable events I had just documented, when, stopped at a traffic light, the song came on. The melody was beautiful, but what captured my attention were the lyrics; I realized they mirrored exactly the emotional transformation the survivor had experienced: his starting point before the journey, and the hope he had at the end of it that he could find a way to overcome the emotional and spiritual stasis he had struggled with these past 15 years. Every word fit. I sat there in my car listening to the words and suddenly I started to cry. That wall was breaking down, and I realized I needed to feel these emotions, in order to understand this journey, this story, better. I wanted to thank you for that. Filming is over, I am heading back to New York to write the doc, then straight into the edit room to get it ready for air on April 20th on NBC. Your song is guiding me - the inner pain very visible at first, but then, slowly, hope and inspiration. I hope I can use it to give our story the musical expression it needs."
Watch Dateline NBC's full report, 'The Road Home,' Sunday, April 20th at 8 p.m. ET.