Alabama Gov. Robert Bentley ordered the four Confederate flags on the state Capitol grounds in Montgomery to be taken down Wednesday morning, NBC News has learned.
Bentley's decision comes amid a growing backlash against the rebel banner, which critics say symbolizes a legacy of racism. The Confederate flag has been in the spotlight since the deadly shooting one week ago of nine parishioners at a historic black church in Charleston, South Carolina, by a white gunman.
RELATED: South Carolina State Rep. Todd Rutherford: Take Rebel Flag Down for 'Repairs'
The shooter, Dylann Roof, was seen in photographs with Confederate flag paraphernalia and allegedly attacked his victims because of their race.
Bentley told AL.com that his decision came, in part, as a response to the Charleston massacre as well as to avoid drawn-out political fights over the flag.
"This is the right thing to do. We are facing some major issues in this state regarding the budget and other matters that we need to deal with," Bentley said. "This had the potential to become a major distraction as we go forward. I have taxes to raise, we have work to do. And it was my decision that the flag needed to come down."
PHOTOS: Take it Down: Chorus to Remove Confederate Flag Grows Louder
The Confederate flags removed were part of the Confederate Memorial Monument on the state grounds.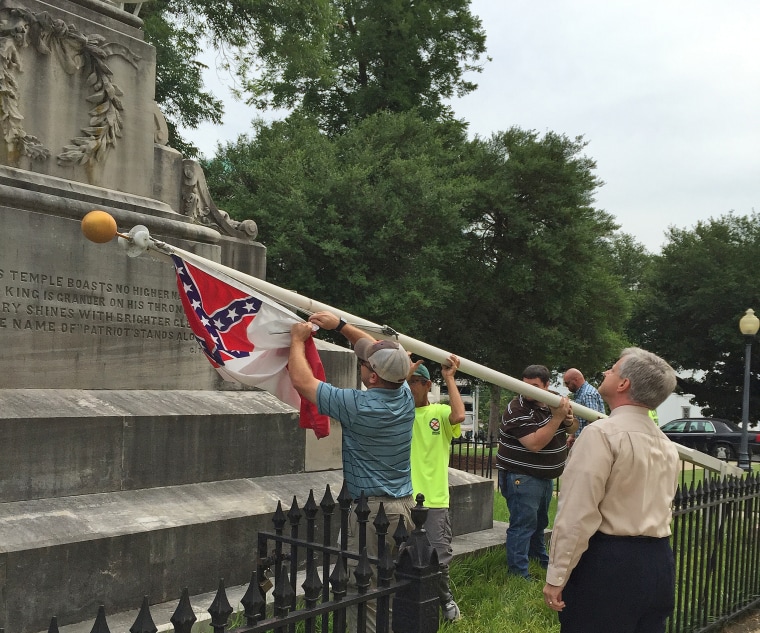 South Carolina Gov. Nikki Haley said this week that she wants her state to take down its Confederate flag from the statehouse grounds in Columbia. Lawmakers took a first step on Tuesday toward removing it, although it could take weeks.