On Monday, South Carolina lawmakers will start debating whether to remove the Confederate flag from state battlegrounds — a move that to some is tantamount to tearing down a symbol of Southern pride.
But to others, like South Carolina Gov. Nikki Haley, it has become the right thing to do after photos emerged of self-confessed mass murderer Dylann Roof holding the Confederate flag. Roof, who is white, fatally shot nine people last month at a historic black church in Charleston.
"I don't think that this is going to be easy. I don't think that it's going to be painless," Haley told TODAY on Saturday in her first network interview since calling for the flag's removal. "But I do think that it will be respectful, and that it will move swiftly."
RELATED: Spate of Fires at Black Churches Raise Concerns of Rise in Hate Crimes
The Confederate flag has flown in South Carolina's capital since 1961. Removing the Civil War-era icon requires a two-thirds vote from both chambers of the General Assembly — no easy feat in a state steeped in Southern tradition.
On Friday, pro-Confederate robocalls went out to some homes in South Carolina calling on voters to contact their state representative to "not stand with leftist fanatics who want to destroy the South," reported The Herald newspaper in South Carolina.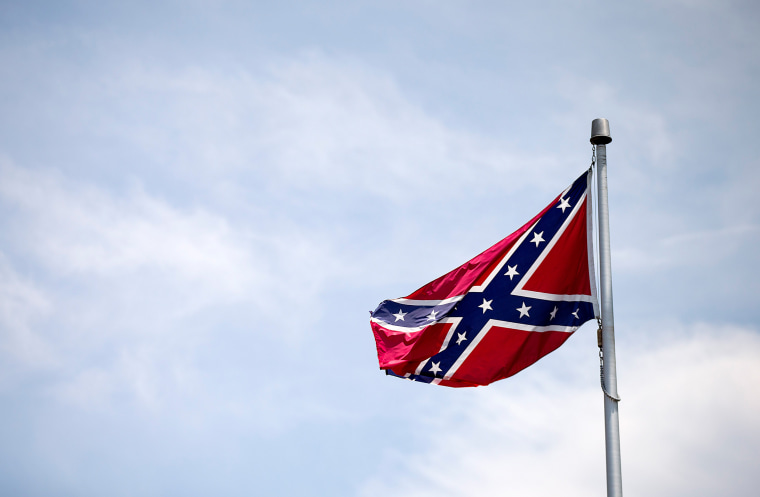 But those opposed to the rebel banner are just as passionate as those who stand behind it. Last Saturday, two activists were arrested after one removed the flag from a pole outside South Carolina's statehouse in Columbia. (The flag was quickly replaced.) Friday night, another woman was arrested for jumping the Confederate monument fence at the State House.
An anti-Confederate flag rally was planned for Saturday afternoon in Columbia.
Days after the shooting at Charleston's Mother Emanuel African Methodist Episcopal Church, where the victims were killed during a Bible study, Haley called for the flag to come down.
Her request prompted swift action: Alabama's governor ordered Confederate flags removed from capital grounds, while the Virginia and North Carolina governors demanded an end to license plates showcasing the flag. Retailers such as Walmart and eBay also announced they would no longer sell Confederate flag merchandise.
RELATED: NASCAR Asks Fans to Stop Displaying Confederate Flag
"I don't know why this had to happen," Haley said of the massacre, which officials say was racially motivated. "All I will say is we are blessed. ... You had nine amazing people welcome someone that didn't look like them, didn't act like them, and didn't sound like them."
"The compassion and the love and the outpouring across South Carolina and across this country should give us all hope," she added.
Removing the Confederate flag is just "the beginning" of the work needed on race relations, said Haley, who was born to immigrant Indian parents.
"You always want to think that today is better than yesterday, that we're growing as a state, we're growing as a country," she said. "When something like this happens, you reflect and you say, 'Have we changed enough?'"